Welcome to my home! We just moved are in the process of updating our Dover Cliff home, but feel free to look around our old home that we affectionately referred to as our "Almost Farmhouse!" I am oh-so-happy that you are here and that you want to take a look at my home. Come on in, grab a cup, and tour my home!
We purchased this fixer upper in April of 2014 and have been blogging about our home as we renovate each room.  The home was built in the 80s and stayed in the 80s and we are eager to make this house our home by loving it back to life!
Here are my goals for our Almost Farmhouse and what we've completed so far.
TOUR MY
ALMOST FARMHOUSE
Entryway
Den/Family Room
Dining Room
Farmhouse Kitchen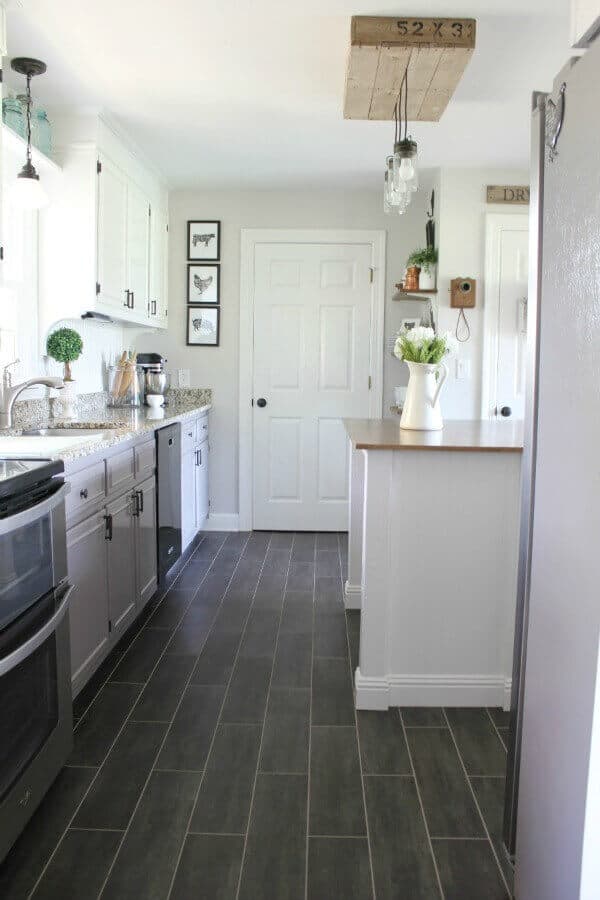 Master Bedroom
Master Bathroom
√ Paint walls, ceiling and shower area
√ Replace floors
√ Paint cabinets and change hardware
√ Replace Toilet (Budget Bathroom Makeover)
Frame mirror and install a medicine hutch
Replace countertop and faucets
Replace Shower Stall
Laundry Room
Half Bath
Upstairs
Gameroom
Paint/Decorate Rooms
Replace Carpet
Upstairs Bathroom
Paint Walls
Paint tile floor in bathtub area
Find artwork
Recording Studio / Home Office
Paint walls and ceiling
Hang Sound Panels
Make a Faux Brick Wall
Purchase Chairs or Sofa for seating
Exterior
Paint the Brick
√ Install a fence
Update front porch
Replace front door lights
Pressure wash/paint the deck
Update landscaping
Build a firepit
Miscellaneous
√ Replace windows
√ Update garage doors
Phew – quite the list – but boy oh boy – look at that progress.  Suffice it to say, we've focused creating our Almost Farmhouse on the lower level of our home. Hopefully we'll start the upstairs soon.  I can't wait to share this journey with you and show you all the transformations as we make them and share my tips and tricks to save money while doing it ourselves! Thanks for taking the time to tour my home!
Don't forget to follow so you don't miss a post!
And if you want to see our Vegas home, you can read all about it in this post.
SaveSave