Brightening our Entryway for Spring with a DIY Glass Door Insert
Do you live with an ugly dated door? Here is how we brightened our Entryway with a DIY Glass Door Insert and how you can easily change the look of your home in just a few hours!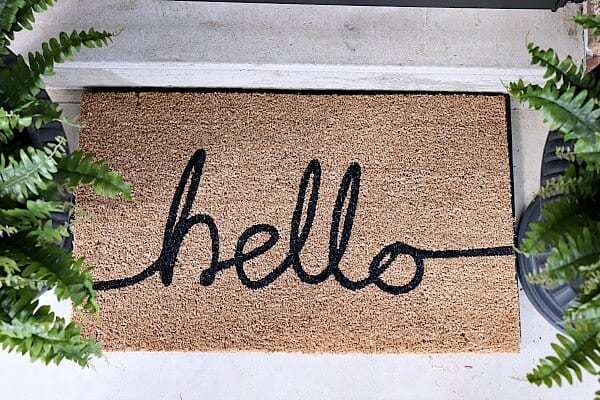 Spring is in the air, and what better way to usher in the change of season with some ways to transform your home.
Now I will be on the hunt for a vintage shutter to make into a tabletop!
We are so happy you are following along with us and I am so happy to share how we took our dull, dark and dated entryway and made it into a bright and swoonworthy space with one simple trick.
Lemme tell ya, this is – by far – THE scariest DIY we have ever tackled. But I'm so happy with the results and wished I would have done this sooner.
This DIY is one that you can do in a day and completely change the look of your home.
But it means cutting a hole in your front door.
Say what?
You heard me right.
Instead of spending thousands of dollars on a new door and a few hundred more having it installed, you can do this yourself for a fraction of the cost.
So let's start with where we began and what materials you'll need for this DIY. I'll provide affiliate links in order to save you some time – at no cost to you! You can read my full disclosure here.
Since our budget was tight when we first moved into our Almost Farmhouse four years ago, the only change I made to our entryway was painting the front door. But I just hated how dark our entry was.
Every time I needed to photograph this room, I had to open the door in order to make the room bright enough for pictures.
Until serendipity stepped in.
I don't know how it happened, but I somehow stumbled upon a tutorial video of someone installing glass in an existing solid door.
I immediately showed Trent and asked (begged…pleaded) if this was doable. And of course after seeing his excitement, I reached out to the glass company referenced in the video. The wonderful people at Zabitat helped to ensure their glass panel inserts would work for our door.
Happy dances happened once we found out this was a real possibility! The glass was ordered and delivered within a week.
Then when it arrived, and we saw the beauty of the glass and couldn't wait to get started. I knew we could do it and I also knew I especially have to show you how easy this DIY is!
DIY Glass Door Insert Materials
(Some affiliate links are provided below. Full disclosure here.)
Your existing door
Glass Insert from Zabitat (we ordered the Jacinto Glass insert from their Decorative line)
Saw horses
Masking Tape
Tape Measure
Pencil
Drill (use a metal bit if your door is metal)
Jigsaw
Screwdriver
Ear and Eye Protection

Before you start – know that this is a 2 person job.
If you're the incredible hulk and can hoist heavy metal and glass doors on your own, then maybe you could do this alone.
But if not – grab a buddy to help you.
We began by removing the door and setting it on sawhorses.
Even though you won't be cutting through the entire door, check to ensure your sawhorses won't interfere with any cuts – just in case.
Measure your area and mark with a pencil. For our glass, we had to measure 23″ X 65″, but this measurement varies for the size of door and glass you use.
Tape off the area where you will cut – basically this prevents fraying and also helps to see the line to cut.
Flip the door over and repeat the taping process because you will be cutting both sides of the door.
Next, drill a pilot hole for your jigsaw.
These tools aren't made for plunge cuts, so you're creating a starter hole for your jigsaw blade.
Set your jigsaw blade to a 1 inch depth.
Our jigsaw is a basic model that doesn't allow for those adjustments.
So we purchased a shorter metal blade that would do the trick.
Flip it over and repeat the cuts on the other side.
Note: Don't be like Jen. Jen didn't read the part of the instructions where you are to remove the door hardware. Luckily, our jigsaw didn't interfere with the handle.
But when we flipped it over to cut the other side, we noticed that the vibration from the jigsaw loosened the screws.
Follow the instructions on this!
After you cut both sides of the door, remove the middle and set the door to the side.
At this point, Trent and I couldn't stop saying, "we just cut a hole in our door!"
It seemed impossible at first, but friends – it was SO easy!
Next, carefully place your glass insert on the sawhorses with the screw side frame facing up.
Then simply unscrew and remove the top frame.
Place the door over the glass and reassemble the frame.
Also, make sure the screw side is on the interior of the door.
Easy peasy lemon squeezy!
Then you hang it back in place. CRAZY, right?!
It already looks a million times better! Now all that needed to be done was painting it.
DIY Glass Door Insert Reveal
We are planning on tackling our exterior of our home this year.
And our shutters will be black, so I opted for a nice satin finish.
It certainly complements the iron scrollwork beautifully!
Since our door faces south, and we get heavy winds, we opted to keep our storm door in place.
So that got a fresh coat of black too.
What a difference! And of course this is going to pop when we paint our brick!
And when you open my beautiful door, you are equally greeted with my fun new staircase makeover!
Finally – no more dark and dreary entryway!
This DIY Glass Door Insert has not only changed the look of my house from the exterior.
But it brightened up my entryway as well. And nothing says Spring to me more than the sunshine streaming in!
So if you hate your front door, I'm here to tell you that you can do it!
Don't be afraid to find economical ways to create a home you love – even if it means doing something scary. It will be so worth it!
I also wanted to extend a special thank you to Zabitat for teaming up with us on this post. We just love it!
UPDATE!!
We've moved and installed another glass insert at our new home! Check it out!
Be sure to visit the other bloggers on this tour by visiting their links below
Pin this for later!
You may also like these posts: