Limewashing Your Home for Instant Curb Appeal
We moved into this home just 8 months ago and we hated the look of the exterior of this home. Today, I'm sharing how Limewashing your Home for instant curb appeal can create a home that you love.
Now I adore our new home with this updated look!
This is our second home we have lime washed and it's amazing to see a home transform in just one week.
We used Romabio's Classico Limewash in Avorio White to achieve this look. What I love about this product is how easy it is to apply.
We opted for a lightly distressed look. Romabio's Classico Limewash is meant to age and patina over time, and we wanted to be able to see that weathering happen.
When we Limewashed our last home, we chose a completely opaque look with that same desire to watch it distress. However, life gave us a curveball and we moved just a few months after applying the lime wash.
We got a full price offer that first weekend. I credit that quick of a sale to the instant curb appeal our home had after we applied our lime wash.
It's an easy process if you want to do-it-yourself, or you can find a recommended pro and have them do it for you! I wrote an entire post on helping you make that decision.
For this home, we did all of the lime washing with the exception of our chimney stack. We aren't too fond of heights and the slope of our roof was too risky for us, so we opted to hire that portion out.
For our front porch, we opted to lime wash the steps – but note – limewash is not meant for high traffic areas. It will definitely weather very quickly.
We have plans to update our front porch, but aren't quite sure what we will do yet. So this is a temporary application until we figure out our plan.
I made sure to apply this very lightly, to help it weather faster.
We just love our home! And what a transformation just a bit of work and about a week can do!
Before
After
UPDATE!
We've added some fun details to our front porch – you should check it out!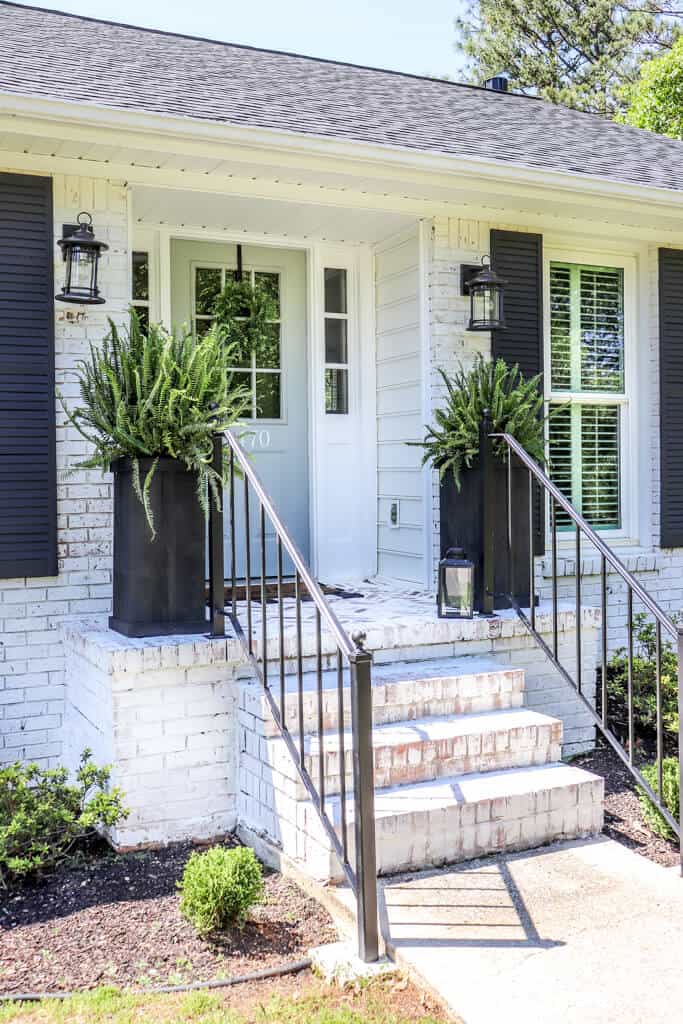 Pin Limewashing Your Home
for Instant Curb Appeal for Later!
You may also like these other posts about Limewash!