We changed the exterior of our home this summer with stunning results! Here's how to Limewash a Brick home. A special thank you to Romabio for collaborating with us on this post!

Did you know that I loved everything about my home except the exterior? I would drive up to this house just wanting to keep on going.
Wouldn't you want to drive on, too?
But not anymore! Earlier this summer, I shared with you our plans to finally give our brick home a facelift, but I never thought I'd be left swooning!
Romabio offers a product that is user friendly, as well as environmentally friendly. Limewash is known for becoming part of the masonry surface it is applied to, unlike paint which sits on the surface of the brick.
So the process is simple. Wet the brick, apply one coat of Classico Limewash. The limewash is drawn in and calcifies to the brick the longer it sits, which is why we limewashed our brick home. We wanted a technique that was easy to apply, offered coverage and didn't harm the brick.
It was hard work just getting our house prepped for limewash, because we had to paint all the wood trim and repair a few places of wood rot. So while I was eager to dive right in, I needed lots of patience to get to the fun and easy part!
But, boy oh boy – the result's worth waiting for!
How to Limewash a Brick Home
Meet the hero of the story!
And don't let the labeled color fool you – we chose Nube Gray – a gorgeous putty color!
Right out of the box, the texture appears very wet-clay like. You water it down to your application preference.
For our home, we mixed 2 parts Nube Gray to 1 part water.
Then you mix, mix, mix it! A painters paddle that attaches to a drill makes the mixing process easier.
Be careful with application of this watery mix.  Taking time to prep your area can save you lots of clean up. Cover your shrubs and windows or other non limewashed surfaces for drips and flings.
One tip that we found handy: having a wet towel nearby to wipe up any rogue drips.
Note:  The limewash will not harm your plants.
Now every hero needs a sidekick and this monster masonry paintbrush certainly fits the bill!
I love this brush!
Not only does it make limewashing large spaces a breeze, but it's also so soft! Romabio has them handmade with care, allowing you to save time with a more efficient application, and money by not wasting product.
Plus this handy dandy hook allows you to set your brush on the rim of your bucket.
For my limewashing technique, I channeled my inner Mister Miagi –
UUUUPPP!!  DOOOWWN!
You need to vary your brush strokes to ensure proper coverage.
And don't be scared if it looks a bit translucent while wet – Romabio tells us that's how it's supposed to look at first.
Here's a pic of our brick half wet/ half dry.
Just look at how that chalky finish appears once it's dry!  Gorgeous!!
And the whole process is very quick. This side of our house took just only one day to complete.
Our only time hurdle was the weather. We had an unusual rainy beginning to our summer. Now one awesome thing about Romabio's Classico Limewash is that you are to wet the brick, so you can start limewashing once the rain passes.
It's an easy process that will transform your home.  So, you have the option of creating a forced weathered limewash look by rinsing it off in places with water, or leave it the opaque, solid finish like our technique and watch the Classico Limewash patina and change slowly over time.
Tip: If you are wanting a solid finish, Romabio has created another product, called BioDomus that will not change and has a 20 year warranty.
Now how about a bunch of before and afters to see the amazing difference!
What a transformation! The front porch is the most stunning to me.
We called in reinforcements for the back of our house. Those tall peaks shook our confidence, so we hired local painters to help us with the high spots.
We replaced our garage doors a few years ago and the color is a nice match to the Nube Gray.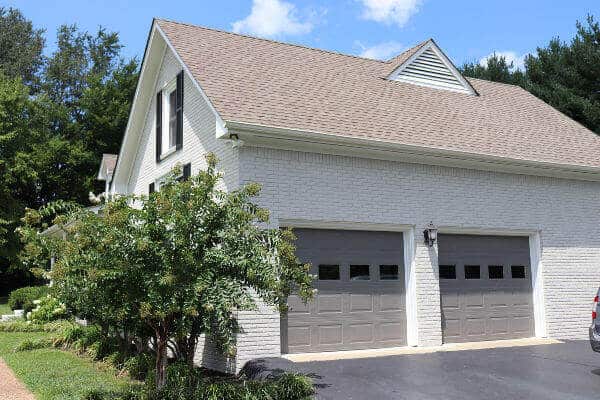 Here are the colors of our trim, siding, shutters, garage and front door.
The black pops against that gorgeous chalky limewash.
So in one short summer, we transformed the exterior of our home from this:
to this:
If you want to check out Romabio's product – they are now available in select Home Depot Stores, and also online!
Pin this for later!
And don't miss my other Limewash posts: