Everything You Wanted to Know about Limewash
Looking for answers to your limewash questions? Today, we're sharing an ultimate guide to everything you wanted to know about limewash!
I get, it! I really do!
I was right where you are wondering about this whole limewash process and I had these same questions.
When we set off to transform the exterior of our home, I had no idea it would take us to where we are today!
The pandemic hit shortly after we had limewashed our second home. As musicians, we found ourselves scrambling for additional income when the world shut down.
This has inspired Trent to start his own Limewashing Business!
It's been almost 2 years of watching Trent grow his successful company and we've learned a lot over those years.
We thought sharing these tips with you would be a great way to help you learn more about the application process, decide if this is a diy project you want to tackle, or help with any hurdles you may come across.
We have gathered our most commonly asked questions we've been asked from our readers.
And combined with Trent's expertise, we are more than happy to help you out!
Everything You Wanted to Know About Limewash
(Some affiliate links are provided below. Full disclosure here.)
What are the typical supplies you'll need?
We go over the full DIY Tutorial on how to apply Classico Limewash in this post, but I wanted to share the supplies you may need here as well.
Ladder
Hose
Pressure Washer if your brick is dirty
Drill
Eye Protection and Gloves
Is it cheaper to limewash or paint brick?
The cost difference between latex paint and limewash is pretty comparable.
Exterior surfaces need specialty paints and those run about the same as the cost of the limewash.
In the long run, you would save more money because your Limewash finish would last longer than most latex applications.
How do you prep your brick before painting?
The brick needs to be clean and free of dirt, mold, and algae before applying Romabio's Classico Limewash.
While Classico Limewash can inhibit mold growth, that doesn't mean it covers and kills it.
If your brick exterior is really dirty, you will need to power wash the surface before the initial application.
So take the extra step to kill and remove any algae and moss growing on your exterior surfaces.
Am I limited to the 7 colors Romabio offers in their Classico Collection?
While the 7 different colors are the most popular if you search for lime washed homes, what many people don't know is that the Romabio Classico Limewash can be custom tinted.
If you loved the color White Duck, you can go to your local paint retailer that carries Romabio products and they can provide a custom tint for you.
One thing to note: you are limited to lighter colors. Classico Limewash is a white base, and that means that deeper colors aren't an option.
Is it better to whitewash or Limewash brick?
100% all the way, we say limewash!
Whitewash is made by a mixture of latex paint and water. And regular paint isn't good for the brick.
Limewash is one of the oldest brick finishing techniques dating back to roman times that has stood the test of time.
It's eco-friendly and has a beautiful flat finish that won't chip or peel.
With either application, you can achieve that beautiful whitewash effect. Just with limewash, you are using a type of paint with added benefits of the highest-quality ingredients.
The other thing to consider is the finish. Most latex paints have a sheen, but limewash has that beautiful chalky finish that most people desire.
And if you eventually want a solid finish, you can use Romabio Masonry Flat directly over top without having to prime!
Does Limewash come off in rain?
This truly is a yes and no answer.
Limewash is meant to weather and patina over time, creating that old world look that you see in on all those houses in pictures of ancient Roman streets.
So yes, eventually it can come off in rain.
But it's been 3 years since we applied the Limewash to our home and it still looks the same!
In fact, I was hoping it would have patina'd a bit more by this point. So, in our experience, it may take a long time.
There have been a few cases where non stop water has sped up that process, like a rogue sprinkler that constantly shoots at a wall. As with anything, there are always exceptions to the rule.
What does it mean when Romabio says it "shadows in the rain?"
They are referring to the look of the limewash when it's wet. It's a natural color variation that occurs when exterior walls with an application of limewash get wet.
Basically it will look slightly darker when it rains and with a heavily distressed finish, some of the original brick may shine through.
But rest assured, it goes back to that beautiful flat finish once it's dry again.
How long does Romabio limewash last?
A bucket of limewash has about a 5 – 10 year shelf life in concentrated form. Once you dilute it, it will go bad in just a few weeks.
But if you are asking about how long your finish with last, that truly varies.
As I mentioned before, we applied the limewash to our home about 3 years ago and it still looks exactly the same.
The finish can take a decade to start distressing, but that also depends on your climate, how much you diluted it as well as how much was distressed initially.
How do you clean your house after it's been limewashed?
Romabio Classico Limewash is a low maintenance product, mainly because it is naturally mold resistant.
However, as we all know, algae can grow on anything. So as far as cleaning it, you need to be careful when using chemicals or a high powered pressure washer.
No need to use bleach. Doing so may actually stain the finish.
When we clean our house, we used a garden hose to rinse it off. If there was a stain, I took some mild detergent and a soft brush and rinsed it away with clean water.
Just remember that too much friction may rub the finish off, so be sure to use a soft touch when scrubbing any stains.
One thing I always found helpful was to call Romabio directly whenever questions arose. They have an EXCELLENT customer service team.
Can you spray the limewash instead of brushing it on?
Yes – you can hire a Preferred PRO applicator who can spray the limewash. That is what Trent is now doing and he loves it!
But even a homeowner can spray the limewash.
However, you have to have the right kind of sprayer, such as an airless sprayer. Since the lime creates tiny aggregates, air powered sprayers have a tendency to clog.
How many buckets did you use to cover your house?
For this house we used 4 large buckets (5 gal).
To find out how much you need, simply multiply the height and width of each wall and add them all together.
And expect that you may need more.
In our 10 Tips for Limewashing Your Home, we explain how different brick absorbs differently depending on the porosity of the surface and you may have 'thirsty' brick like ours.
Even though we calculated our linear square footage properly, we still needed a bit more.
So we recommend estimating about 10 percent for overage.
Where did you buy the Classico Limewash?
There is a where to buy section on Romabio's website. Enter in your zip and it will show you the closest stores within 100 miles.
They also list the different locations where you can order from online retailers if their isn't a store in your area.
How long does the application process take?
We did our exterior with just a brush and it took us about 2 weeks and that included days off for rain days.
It was just my husband and I applying it.
And now that he's a PRO applicator, he finds he can complete a house in about 10 days. The Limewash goes on super quick and it's just one coat. If you have someone helping you – it does make the process quicker.
How do you dilute Romabio's Classico Limewash?
Romabio Classico Limewash is intended to be diluted and dilution rates can vary.
Then you mix, mix, mix it! A painters paddle that attaches to a drill makes the mixing process easier.
You mix a batch of limewash until it's the ideal consistency that resembles whole milk. Not too thick nor too watery.
If you add too much water, no problem – just add some more limewash until it's the consistency you like. I like to start with less water and add more as I go.
There's really not one correct ratio for Classico Limewash. Since it's a dilutable product, there is a lot of forgiveness in this step.
It truly can vary based on the look you are wanting to achieve.
Will this product stain easily?
I have noticed areas where I haven't mulched properly, the dirt does splash up on the white brick, but it is easily washed away.
But having a layer of mulch impedes this occurrence and should help keep that controlled.
Is this a one coat process or do you need a number of coats?
The limewash is a one coat system and the color doesn't change with multiple coats if you decide to go with a solid finish.
We applied one coat of Classico Limewash to our home and lightly distressed it.
What method of distressing did you use for your second home?
We wanted our distressing for this house to be very slight, so we waited almost 30 minutes before distressing the brick.
That allowed for the Limewash to absorb into the brick more and not rinse away as much.
We specifically used a garden hose with a spray nozzle attached and sprayed the brick standing about 6 feet away from the brick. Always start further back if you don't want to remove as much.
You could also use a sponge if you are wanting to distress certain bricks.
We share more distressing techniques in our 10 Tips for Limewashing Your Home post.
Is it possible to do more distressing the next day without messing it up?
Yes, you can add more distressing. But the longer you wait, the more it calcifies to the brick.
If you have a pressure washer, you may be able use that.
That being said, use caution because you can take too much off. Our pressure washer has different gauges of PSI and we used the lowest one.
Just make sure you don't get too close.
We added some extra distressing a few days later and a pressure washer worked great!
Plus, if you take too much off, you can easily paint more on!
How do you distress an interior fireplace?
Obviously, you can't bring a garden hose into your living room to squirt limewash off your brick fireplace or wall.
So how do you distress interior brick differently than exterior applications?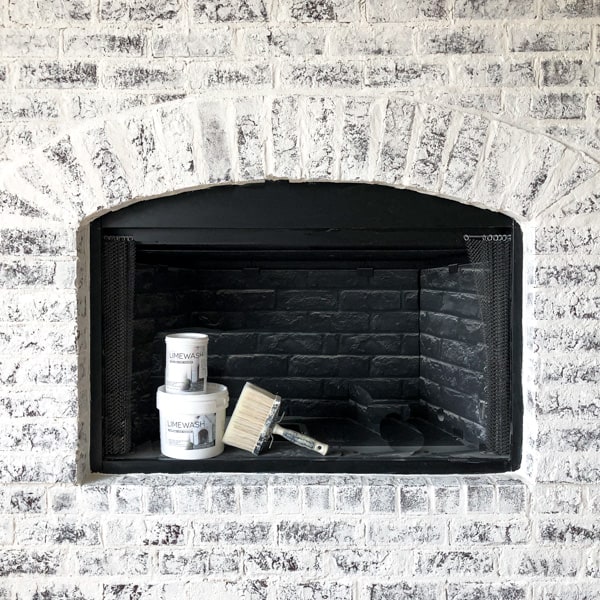 First off, you don't need to mix 5-gallon buckets of limewash.
Romabio's Classico Limewash comes in a variety of sizes and most of the time, a 1 quart container is all you need for an average sized fireplace.
Using a spray bottle, dampen the brick surface.
You can use a smaller brush and apply a thin coat of limewash.
Have a damp rag handy and use the rag and spray bottle to start distressing as you go.
Once it starts to dry, you can go back and take more off. And if you took off too much, then just reapply a bit more.
Can you apply Classico Limewash to steps or walkways?
Unfortunately, no.
The natural ingredients in Limewash don't hold up to the friction from foot traffic.
Even though I knew this, we limewashed our steps anyway. About 2 months later, we were back down to the bare brick.
So we ended up using a mortar wash on our steps and front porch and that has held up much better.
Should you wear eye protection?
1000% yes!!
We have heard many stories of the limewash getting into someone's eyes causing problems.
Lime is a still a dangerous chemical – even though it's from the earth.
We make sure to wear gloves and goggles when we were applying. And now that my husband is a professional applicator, he has multiple pairs of protective eye wear.
What if I don't want to do it myself? Are there PROs that can apply this?
While we may find this extremely easy to DIY, some people aren't cut from the same cloth. That's why Romabio has a list of PRO applicators that specialize in their products. The guesswork and fear are taken out of the equation for you.
So if this seems too daunting, then ask Romabio for a list of Preferred PRO Applicators in your area!
You may be on the fence whether to do this yourself or hire it out. I go over all the details of deciding whether or not to DIY or have someone do it for you (DIFM) in this post.
If you are looking for more inspiration, you can see his jobs he's completed. It's a great way to get ideas for your own home.
It's been almost 3 years since we did our exterior limewash and it's still such a beautiful finish.
I hope you found some answers in this guide to everything you wanted to know about limewash.
And if there are any questions you have that we may have missed, feel free to leave a comment below! We'd love to help you out!
Check out these other Limewash Posts!