Have you wanted to Limewash your home, but have been hesitant to start? Today, I'm joining Jen from West Out West to share our 10 Tips for Limewashing Your Home.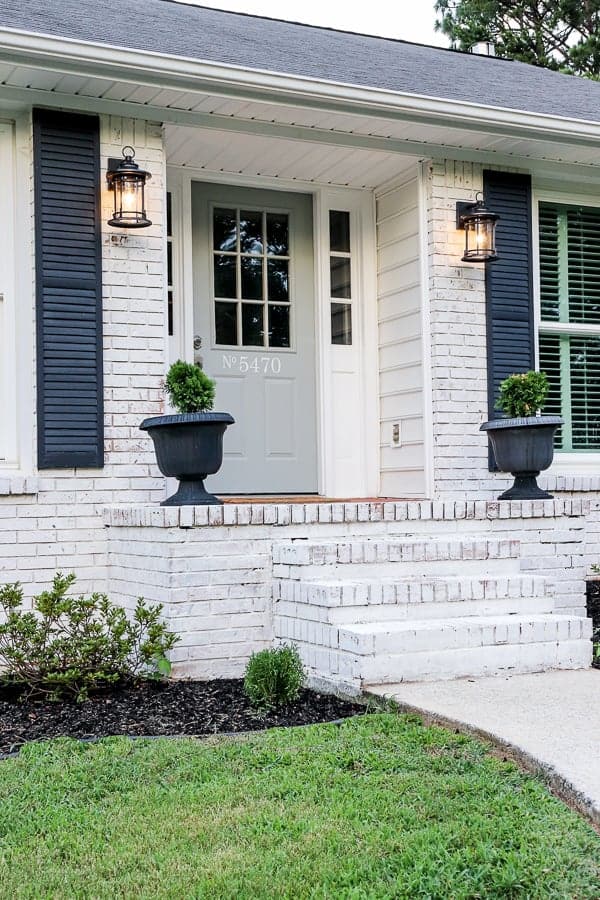 When we set off to transform the exterior of our home, I had the joy of connecting with a fellow blogger, Jen from West out West, who was also lime washing her Arizona home.
It was such a joy to be there for each other as we took on the task of tackling our brick homes with Romabio's Classico Limewash.
We were able to share our experiences and challenges with each other to complete the process. I used Avorio White and Jen used Cristallo White.
And today, we are joining forces to share our 10 Tips for Limewashing Your Home.
I will focus on what it's like to Lime wash your home here in the humid south, and Jen is sharing her experience Lime washing her home in the arid desert climate.
Here are my 5 tips.
Watch Your Heat and Humidity
Lime washing our home here in Birmingham is different than what we experienced with our Tennessee Home.
There is just enough variation in climate and humidity and we could tell when we started Lime washing.
According to Romabio's instructions, you wet the brick prior to application. This helps with the calcification process as the Lime wash hardens to the brick. With our heat and humidity, we noticed the brick needed to be wet more often.
Take that into account if you are in a hot and humid environment. What we found to be most successful was working in smaller sections, rewetting the brick as needed.
Make sure to adhere to the temperature limitations as specified. Don't apply under 50 degrees and over 90 degrees.
Check if you have Absorbent Brick
We noticed about halfway through the process that we were running low on our Classico Limewash.
I called and spoke to Romabio about it and was told that some brick is more absorbent than others.
Here's how to test it: Spray your brick with your garden hose. If you notice the brick is dry within moments, you have highly absorbent brick.
Even though we calculated our linear square footage properly (multiply the height and width of each wall and add them all together), we needed to order more to complete the job.
This could also be why we needed to wet the brick more often!
Also, if you have larger grout lines, that is another ledge of surface that needs to be covered, and can cause you to have to order more.
Know when to ask for help!
We have completed our entire home with the exception of our chimney stack.
The pitch of our roof is very steep with large drop offs and neither I nor my husband feel comfortable climbing that roof.
Unfortunately, here in the height of summer, we missed our window with the temperatures, so that means we'll have to wait for fall to hire this out.
Luckily, this chimney isn't seen from the front of the house!
How to achieve the lightly distressed look
Romabio's Classico Limewash is meant to weather and patina over time.
For our last home, we applied the lime wash in a solid, opaque finish with the hopes of watching it weather overtime, not knowing that we would be selling our home just a few months later.
This time, we opted to start the distressing with a light rinse off.
What's great is that you can distress it to your liking – there's no right or wrong way!
Pressure Wash Technique
We started with a heavily distressed look, but it seemed to be too much.
We found that with our absorbent brick, we needed to start distressing about 20 minutes after application.
Earlier than than resulted in too much being washed off, and any time later the lime wash was already calcified.
So we found that if we used our pressure washer – very lightly – worked on the calcified brick.
That being said, use caution because you can take too much off. Our pressure washer has different gauges of PSI and we used the lowest one.
Now for Jen from West Out West's tips!
Do you live in an arid climate? Or do you have slump block instead of brick? Maybe you're considering spraying your limewash on instead of using a masonry brush. Jen is sharing all her tips over on her blog, so hop on over and check out the second half of the post.
And if there are any questions you have that we may have missed, feel free to leave a comment below! We'd love to help you out!
Pin This For Later!