How to Make Unique Faux Concrete Planters With Paint
I was dreaming of beautiful concrete planters for my front porch, but my budget was tight. Here's how to make unique faux concrete planters with paint.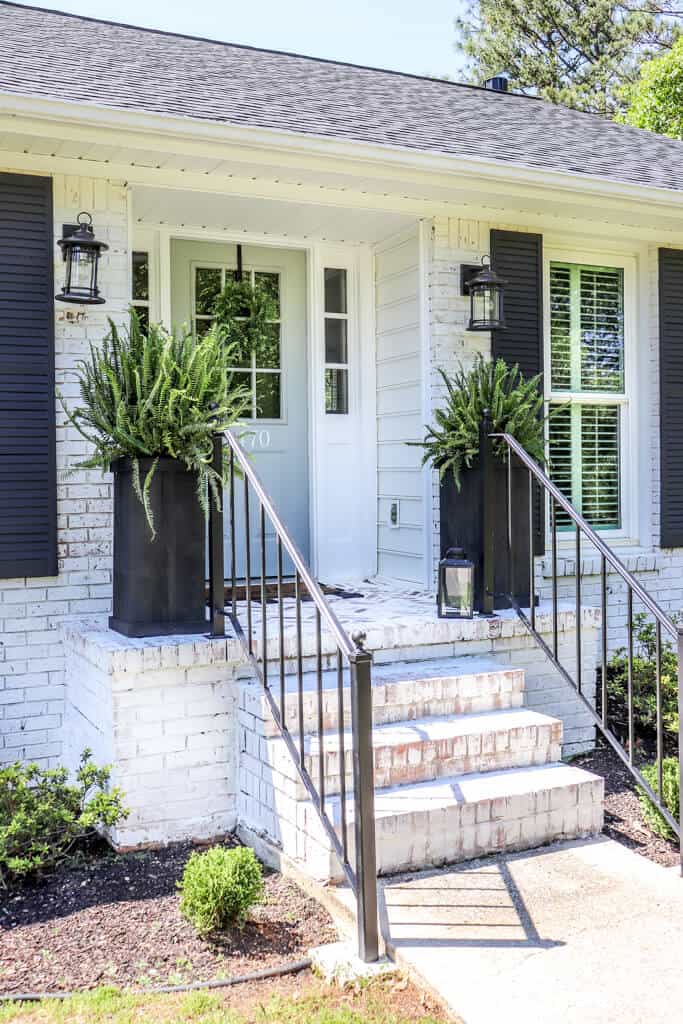 Last year, we made some easy DIY planters for our front porch and they still look great.
But I've been working on updating my back patio. Since there is black furniture, I know these would be perfect.
So these planters need to be moved around back, which means I needed something new for our front porch.
Now you know I love DIY projects, but something more important is saving time.
I first started looking at Home Depot for planters that had the look I loved, like this one and this one.
But that price tag scared me away!
So my first thought was to just build another set of our DIY planters, but those beautiful, curvy urns were stuck in my mind.
One day, while shopping at Aldi, I came across these big porch planters. They were either plastic or fiberglass and the color was…
Blech!
Can you say baby poop yellow? I think they just pulled them out of the silicone mold and then forgot to paint them.
I almost kept on walking, but then I saw the $30 price tag. That meant I could get 2 planters for less then the price of just one!
But I definitely needed to update the look to resemble those gorgeous concrete ones I found online.
It's super easy to do!
Here a step by step tutorial on how to get the concrete look – you'll love the end result!
How to Make Unique
Faux Concrete Planters With Paint
(Some affiliate links are provided below. Full disclosure here.)
Supplies Needed
Plastic Planters – you can find cheap ones at the Dollar Tree or a thrift store
Spray Paint – I used Rustoleum Painters Touch 2X Paint and Primer in Granite
Acrylic Paint
Water
Handy Craft Pail
Paint Brush
Paper Towels
First I started with spray painting these big boys.
I love to save old boxes to use as makeshift drop cloths whenever I do projects – it helps catch any overspray that might happen.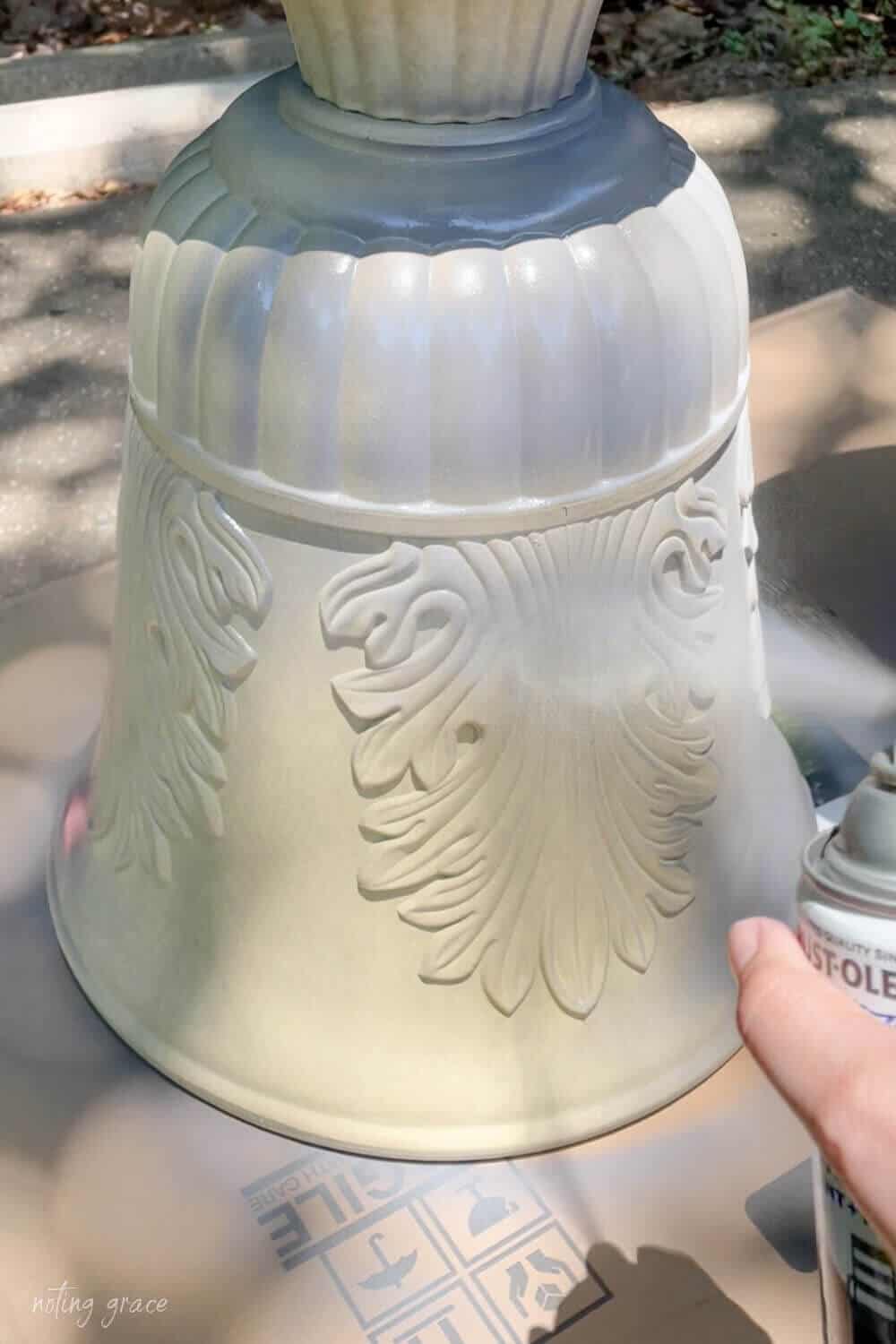 I started with one coat using short sprays in a back and forth pattern.
This helps prevent any runs from happening.
Once they had dried about 30 minutes, I flipped them over and hit any spots I missed.
You don't really need a second coat of the gray paint and primer, since this 2X is supposed to create full coverage.
But if you are using a different primer, make sure the first coat is fully dried before applying a second coat.
I left them outside to dry for a few hours and then brought them into the garage and placed them on a work table.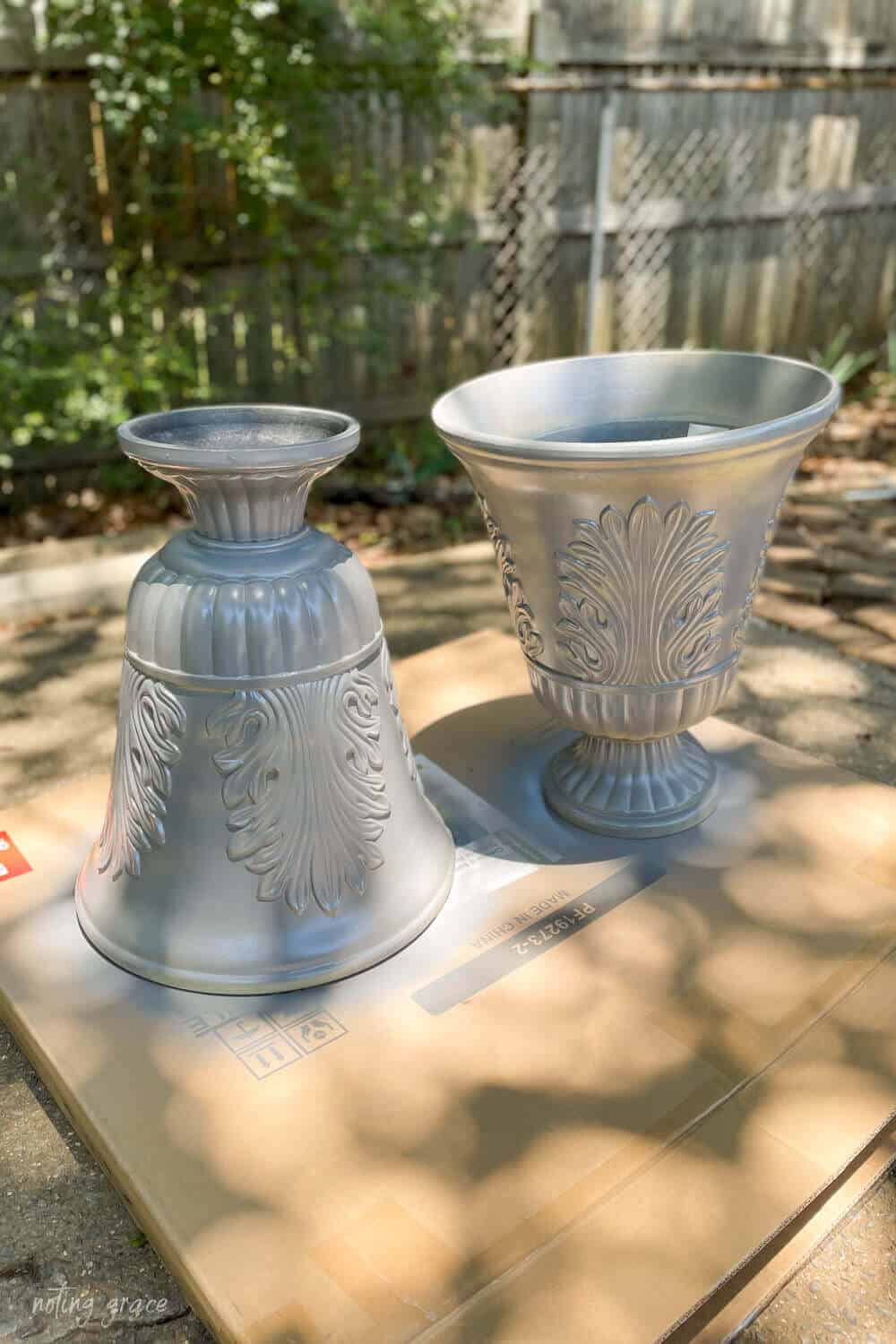 If you are looking for a great work horse of a table – you gotta get this one! It's my favorite. We've owned it for years and use it all the time!
I took some white acrylic paint we had and poured a small amount into a container and mixed it with some water.
You want to make sure to fully mix the water and paint, so you may need to stir for a few minutes.
Once the mix is fully incorporated, start painting over the spray painted planter.
I love using these chip brushes because they are hearty, hold up to multiple uses and are super simple to clean.
You don't want to load you brush with too much paint or you'll be chasing paint runs.
I started on the medallions on the side, focusing on making sure the white was in each of those crevices.
Then I moved onto the rest of the planter and the base.
You want to let the paint sit for a few minutes. I worked in sections to help make the process quicker.
After a few minutes, take a paper towel and begin to wipe away to expose the gray underneath.
It will leave a veiled look with just hints of white while also keeping all those nooks and crannies filled with the white paint.
Here's a side by side of the planters – one with paint and one without.
Doesn't that look like the real thing?
I think the lighter color definitely give it a more realistic appearance.
Rarely do I get it right on the first attempts, but this was a one and done project!
That makes me super happy!
I let the white paint sit for an hour or so and started filling them with my plants.
Now, if you know me, I am definitely green thumb challenged. My problem is that I forget to water the plants!
So I found these two artificial cedar topiary trees on Amazon. They were make for indoor or outdoor use and they weren't too expensive.
After reading the reviews, I decided to get these for my front porch plants.
I didn't mind paying a few extra bucks knowing they'll last years instead of buying new plants year after year to only watch them suffer.
They are about 3 foot tall and look very realistic!
Since these planters were big, I saw someone share on instagram stories how they fill their pots.
They use old water bottles or cut up pool noodles the fill up the space. I used to use rocks or dirt, but that makes the planters super heavy.
So I filled mine with old plastic bottles and then added some of those cheap plastic flower pots from some landscaping plants.
What a great way to recycle and item!
Then I purchased some potting soil. I got the kind geared toward over and under watering. I filled the container around the cheap plastic pots with the soil.
Next I added some creeping Jenny to the container.
A trick I've found that helps make faux plants look real is to combine them with real plants.
Plus, I can easily swap these out with each season!
After I added the creeping Jenny, then I placed my faux cedar topairies in place and filled the rest of the container with soil.
Ready to see how they look on the front porch?
Don't they look great?
They look like true concrete.
And they are still super light. I was able to carry them from my garage to my front porch with no problem.
Now if you are looking for ideas with more of a concrete texture, check out this tutorial from In My Own Style. And there's lots of DIY planter tutorials on how to use concrete mix or even get a different look using a hypertufa mix like this one from Jenna Sue Designs.
And there are even similar techniques out there using chalk paint or dry brushing for a faux concrete finish.
I wanted a smooth finish, so I thought this would be the best way to create this unique concrete planter.
I hope this inspired you to create your own diy faux concrete planter.
This is such a fun project and you can get the look of a cement planter without the cost!
And if this inspired you, be sure to sign up for my newsletter where you'll get my latest posts as well as more home decor ideas!