A Budget Friendly Dining Room Makeover
Happy First Day of Summer, friends! Can you believe that it's almost halfway through the year? I'm oh-so-excited that you're here for my Budget Friendly Dining Room Makeover.
I can't wait to show you how I updated my Dining Room for the season.
If you are hopping over from Niña and Cecilia's perfect outdoor space on this Summer Home Love blog tour, welcome to Noting Grace!
Before we begin, I have to come clean. I have never really loved my dining room, even though it was my favorite room in my home.
So while it was pretty, in reality it was very cold and uninviting.
Our Dining Room needed help!
It was a cold, sterile kind of room where your voice reverberated for days like an echo chamber.
Okay, it wasn't that bad, and was actually killer for dropping some rocking vocal riffs, but not so good for creating an inviting dining experience.
But with our budget being next to nil after investing in our master bedroom makeover, I had to put on my penny pinching hat to figure out how I can create a cozy dining room without spending too much money!
Budget Friendly Dining Room Makeover
It all started with a rug.
This rug to be exact. (affiliate link if you fall in love with it too!)
Well, sort of… If you read my last post – the true inspiration actually started with one gorgeous, vintage blue flow platter from my grandmother that put the idea in my head, which is what made this rug catch my eye. But I couldn't do it.
This rug sat in my Amazon shopping cart for months.
I hemmed and hawed about stepping out of my neutral comfort zone and adding a touch of color.
What if I don't like it? What if it's a huge decor blunder? I kept on with the what ifs until…
Until I saw the email that let me know that the price had dropped!
And do you know what? I jumped!
So I did it – and threw all neutral loving caution to the wind and hit that "Complete Purchase" button.
While I waited with baited breath for it to arrive, I started painting my knotty pine hutch just knowing they were going to be besties.
(See that vintage, blue platter on the bottom? That's what started this whole train a-rollin'.)
Delivery day finally came – I unrolled the rug and was immediately overjoyed!
Happy dancing was done that day! I mean, it was so perfect – marrying together the gray tones in my walls and the blue hues in my hutch.
So are you ready to see this budget friendly dining room makeover?
It's amazing how adding just a touch of warmth with color instantly transforms the room.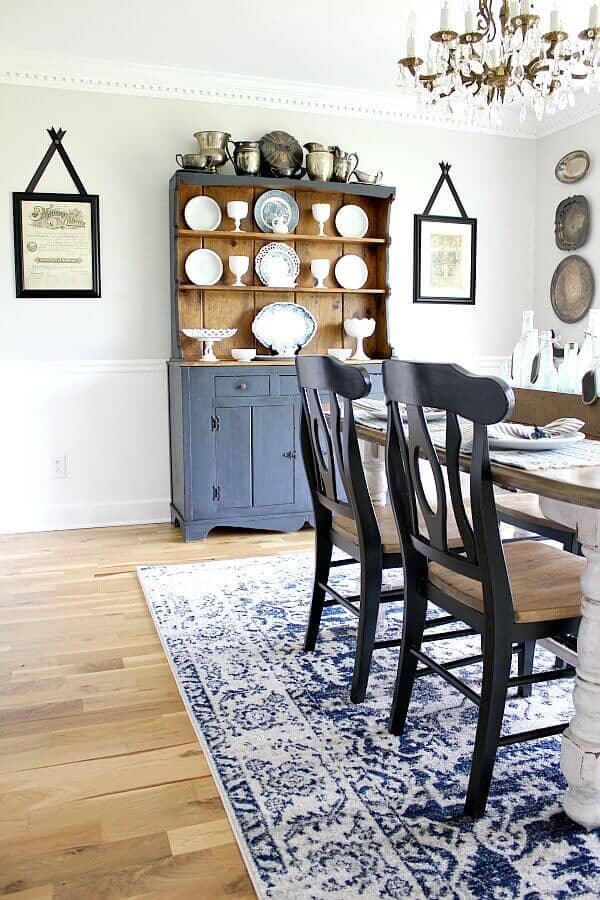 But just as I suspected, my rug and hutch played so nicely together.
The blue hues seem to accent my newly painted hutch even more! It makes those framed vintage marriage licenses pop!
Topping my hutch are some of my favorite pieces of tarnished silver that I've collected junking or are family heirlooms that have been given to me.
I also framed each side of my bay window with some vintage silver trays.
I hung them adjacent to each other with Command Strips which takes the weight of the tray without the worry of damaging my wall.
And speaking of my bay window…
I finally added curtains to soften the room.
This window and view was what made us buy this home.
To be able to see those picturesque 10 acres across the street from us (but not have to do any of the upkeep on it) is my favorite way to wake up and enjoy my coffee, admiring my view.
I'll share soon how I hung these curtains with a fun DIY curtain rod, but the main objective was to soften the look, but not block any of the view.
So for the tie backs, I purchased some blue and white striped trim from the upholstery department at Hobby Lobby and just love how it looks!
So I moved my vintage sewing table into the bay window and added a few of my favorite items that weren't too big to block my view.
The pillow covers came from Hobby Lobby and are just the sweetest touch, aren't they?
I added these olive bucket wall planters that I found for half off.
They fill up the wall without drawing too much attention or competing with the silver trays. Plus the simpleness of the olive buckets make the room more casual.
But can we talk about these gorgeous, blue hued bottles for a moment?
While we were on vacation, I popped into some local thrift stores and found these vintage bottles that I had to have – especially the ones that were a steal which is a perfect fit for this budget friendly dining room makeover!
I just popped them into my DIY planter I made from pallet wood and added some wooden chalkboard tags.
I tried my hand at a makeshift table setting. While I've always disclosed how I am not good at tablescapes, my tiny attempt turned out to be surprisingly fun!
I got these Better Homes and Gardens placemats at Walmart. I love the tiny fringe on the edges.
Using some blue and white ticking fabric I had on hand, I cut squares for napkins and tied old strips of denim and navy rickrack for some easy DIY napkin holders!
Overall, I'm so pleased with the results. Isn't it amazing how adding a hint of color seems to welcome the start of Summer!
So here's the breakdown of cost and how I was able to make over this room for less than $250!
Budget Friendly Dining Room Makeover
Sources and Budget:
Safavieh Rug 6 X 9 – $147
Valspar Sample Paint and Glaze $3.50
Vintage Blue Bottles – $12
Blue Pillow Covers – Hobby Lobby 50% off – $10
Blue Placemats – Walmart $14
Metal Wall Olive Bucket – Hobby Lobby 50% off – $20
Faux Olive Greenery – Hobby Lobby 50% off – $10
Blue and White Trim curtain tie backs – $1.50
Sheer Curtains – already had on hand – $0
DIY Curtain rods – $5
Total Cost $223
So you too can create a completely new look for your room without breaking the bank!
To continue on this Summer Home Love blog hop, head over to Laura's at Renew My Home to see her 5 tips to refresh your decor for Summer!
Pin for Later