Farmhouse Woven Shades: Just a Little Window Dressing
We wanted to create a cozy feel for our Master Bedroom and these Farmhouse Woven Shades were just perfect!
Thank you to the wonderful people from The Shade Store for partnering with me on our Master Bedroom makeover!
Well, here we are friends – halfway through the One Room Challenge from Calling It Home and progress is coming along! So this week is all about my windows and how I dressed them up with Farmhouse Woven shades!
Farmhouse Woven Shades
(Some affiliate links are provided below. Full disclosure here.)
Standard Woven Wood Shades in the Fair Harbor Price Group A under the 'Bamboo+Grass" section. . UPDATE: Looks like they've renamed the colors – ours is REED. Scroll down for a step by step guide on how to purchase these exact shades.
When we had our shades installed for our Family room, I was amazed at how beautiful they looked and I knew I wanted them for our bedroom.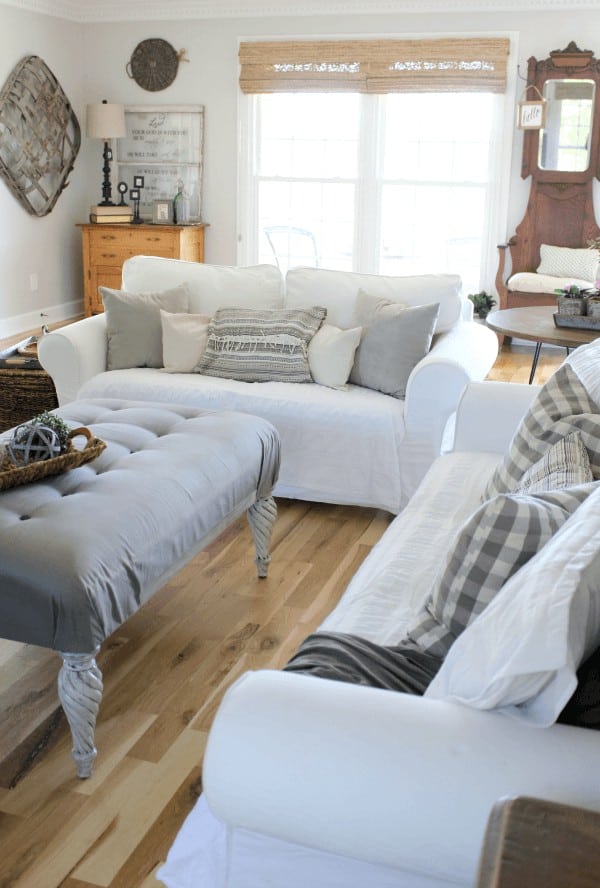 Years ago, when we lived in a rental, the landlord had cheapy blinds in the windows. They looked awful! I knew that we had to invest in quality blinds and that they would last longer making them more cost effective.
We got these gorgeous Farmhouse Woven shades from the wonderful people at The Shade Store.
Save 10% on All Products at The Shade Store
The window sizes were exactly the same as the Family Room, so I knew how they would look. We went for the Standard Woven Wood Shades in the Fair Harbor-2 color. UPDATE: Looks like they've renamed the colors – ours is REED.
So for our large picture window, we ordered the shades with multiple shades on one rod. But I was concerned that the weight of a single shade would be difficult to raise and lower with our large window.
In addition to that, I loved that it gives us the option to raise or lower one side at a time if we'd like!
The helpful customer service rep was so kind to assist me with the best options for my windows. Since she recommended the continuous loop cord, which is a silver chain that maintains a consistent length, it is easier to operate larger shades.
I just love the weave on these shades! It is so beautiful!
I left my curtain rods in place from my previous panels, but knew I had to be budget smart for the draperies. So I reused the old curtain panels by simply removing the blue silk and replaced them with twin white flat sheets.
HOW TO BUY THESE SHADES:
Click this link go to The Shade Store
STEP ONE: Choose the BAMBOO + GRASS Collection
STEP TWO: Scroll Down until you see MATERIAL: Fair Harbor
STEP THREE: Select the REED pattern.
Easy peasy!
Save 10% on All Products at The Shade Store
Don't they look so nice against those beautiful Farmhouse Woven shades?
It was such an easy DIY – just an afternoon, an iron and some stitch witchery.
Closet Progress
So to not leave you hanging with suspense – the progress on the closet is coming along too!
Finally, we finished the install on the floors with left over scraps from our Hardwood install years ago.
So we have yet to fill the holes and seal them, but progress is progress!
Trent came up with a great idea to install a mirror case in his closet, so that build has been a little side project, but so much fun!
But one last thing to share this week is how I transformed our ordinary ceiling fan into something extraordinary!
The One Room Challenge Plan
Converting the 1/2 bath into a closet

Opening the Wall and adding a door
Sealing the other Wall
Replacing the flooring – almost finished!
Build a DIY closet system with a bench
Adding a mirror – in process
Moving the light

Glitzing up and feminizing the existing walk-in closet – in process
Replace the bathroom door with a DIY barn door – in process
Hang farmhouse woven shades in windows
Replace curtains
Modify the ceiling fan into a Farmhouse style fan
Replace the lamps – purchased
Find new side tables – switched out from other rooms
Adding a reading nook so I have a quiet place to escape to
Create DIY artwork
We're chugging along, but, boy, do we need to kick it into high gear! But I feel confident that we can get this finished in time, even with the workload ahead of us. So head over to Linda's site, Calling It Home, to see all the other amazing rooms being transformed.
To see our design plans for this room, check out my previous posts:
week one, week two, week 3, week 4, week 5, REVEAL
The Shade Store sponsored this post and we are so thankful to be partnering with them. While I may receive a small compensation, all prices remain the same for you. Thanks for supporting me!
We've added Woven Shades to our Eat-In Kitchen!
Previous Rooms we've completed through this
One Room Challenge