Affordable Farmhouse Natural Woven Wood Shades
We wanted to create a cozy feel for our Master Bedroom and these Farmhouse Woven Shades were just perfect! Natural materials, super affordable and made of wood! I was all in!
We are so excited to finally add that farmhouse look to these beautiful windows in our master bedroom.
But we have these large windows across the lower level of our house, which can be a little pricey.
When we had our shades installed for our Living room, I was amazed at how beautiful they looked.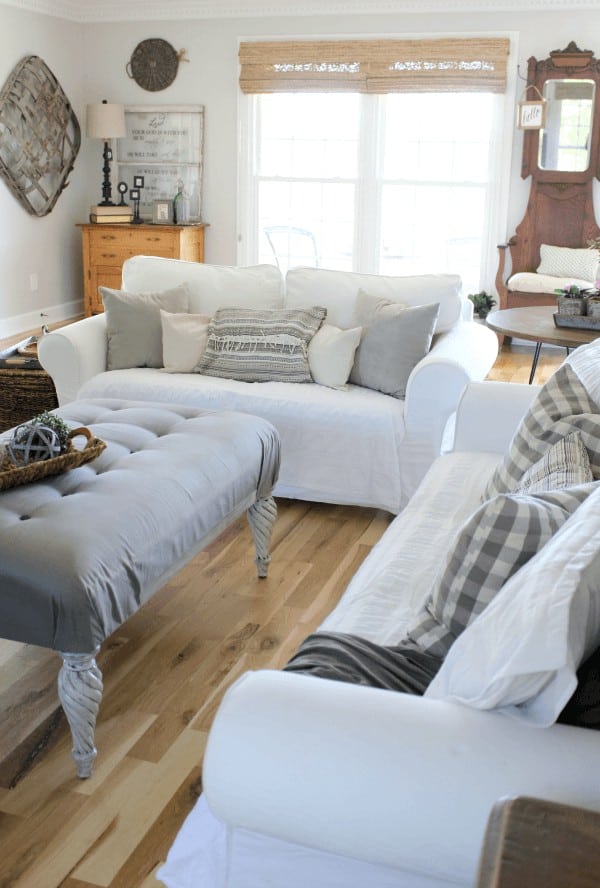 And I knew I wanted them for our bedroom.
I also knew that we had to invest in quality blinds and that they would last longer making them more cost effective.
Years ago, when we lived in a rental, the landlord had cheapy blinds in the windows.
They looked awful!
But you don't have to have expensive blinds to get this classic look.
Farmhouse Woven Shades
(Some affiliate links are provided below. Full disclosure here.)
Levolor Natural Woven Shades: Sisal Twist Banana Leaf
So for our large picture window, we ordered the shades with multiple shades on one rod.
But I was concerned that the weight of a single shade would be difficult to raise and lower with our large window.
In addition to that, I loved that it gives us the option to raise or lower one side at a time if we'd like!
The helpful customer service rep was so kind to assist me with the best options for my windows.
Since she recommended the continuous loop cord, which is a silver chain that maintains a consistent length.
It is easier to operate larger shades, but after having motorized shades in our basement, I would definitely splurge.
I just love the weave on these shades! It is so beautiful!
HOW TO BUY THESE EXACT SHADES:
The first thing to do is to click this link to go to Blinds.com.
STEP ONE: Choose More Colors from the color selection
STEP TWO: Scroll Down until you see Sisal Twist Banana Leaf WSN 81928
STEP THREE: Continue with options and sizing for your windows. It's important to get the exact measurements, so be sure to follow the measuring instructions for your windows.
Our roller shades are in the inside mount design style, but you can also opt for an outside mount.
Easy peasy!
Additional Options
Natural Woven Shades help define a room's entire mood through a natural texture available in lighter weaves and different colors to provide a textured look inspired by nature.
Many options are available in neutral colors, natural materials like bamboo shades, which are all characteristic of the farmhouse style.
These pre-made shades are available with no liner, a Light Filtering privacy liner, or a Room Darkening blackout liners.
This would be a perfect way to help achieve uniform light control and privacy.
Plus you can choose a cordless option or a motorized control if you want to be fancy.
By getting the exact measurement of your window frame, it will allow for the wood shades to rest properly on the window sill without too much puddling.
You can see from the picture below how the natural light still peeks through without the blackout fabric.
Drapery Options
A perfect way to get a modern farmhouse look is to add some window drapes.
I left the curtain rod in place from my previous panels, but knew I had to be budget smart for the draperies.
We chose to not add blackout lining to the back of the shade.
But we still wanted an option for room darkening and additional privacy.
We also wanted a crisp, white look to continue our neutral color scheme for this room.
So I reused the old curtain panels by simply removing the blue silk and keeping the privacy lining.
Then I made these drapes from twin white flat bed sheets and added the old privacy panels.
It was such an easy DIY – just an afternoon, an iron and some stitch witchery.
Don't these window coverings look so nice against those beautiful Farmhouse Woven shades?
More Ways to Get a Farmhouse Look
for Your Windows
A lot of people are concerned that the farmhouse design may be waning a little bit.
But these wood shades are still a popular choice, regardless of the interior design trend.
And it's definitely an easy way to update your room to add a bit of rustic charm in a neutral color palette.
Plantation shutters would also work. We had these in our existing home, but recently removed them after a few years.
Any type of wood tones can create a similar look, like bamboo blinds and farmhouse roman shades.
We've added Woven Cordless Shades
to our Eat-In Kitchen!
UPDATE: We have moved to another state since updating these windows, but I still wanted the modern farmhouse window treatments in our new house.
These are a cordless woven wood shade in natural woods and looks beautiful.
We also go into detail about how we added new trim board to complete the look.
Click below to read about these: