Our 2020 Vision for Our Home
Each New Year brings a fresh new start – a perfect time for making goals for yourself. Here is our 2020 vision for our home!
Do you remember the excitement of back to school shopping? Getting my latest Trapper Keeper, pencil boxes and all the things for school – it was my favorite part of the school year.
And still today, I have to confess that I completely geek out over schedules, to do lists and personal planners.
At the start of each year, I'm all giddy filling out my planner with hopes and dreams for the year to come.
There are so many goals for our house and some of it may be a bit lofty, but I can't wait to share them with you!
2020 Vision for Our Home
(Some affiliate links are provided below. Full disclosure here.)
I got out my new planner and set of pens and wrote down my goals for myself and my business.
If you're a fellow planner nerd like me, you will love this one!
This is my all-time favorite planner! It's made by Ruth Soukup from Living Well, Spending Less and it great for setting goals! And these pens are a must-have for me.
BTW – You can get $5 off your first planner if you use this link! 😉
On my personal list, I have all the regular goals that include finances, health and fitness, but productivity is at the top of the list!
And that's where the house projects come in.
So now let's see what that entails!
1. Master Bedroom Makeover
We are in the process of making over our master and last month, I shared the plans for this room.
I can't wait to reveal this room, but most importantly to have a space that I can't wait to retreat to!
2. Bedroom Makeover for Both Boys
I guess this is the year for bedrooms!
And both boys have asked that we make their rooms over so those are definitely on the list!
We have always had fun making over our boys rooms, and I hope these will be the same. Here are some of my favs from the past! Click each picture to see the details.
3. Create a Green Room for our Kitchenette
We have this fun, little kitchenette down in our basement that needs some TLC.
We teach music lessons out of our home as well as host band rehearsals, so we thought this would be a fun place to create a 'Green Room' backstage type of area where people can get snacks or a drink. I have some fun ideas for this project!
4. Update the Basement Stairs
After we ripped out the carpet and updated our basement floors, our stairs suddenly looked sad. So I hope to get to this project this year.
5. Refresh the Basement Bathroom
I know, I know – I've already done 2 bathrooms since we've moved to our Meadow Brook home, but this DIY is for a few good reasons.
The carpet in the bathroom is ICK, and we have some leftover flooring that we can replace it with! Plus, we have all the supplies needed to bring this one up to date, so it should be quick and budget friendly!
6. Build a Firepit
One thing we miss about our old homes are the fire pits we had. I would love to create a space where we can enjoy those nice evenings.
We removed this dilapidated basketball hoop and now have a spot crying out for a fire pit!
Here is my favorite fire pit from when we lived in Vegas.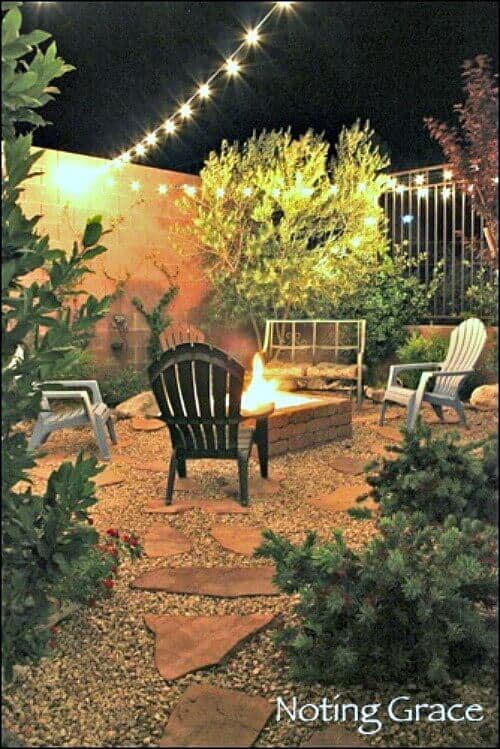 7. Repaint the Deck
This is another area that we need to update. It a yucky brown color and we find that we don't use this space as much as we want to!
It could be such a cozy space!
8. Update our Front Porch Brick
After we limewashed our exterior, we felt our front porch was lacking.
The brick is in pretty bad shape and needs replacing. And I would love to add handrails and some DIY planters to create a welcoming entry.
So that is our 2020 visiton for our home! Wish us luck because it's gonna be a busy year!
What about you? Do you have any home goals? I'd love to hear what improvement you want to do to your home.
And who knows, you may inspire us to tackle something else and share a tutorial! Leave me a comment below.