Ten Years ago today, I hit publish on my very first blog post. Here's a fun look back on a decade of Noting Grace.
Wow! It's kind of surreal writing this post.
Looking back to where it all began and how much has changed in just the past 10 years.
We've had 4 different mailing addresses and have lived in 3 different states in that time.
My boys are now teenagers.
And there were moments when I thought of quitting this whole shebang.
So here's a fun look back on a decade of Noting Grace and what was the catalyst that changed it all.
A Decade of Noting Grace
It all started when we moved into our Vegas House.
We bought the home in April of 2009. It was a beautiful home that we got for a deal at the time of the housing crisis, but it was HUGE compared to where we had lived before.
And living on a musician's income, we didn't have the money to decorate like I dreamed we would.
I found myself with lots of empty rooms – which two little but loud boys LOVED chasing their echo in.
So I sought out ways to create a beautiful home without spending a lot of money.
We painted our walls with gallons of 'oops' paint from the big box stores.
Saturdays were spent waking up early to hit the garage sales.
And I when I walked into Goodwill, it was just like when Norm walked into the bar at Cheers.
That's when I realized that I know I'm not the only one struggling to do this.
Life as a Hobby Blogger
From 2010 to 2016, this was always a side gig for me.
You see, Trent and I are musicians by trade, performing and running our recording studio from our home.
We sold that big Vegas house and moved to a rental for a year with the hopes of moving away from the Strip.
I was in the throws of homeschooling and let the blog slip away for almost a year.
I always reflect on this time as living literally and figuratively in the desert.
It was a dark season for our little family.
But hope was on the horizon.
We had the opportunity to move to Tennessee – our Almost Farmhouse.
It was built in the 80s and stayed in the 80s and needed lots of TLC.
So we were eager to create a beautiful home and the bug bit again.
We were chugging along and then life threw me another curveball.
I started suffering from panic attacks.
It took me a few months just to get my bearings of the changes in my body so I stepped back again.
And I was about to give up on the entire blogging business.
Then I met one of my all-time-favorite bloggers in the world!
My friend, Cindy and I went to the Country Living Fair in Nashville and the incomparable KariAnne Wood from Thistlewood Farms was scheduled to speak.
I had to meet this blogging idol of mine and that day, she said something to me that changed the course of my entire blogging career.
KariAnne looked me in the eyes, squared up my shoulders and told me that I have a unique voice. One that people will connect with and want to hear.
I walked away with huge crocodile tears in my eyes and with a new resolve to change my approach.
But I wasn't out of the woods yet.
Sometimes it has to
get worse to get better.
Soon after this influential pep talk, I was invited to join a blogging community. Talks of traffic and income woo-ed me into eagerness to bring my meager hobby blog over to the big dogs.
I quickly learned that it was anything but.
I had been working on building a name for Noting Grace and creating a business model, but the whole thing was a confusing mess.
Then there was a line drawn in the sand.
I was told that working with brands, companies I believed in and were honored to promote and share with you, was in direct competition with the blogging community's ad network.
It was an ugly break up with weeks of tears.
But something inside me told me to keep going. I remembered those words that sweet KariAnne said to me.
I hiked up my big girl britches and dove head first into business mode.
July 2017 my blog was reborn.
From Hobby Blog to Business Mom
Hindsight is 20/20.
I just love that phrase.
So much truth rings in those four little words.
Looking back now, I see that the ups and downs were divinely orchestrated.
And aren't they always?
Even with surprise move number four to Birmingham had it challenges, but we can now see His beautiful purpose for it all.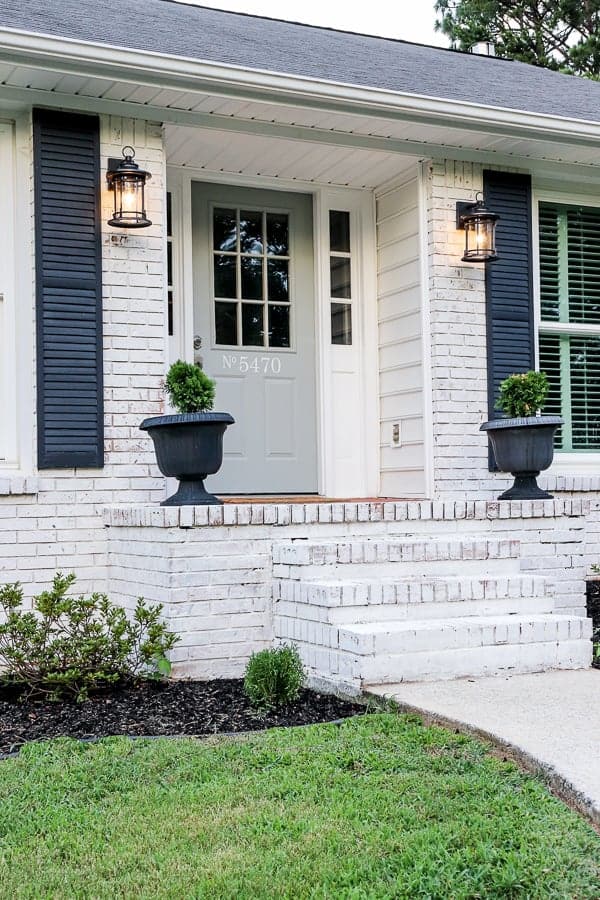 So if you've been here from the start – you have my heart of hearts.
And if you are new to Noting Grace, I'm equally honored to have you here.
We have big plans for 2020 and hope you stick around to see what we will do next!
I want to take this moment to say thank you for coming to my blog each week and for following along on our DIY journey. We hope and pray that each project we complete can give God glory, can inspire you to renew, create or decorate your home, and bring a smile to your face.