After living with a gravel pit, we turned our ugly desert backyard into a beautiful place to relax and escape to with this DIY Paved Patio Fire Pit
Vegas is NOT known for it's large backyards.
Let's face it, if you don't have a pool, then you really don't want to hang out in the desert heat of the summer.
Our backyard evolved over the 3 years we moved in. It was desperately in need of a DIY Paved Patio Firepit and today I'll share with you how we built it.
Let's start with the bare bones beginning.
Don't be hatin' on my humongo yard! This was right after we moved in. Budget was tight that first year so we could only afford the sod and irrigation system.
We added some grass.
Being a displaced Kentucky girl, I had to have some bluegrass for my backyard and it's a cinch to cut.
We temporarily put a trampoline in the back for the boys.
During year two, we added plants for privacy.
That's a public path behind my house, so we planted Confederate Star Jasmine along the back wall in hopes that it eventually created privacy.
But the kids were bored with the trampoline and we wanted a special place to enjoy the evenings.
So we sold it and created this Fire Pit. Here's how we did it!
DIY Paved Patio Fire Pit
We found some blocks and a fire pit at our local builder superstore and loaded them up in the back of the truck.
Building the fire pit was easy.
We got enough pavers to frame in our fire pit. You can secure them together with construction adhesive, but we opted not to do that.
We started with a gravel base, digging down a bit to ensure they were secure.
You stack the stones on top of each other.
Make sure that the stones are level. We had a level handy for those first few layers.
We inserted a premade firepit inside the blocks and we added some flagstone pavers to provide a base for our chairs.
This is right after we finished last fall. We planted more jasmine to climb the AWFUL cinder block wall and it's already beginning to grow!
Here it is today. Notice the Jasmine!
It's also starting to fill in along the fence in the back, giving us more privacy from the path.
Finally, we added a fountain next to the house and DIY paved patio fire pit.
Love my bottlebrush!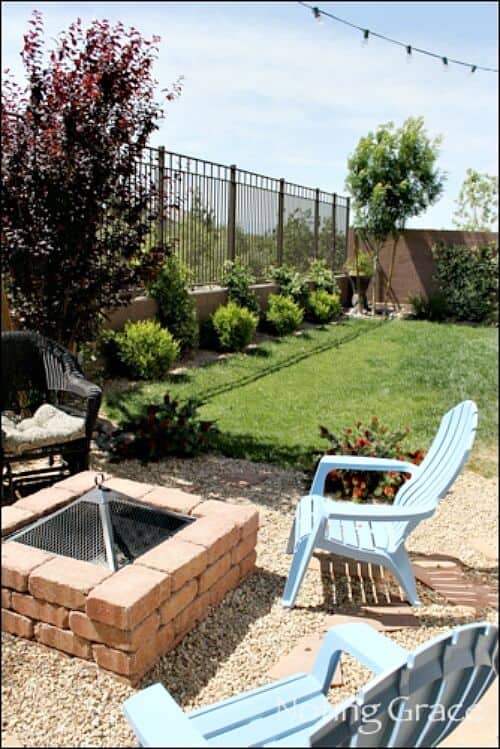 Now everything is starting to fill in.
In fact, the Jasmine on the opposite wall has completely covered the wall. The fence is taking a bit longer, but started climbing this year.
Now we can enjoy fires at least 3 seasons of the year.
Last weekend we strung lights and it gives a nice glow to the yard.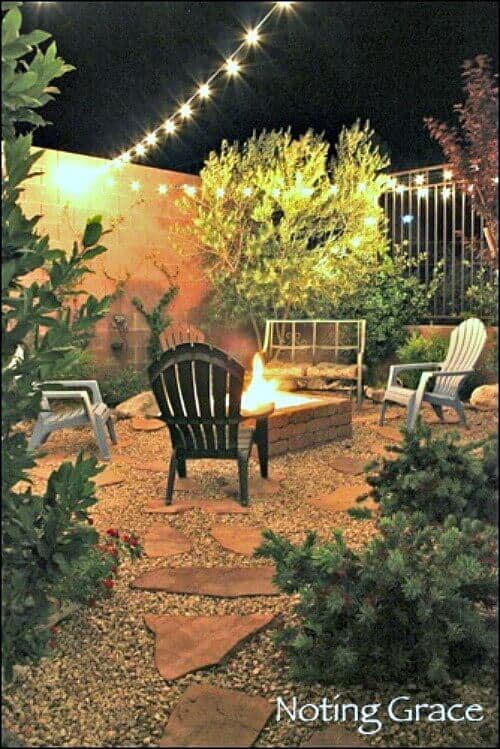 DIY Paved Patio Fire Pit Supplies
Affiliate links provided for your convenience. Read my full disclosure here.
Firepit
Stone Pavers
Adirondack Chairs
In just a weekend, you can create a paved patio fire pit you can escape to!