Quick Front Porch Refresh and Easy DIY Wreath
We gave our front porch a quick refresh by adding some new plants and an easy DIY Target Dollar Spot wreath!
We've spent so much time working on our landscaping that I noticed how dull and drab our front porch look.
So if you have a few minutes and some cheap supplies, you can give your front porch a quick refresh for not a lot of money!
Do you love the Dollar Spot section at Target?
I can't visit our local Tar-jay without exploring what goodies they have.
And almost always, I walk away with something new.
Last week, I had to kill some time and visited a new-to-me Target and they had just restocked their bullseye area.
So when I found some cheap garland, I knew exactly how I was going to use it.
First, I'll start with the DIY Wreath and then show you how I gave my front porch a quick refresh.
Target Dollar Spot DIY Wreath
(Some affiliate links are provided below. Full disclosure here.)
I find making DIY wreaths the easiest and most affordable way to add custom decor to your home.
But I wanted a wreath that didn't cost a lot of money. It would also have to be able to hold up to the sometimes crazy weather we have here in Birmingham.
These are the supplies you'll need for this project.
I always have grapevine wreaths on hand.
You can score cheap ones at thrift store, or estate and garage sales. But purchasing them new is not a lot of money.
Instructions
Some garlands have hoops at the end to make them easy to hang.
If they are bound together with floral tape, simply undo the hoop to make a straight end.
But if it's plastic, I weave it in so that it is at the back of the wreath and add a dab of hot glue.
My target's dollar spot garland was connected with floral tape, so it was easy to separate and make a straight end.
If you look closely, you can see an old glue dot here or there from where I've added faux florals before.
First simply add some hot glue and weave the greenery around the grapevine wreath.
Remember to twist the garland or greenery in such a way where the stems face out.
Hint: I love having these finger protectors handy if you are hot gluing in a tricky spot. They have saved my fingers from many burns!
Once you reach the end, weave it into the grapevine and attach with one last dab of hot glue.
Once the glue has dried, you can twist and place the greenery how you like it.
I was able to find two different types of garland, so I followed the same steps and added the second garland to the wreath.
Isn't that the cutest?
Each garland cost only $3, so I had a brand new wreath for only 6 bucks!
Not bad for a diy project! And a perfect choice for an affordable DIY.
What if you don't have a Target near you?
Never fear, because I have some great substitutions on where to find affordable greenery.
Dollar Tree Floral Supplies – You can always find affordable greenery and florals at your local dollar store. They even sell online!
Michaels– They always have a great selection. Sometime their faux greenery is pricey, but you can sign up to receive coupons!
Hobby Lobby – They always have their greenery 40% off every other week.
Walmart – Not as cheap as the Target's Dollar Spot, but lots of similar items in-store and online.
Quick Front Porch Refresh
Now that I had my pretty wreath done, the first thing I did was clean out all the spider webs and dust bunnies. I also wiped down my door and cleaned the glass panes.
Then I took my wreath and hung it on my farmhouse front door.
You can hang a wreath on your front door with a wreath hanger like I did. Or you can use a command strip with a hook.
So I gave my front door and porch area a good cleaning.
When I was at Target the other day, I found this fun outdoor rug and welcome mat on sale.
I loved the combined look and texture of these rugs.
Design Tip: By pairing a small outdoor rug with a smaller welcome mat, you can create fresh new looks for your front porch. I've done this before with a plaid rug and it had a fun, farmhouse feel.

It's one of the easiest ways to give your porch a unique look year after year without a lot of cost.
Last year, I added these faux concrete planters to our porch.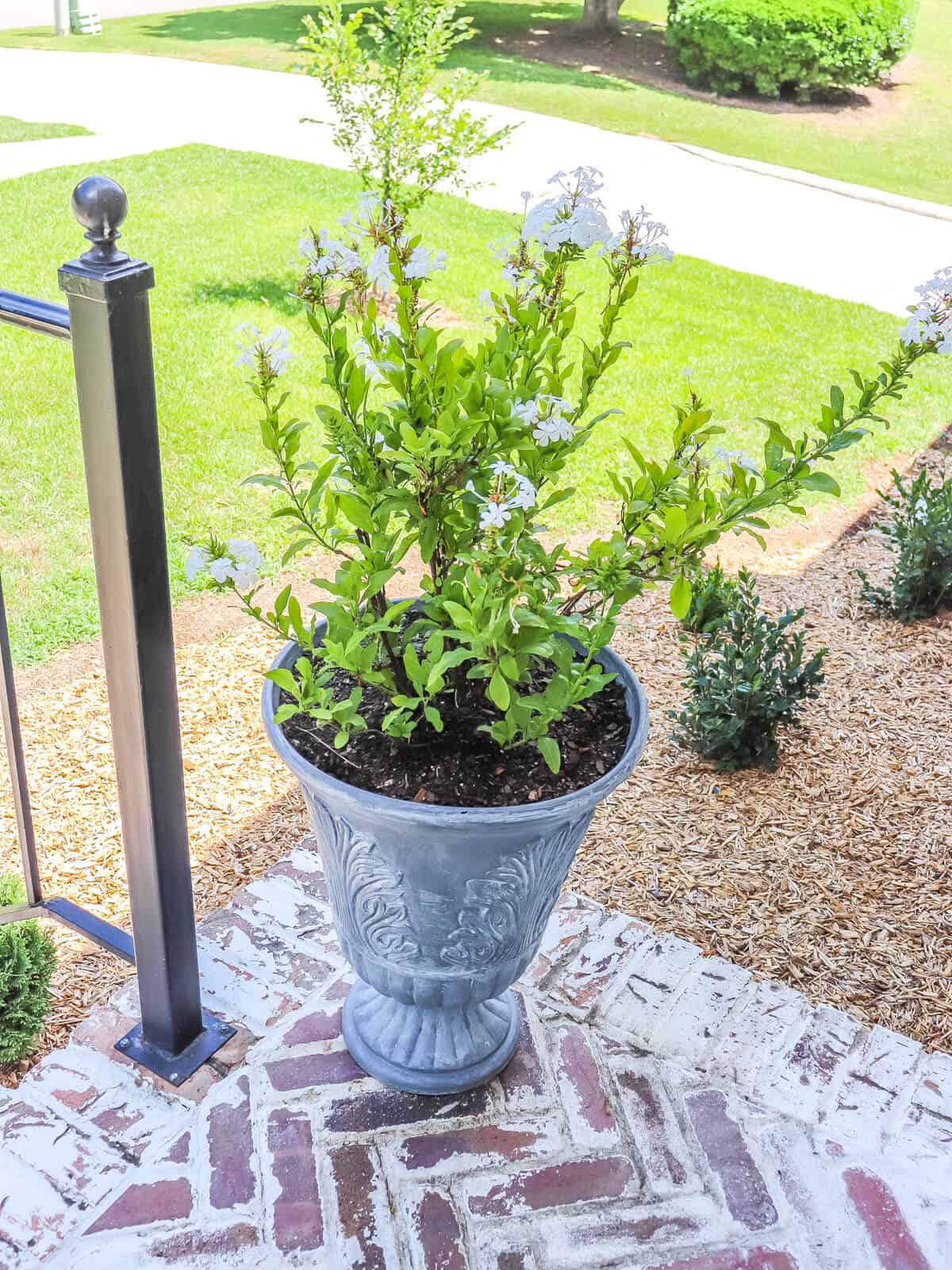 I found inspiration for these Plumbago Plants from Southern Living and had to add them to my front porch.
Typically I go for Boston ferns or faux plants since I'm not that much of a green thumb. I have a hard time keeping things in planters alive.
But these are drought resistant, evergreen, and perennial in my zone, so it was worth a little investment to keep them year after year.
I shared a quick reel on my instagram stories on how easy these were to plant.
I love how full they are with the small hints of white with the flowers.
They are just the right size for our small porch.
And the long stems give these planters a whimsical feel. It's my favorite thing about this refresh.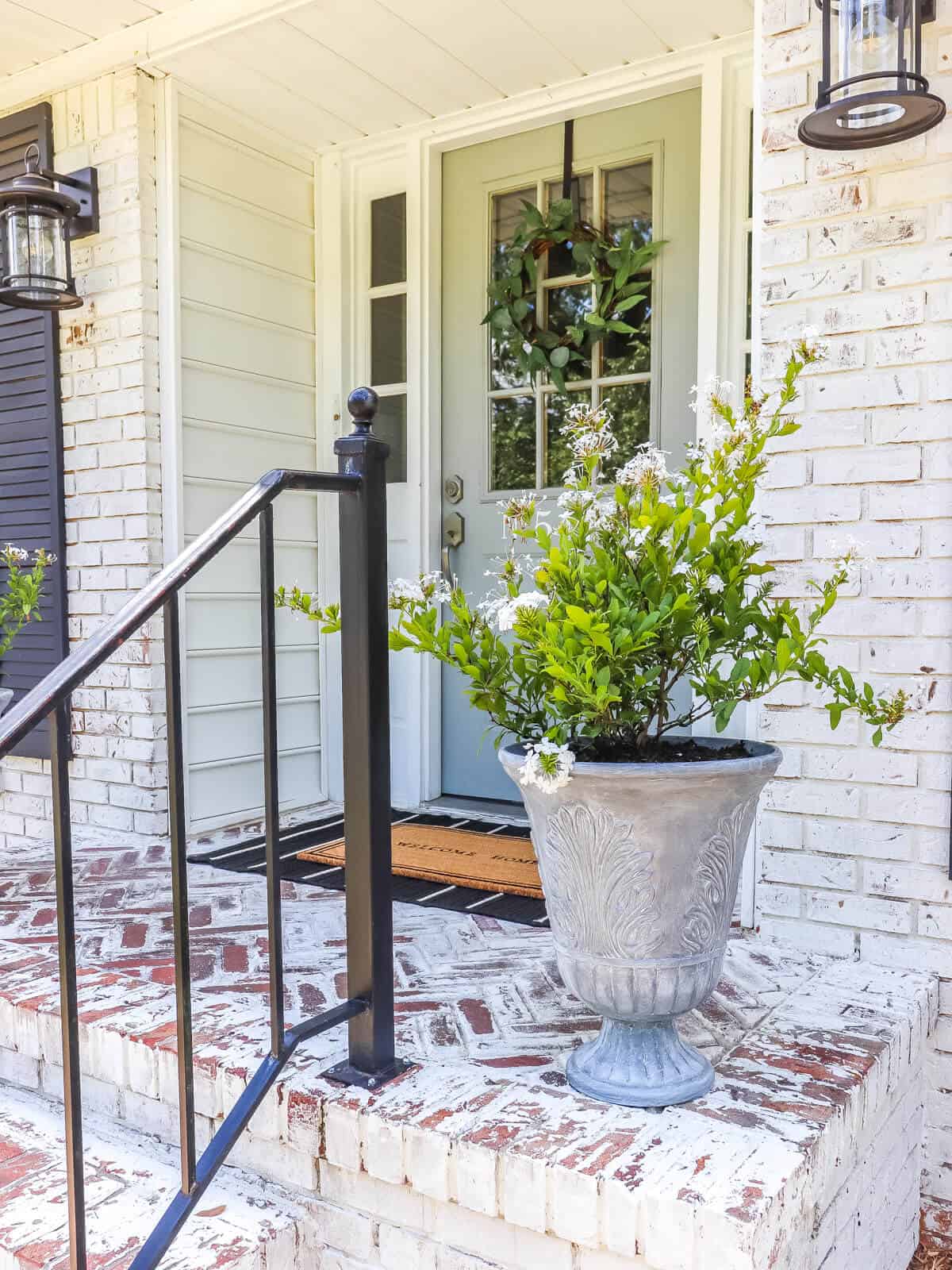 So for an easy outdoor project, this front porch refresh fit the bill!
And now the front of my home gives a warm welcome!
This quick front porch update was done in a day and not a lot out of pocket.
$6 for the my DIY Target Dollar Spot wreath, $28 for the rugs, and a $65 splurge on my dream plants. So just around $100 for a fresh new welcoming look.
Other front porch decor ideas
Here are few other suggestions and diy ideas to consider if your front porch needs a refresh.
Paint the Front Door – Sometimes a fresh coat of paint on your exterior doors can do wonders! Changing your door color is an inexpensive way to bring a new color to your home for instant curb appeal.
Add fun planters or hanging baskets – You can easily add a pop of color with fresh flowers in a planter.
Create outdoor living spaces – If you don't have a small front porch like we do, add some outdoor furniture or a porch swing. Adding a place to sit to your large front porch will make the space feel more welcoming. Plus, it's an easy way to add square space to your home.
Add a water feature – If you have electricity, make a fun DIY fountain for your porch. I've pinned this DIY Fountain tutorial from my friend Jen at tatertots and jello and may give this a try!
Shop My Porch
We have given our front porch many updates over the years. You can find links to my front door color, light fixtures, door handles and more linked below.

More FRONT PORCH PROJECTS
shop our favorite home items

shop now
Join Our Community
Don't miss the next DIY! Receive exclusive content, including behind the scenes photos, our favorite home decor DIYs and more!
More WELCOME HOME Posts