Noting Grace Capsule Collection with RomaBio
I am so excited to be teaming up with RomaBio to offer you a curated collection of their Interior Italian Mineral Paints.
One of the most commonly asked questions us bloggers get is which paint colors we use in our home. When I started working with RomaBio Paints, I fell in love with their Eco-friendly paints.
Since I love their creamy textures, and have used them in almost every room we've tackled in our Birmingham home, I was honored when they approached me with this capsule collection!
Today, my Noting Grace Capsule Collection with RomaBio launched and I'm over the moon excited to introduce these colors to you!
Noting Grace Capsule
Collection with RomaBio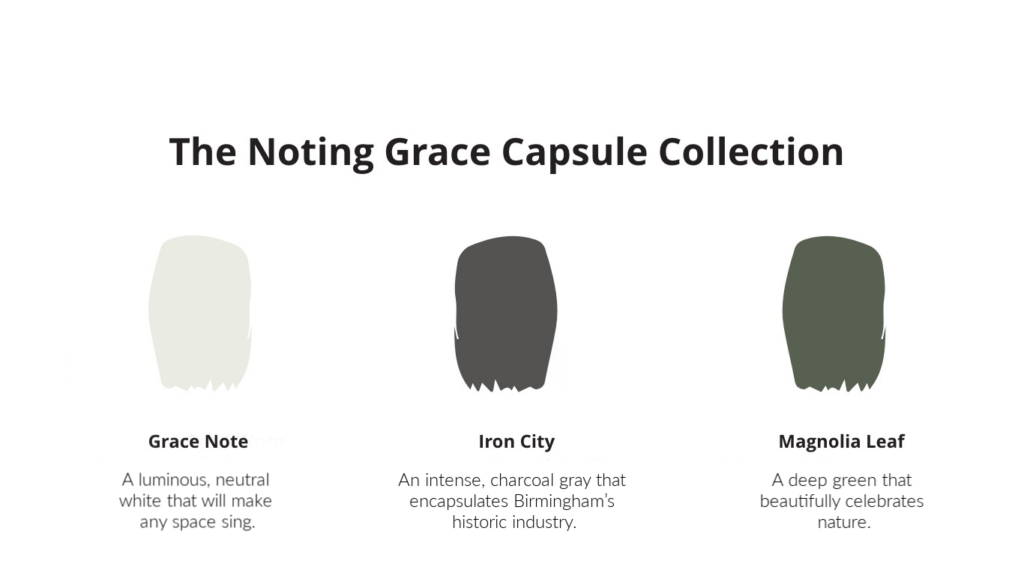 So, let me show you how I've used these wonderful hues in my home. I'll start with our sunroom remodel.
This color is called Grace Note – which gives a sweet nod to my blog name.
It's a classic, neutral white which works to brighten any room!
We also used this color in our kitchen remodel and pantry makeover.
This deep green we used in our Master Bathroom Makeover beautifully celebrates nature. So we named it Magnolia Leaf and it suits the color perfectly.
We plan to use this color as an accent wall in our bedroom makeover – which is coming soon!
The last color in our collection I think is my favorite!
Birmingham, Alabama is rich in its history with the steel industry and is nicknamed Iron City. Of course, I thought this would be the perfect name for this gorgeous, charcoal gray.
We used this on the walls of our Boys Bathroom Remodel and it's a perfect masculine hue.
I even used this to update my vintage hutch in my dining room.
RomaBio Interior Mineral Paints are naturally beautiful and remain 'active' for many years as living, breathing paints. They are hypoallergenic, asthma free, and naturally mold resistant and while continuously absorbing CO2.
Since they meet one of the highest scientific parameters for the least toxic content, protecting your homes, children and pets, RomaBio products are Cradle to Cradle Certified Silver. That's a great peace of mind!
They come in concentrate making them super easy to work with. You'll love the amount of coverage you can achieve. Plus all the Noting Grace colors in my capsule collection are available in Matte, Eggshell, and Satin finishes.
And with this launch of my Noting Grace Capsule Collection with RomaBio, they are offering free shipping for Black Friday – and is good through Cyber Monday!
I hope you check it out and most importantly, it inspires you to use this color in your home!
So if you paint something with one of my custom colors, please share a pic of your creation with me! I'd love to see what you create.
Pin This for Later!