DIY Flooring: How We Changed our Kitchen in 3 days for Less than $400
Do you have ugly floors that you can't stand, but don't know how to change them? Here's how we transformed our kitchen with DIY flooring!
It always happens like this. I started one project just to have it trail off into another one – that's what happened with this DIY Flooring.
Oh, but what a beautiful little trail it was!
I wasn't fond of our linoleum floor in our kitchen.
Okay, I'm lying.
I vehemently abhorred it, silently cursing it each morning while stumbling in to pour my morning cup.
When company would come over, I was always apologizing for those awful floors. I found myself giving the disclaimer that I was well aware of how hideous they were and would share my brilliant plan to replace them with DIY flooring.
When we purchased our Almost Farmhouse over 2 years ago, the first thing I knew I'd be replacing was our floors.
We were able to get rid of that pink carpet that haunted me and replace it with hardwood floors. Our original plan was to have those beautiful hardwoods throughout our entire first floor, but the budget didn't allow for it, so when cutting corners, we could only replace the carpet.
So this peachy, permanently stained, faux mosaic linoleum stayed. I thought of painting it, and made a valiant attempt on a sample scratch piece we found in the attic, but it didn't look good with all the patterned faux mosaic tiling.
But did that stop me from making over the kitchen? No way!
Aw, Bless her heart!
It's like getting all gussied up in a fancy ballgown and wearing dollar store flip flops.
When we took on the One Room Challenge hosted by Calling it Home, we were able to move our water heater that sat in the laundry room. Our laundry room and kitchen are beside each other complete with the same hideous flooring throughout.
Since I knew we had to tackle the floors for our mudroom makeover, we opted for speed, ease and cost. We chose Luxury Vinyl Tile made by Stainmaster. Lemme tell ya – I LOVE this new DIY flooring we installed!
And that's how the bunny trail began. The main goal was to replace the flooring in the laundry/mudroom only, and it took us just one evening to lay all the tiles, and a few hours the next day to grout them.
After seeing how quick and easy it was, we knew we found the White Knight that was going to rescue me from these awful linoleums forever! And I loved how gorgeous it looked, so we just kept on going into the kitchen – which is about 135 square foot of flooring. This post contains affiliate links for your convenience. Click here to read my disclosure.
How to lay DIY Flooring
Groutable Luxury Vinyl Tile
(Some affiliate links are provided below. Full disclosure here.)
Materials Needed
It is the simplest DIY with the biggest impact we've ever done. You should follow the instructions provided by the manufacturer for the flooring you choose, but here's what we did and how easy it was.
Step one
Clean your floors. And I mean really clean them! We purchased TSP (Trisodium Phosphate) and scrubbed the floors 3 times. This preps the surface, removing grime and dirt and helps with better adhesion with the tiles.
Step two
Lay out a plan. Luckily, we found that the grid of the old linoleum acted as a perfect line for us. We continued with the line from the laundry/mudroom and worked our way out from there. If you don't have a plan, you will have to mark your floors and possibly dry fit to see how it will look.
Step three
Peel, stick, space, repeat. Peel, stick, space, repeat.
Easy peasy! We noticed that it took a while for the glue to adhere, so be careful when walking on them so they don't move out of alignment of the spacers if you are grouting. I've seen where some people rent a weighted roller and roll over the floors. I've seen where people use a rolling pin. I just simply walked on top of them and let them sit overnight. They were snug and tight by the time we were grouting the next morning.
Tip: knee pads! I used my gardening pad to help me. Oh, and printed on the paper back of each tile is an arrow. Make sure you are laying your tiles so that all the arrows face the same way.
Step four
Trimming for weird corners. We used a box cutter to make intricate trims and even found it easier to cut the door frames to fit the pieces underneath.
Step five
Grouting time! In this case, we opted for a gray grout to disguise the grime that I knew my boys would definitely be tracking in. I tried to take pics of the grouting process, but it's a bit messy and I really didn't want hardened grout on my nice camera.
The product we used came in a tub the size of a vegetable shortening can. Unfortunately my trowel didn't fit. For this reason, I used the small spatula like plastic scraper to apply an initial glob of premixed grout from the tiny tub. Using the rubber trowel, I was able to spread it really easily. By working in small areas, especially wiping with paper towels as you go, you should be able to avoid the hazing effect.
The kitchen took a lot longer to grout than the 3 hours of our tiny laundry room. I had to divide it into two days, but that may be because I was already exhausted from completing another room. Here's a pic of the grout drying. It's a bit lighter when wet.
Finally, it's dry after 24 hours.
A lot have asked about the transition between the hardwoods and the tile. So here is a close up of how they look next to each other.
Because we were able to grout right up to the hardwood floors without any issues, now we didn't need to add a threshold. SCORE!
As you can see – the threshold is a seamless match for your flooring.
Step six
Wait. It's best to not walk on the floors and allow the grout to cure for 24 hours. I was already frustrated having my washer and dryer in the living room for a few days, but now had our stove and dishwasher there! I was smart and pulled the fridge out, while still plugged in, and grouted and allowed it to cure overnight. The next day, I started on the opposite side of the room and worked my way back to the fridge and could push it back in place and then waited another 24 hours for the second half to dry.
Waiting is the hardest part, but look at the difference!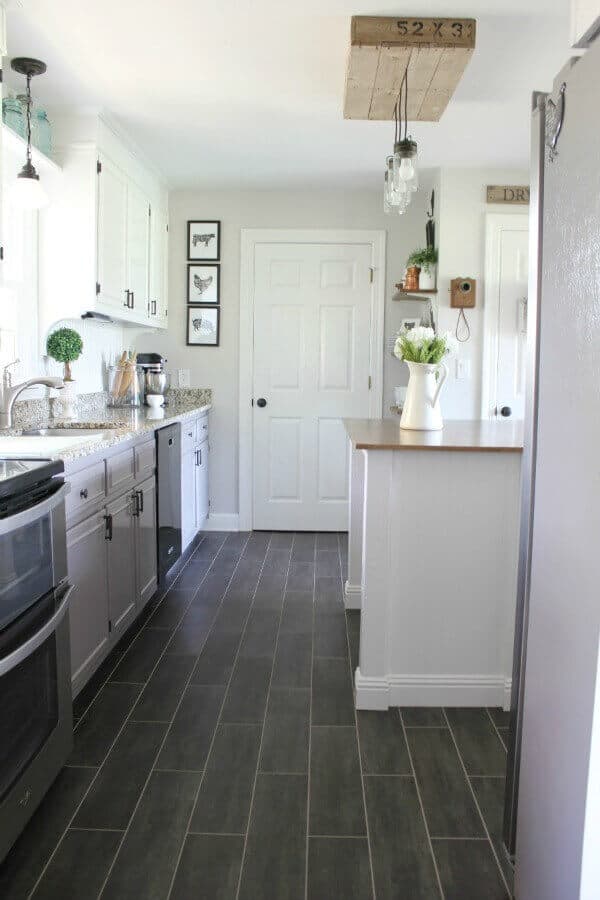 At last – she's ready for the ball! Indeed, I wake up singing and cannot wait to enter my kitchen with her new, beautiful cinderella shoes!
Without question, I recommend these floors because they are durable, easy to clean, and soft underfoot. I also love that they don't get cold overnight like ceramic tile does, which is nice on the tootsies early in the morn.
So what's the bottom line? Would you believe me that we changed the look of this room for less than $400 and 3 days?!!
DIY Flooring Total Cost: $380
including the laundry/mudroom!
If you like this project, then you might want to find out about other projects in this room. I've provided some links for you:
Kitchen Makeover: See how we transformed this room here
Topiaries: DIY project: tutorial here
Pallet Light Fixture: DIY project: tutorial here
Farmhouse Kitchen Island: DIY project: tutorial here
I truly hope this inspired you to give this a try DIY Flooring for yourself. Below is an image you can pin for later and please spread the sunshine and share your DIY with me!