The Best Artificial Ferns for your Front Porch
We took our dead plants and empty planters and replaced them with artificial ferns that look real. Here are the best artificial ferns for your front porch.
Aren't these ferns just so beautiful?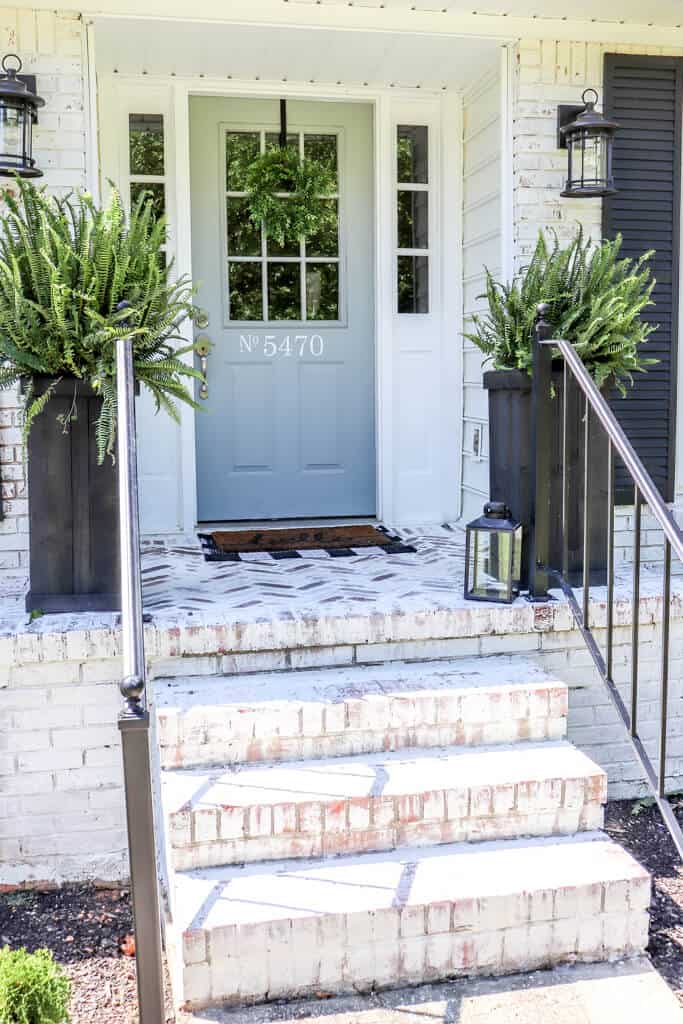 My in-laws gifted us these hearty ferns last summer.
And the sad story is that, unfortunately, they didn't last.
I have to admit that I'm horticulturally challanged.
Not to that say I have a black thumb, but it's certainly not a green thumb either.
I would describe it more as a forgetful thumb.
While I do have a few real plants in planters, it's a struggle to remember to care for them in the midst of my hectic schedule.
A front porch with ferns just screams welcome to me.
Over the years, I have purchased fern after fern only to have them die because I forgot to tend to them.
Oh the money I have wasted!
When I found myself neglecting my front porch planters year after year, I finally decided to find a solution that would work for us!
I just couldn't bear to sink another dollar into something that wouldn't last.
My home is filled with faux greenery all over the place, so why not add them to my outdoor areas?
So I went on a hunt to find a solution for my outdoor spaces using a fake fern instead of constantly wasting money.
Artificial ferns for my front porch? Why had I not thought of this sooner!?
It's a great way to get the look of natural elegance, but also an excellent choice if you are forgetful gardener like I am!
The Best Artificial Ferns For Your Front Porch
(Some affiliate links are provided below. Full disclosure here.)
I went to search for ferns on my favorite shopping sites and found a few, but ran into a couple of issues again and again.
I wanted UV resistant plants. And the majority of what I found was plastic.
Now, I have to admit that the plastic ferns are beautiful and affordable, but I was worried that the plastic nature of the ferns wouldn't fit the aesthetic I was going for.
I decided to hit Afloral to see what they had. They have a huge collection of the most beautiful artificial plants and I've never been disappointed!
(You can see a spring table setting I created using Afloral plants here.)
While it's a bit pricier than other fake plants, it's worth the cost for the value.
The fern stems are made with silk leaves with flexible stems to move them how you need to.
These specific ferns are an artificial Boston fern are UV protected.
But it's important to note that any fern exposed to the direct sun nonstop will eventually fade, even with the UV resistance.
I bunched 2 fern pieces together for each planter to create a fuller look.
The details on these ferns are blowing my mind!
If they had those seedy things on the underside of each stem, I would never know the difference between real or fake ferns.
(Seedy things – you can see how developed my horticultural skills are! You can insert an eye roll here)
Any hoo – while the initial out of pocket price may be higher than a real fern from your local store, the lasting power of these ferns will exceed the value of any real fern I could try to keep alive.
One thing to think about – the more realistic fern you get, the higher the price may be.
But if you are anything like me and struggle to keep your plants alive, then I say it's worth the investment to save money in the long run!
I've put together a collection of faux ferns for you to check out.
However, if price point is an issue, I've also divided out some affordable options for you to check out.
Most Affordable Artificial Ferns
If price point is important to you, here are some that I found that are much more budget friendly.
Unfortunately, these tend to be a plastic plant.
But looking through the reviews, I chose the best ones that still look beautiful.
You can easily find these a retailers like Hobby Lobby or Michaels, but I've also included some online options for you as well.
Here's a large variety of affordable ferns to consider.

High Quality Artificial Ferns
Are wanting to take your decor to a whole new level?
Then I think it's worth the investment to consider a slightly higher priced fern.
These are mostly silk ferns or made from a polyester material that lasts a bit longer than the plastic.
These are also easier to maintain. You can simply clean them with a soft dry cloth.
Plus, that bump up in high-quality materials truly does make the fern leaves look like the real thing.
Places like Afloral, Nearly Natural and Grandin Road will be where you find the best options.

Nearly Natural has an extensive range of fern plants – even some that already come in planters.

Other Creative Fern Ideas
Even though some these ferns are rated for outdoor use, I've also used them indoors as well.
Adding natural elements (even if they are faux plants), can help your home feel cozy.
Here are a few creative ideas to consider.
My favorite way to use artificial ferns is styled in a pretty basket.
Before we made over our fireplace, the firebox was super ugly and unsightly.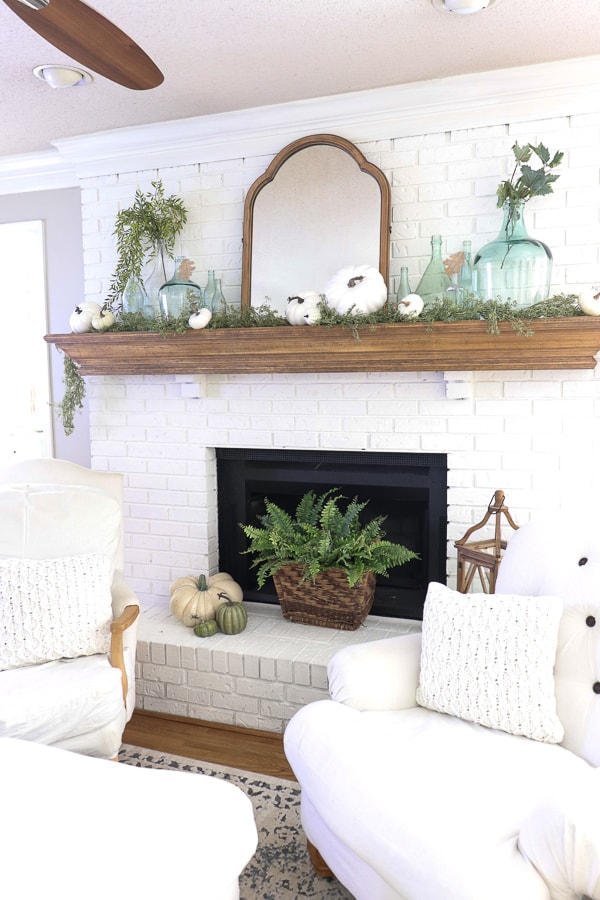 So swapping out different planter options and filling them with ferns was a great addition to help hide that eyesore.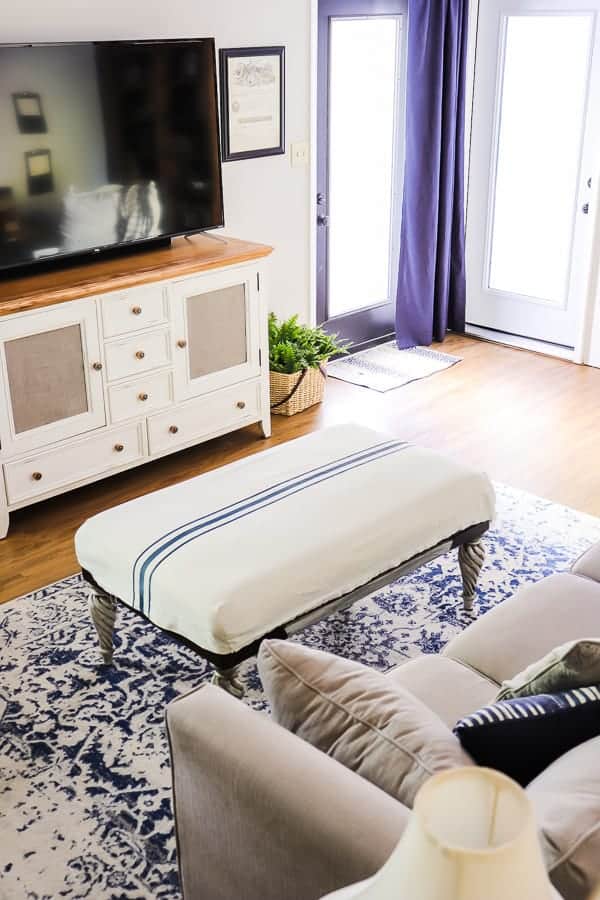 They are a distinct way to add greenery without a lot of color.
We did in this by adding faux ferns to a small basket in our living room.
One of my favorite fern ideas we've seen were on our 25th wedding anniversary to Charleston, SC.
On the old brick walls, ferns would take root in the mortar joints.
You would see different beautiful shades of ferns growing as you walked by.
It was such a beauty of nature that makes me wish I had brick walls to cover in ferns!
Here are a few more ideas to think about:
Ferns in a Hanging Basket: I've been know to kill a few of these as well, so why not place some artificial ferns in your porch baskets?
Create Fern Arrangements: I am a sucker for Maidenhair fern and have thought about creating a fern bouquet with different varieties.
An abundant fern vine growing on a trellis: I've seen other creators use faux ivy vines to create a wall pattern. Why not try vines made of fern stems?
Create a fern wall: Need a little bit of privacy? Create fern walls using faux panels.

I hope this helps you out if you have been trying to find ways to make your front porch plants last longer.
If you are anything like me and struggle to keep your live plants around, then I say it's worth the investment to save money in the long run!
Additional Planter and Porch Ideas
Looking for more ideas? Have fun exploring these other posts we've created!
Additional Planter and Porch Ideas
Share this with your friends!