Small Patio Decorating Ideas with Wayfair Finds
Check out these fantastic Wayfair finds to update your small patio with fresh, new decorating ideas for your home!
Do you remember when I shared my dream covered patio ideas with you?
Yeah…that was a while ago. Last year we started our patio makeover and didn't get very far.
We are still in the 'haven't-gotten-to-it-yet' mode for our small space and I needed some new ideas to get the ball rolling.
Image Credit: Wayfair
But with spring in full swing and summer not far behind, now is the perfect time to revamp your outdoor space.
Whether your outdoor area is a lush green yard, a shaded back patio or even a small balcony, transforming your space into your dream outdoor oasis is easier than you might think!
So today, I'm excited to partner with Wayfair to share ideas on this season's hottest outdoor trends and my tips for creating your dream al fresco destination!
Small Patio Decorating Ideas with Wayfair Finds
(Some affiliate links are provided below. Full disclosure here.)
TOP OUTDOOR STYLE TRENDS WITH WAYFAIR
Coastal Influence
Do you wish you transform your small space in a way that has you dreaming of the beach?
No matter where you call home, coastal-inspired hues and patterns are sure to bring an airy, calming vibe to your outdoor space.
For seaside style without the kitsch, incorporate breezy wicker furniture and natural tones for a more elevated take on classic coastal.
For additional seating, lounge furniture like an updated adirondack or laid back lawn chairs will have you in full relaxation mode.
Image Credits: Wayfair
Shop The Look: Fire Pit Sets, Adirondack Chairs, Lawn Chairs
Botanical Oasis
Now I am green-thumb challenged, but dream of creating an escape surrounded by lush greenery.
Emphasize the beauty of the outdoor scenery with floral motifs that are on trend now but will remain relevant for years to come.
Embrace vibrant shades and take inspiration from organic shapes and textiles to create a playful homage to nature.
Image Credits: Wayfair
Shop The Look: Patio Furniture, Hammocks
Industrial Minimalism
For those looking to bring modern minimalism to outside living, look no further than the industrial style.
Mixing strong metals and natural wood with modern accents like cutouts and mesh keeps this sleek, simplistic style interesting.
Image Credits: Wayfair
Shop The Look: Outdoor Dining Tables, Small Space Patio Furniture
CREATING YOUR OUTDOOR OASIS:
Q&A with Jen of Noting Grace
Wayfair: Are there any color palettes or trends that are really speaking to you right now?
Jen: Yes! I have been seeing outdoor spaces with hints of navy and it's just beautiful.
I like to start decorating my patio with neutral tones and then add a splash of color. It's a great way to change out your decor each season at a minimal cost.
So find a color scheme that makes you happy. Then add some affordable ways to incorporate that in your own beautiful patio without having to spend too much money, like throw pillows, a tablecloth, or new potted plants.
Wayfair: What is your advice for maximizing outdoor living space for those who may only have a smaller patio or balcony?
Jen: An outdoor living room is a perfect place to enjoy the warm weather and can be a beautiful addition to your home no matter the size of your patio.
For a smaller space, aim for simplicity. Too much furniture or decor items can make a small patio space feel busy. Just create a comfortable space with simple furniture like cozy patio chairs and a coffee table.
Wayfair: Sunshine and blue skies have us daydreaming about outdoor dining! What are your favorite style tips for al fresco tablescapes and entertaining?
Jen: What better way to enjoy the fresh air than with a meal under magical string lights. I love to see an outdoor table with enough extra seating that welcomes family and friends to linger and enjoy time together.
It's so easy to create a focal point with a beautiful centerpiece. I love those small tabletop fire pits! They take up little space and conversation over open flames always makes me smile.
If you like to entertain with adult beverages, then a bar cart is a perfect way to have easy access to create mixed drinks.
Wayfair: Which pieces do you recommend investing in for your outdoor space? Which pieces do you change out to keep your oasis fresh and on-trend?
Jen: The first thing I like to start decorating my patio with are the big ticket items in neutral tones, like a conversational sofa set or dining table.
Then each year add a splash of color or texture to stay on-trend. It's a great way to change out your decor each season at a minimal cost.
My 5 Tips to Create a Patio You'll Enjoy
I think over the past year, we've learned that our homes are even more of a safe haven for us. A place to retreat and recharge. So here are a few tips on how create a patio you can't wait to relax in.
Create a relaxing space: A key to patio design is to make sure you will actually use it. So don't forget that comfort is an important element. Create a seating area with comfortable furniture. An inexpensive way to create a cozy atmosphere is with good lighting. So consider adding some candles, lanterns or solar lights.
Add an outdoor kitchen: One of the best small patio ideas is to convert it to extra cooking area. If your space is too small to create a lounge area, then transform your tiny patio into a grill station. It's a perfect addition to any home!
Add greenery: The best way to create an outdoor oasis is by adding plants. Add a few of your favorite potted plants. But if you don't have much space, create a living wall by installing a vertical garden.
Install a water feature: If you've ever been to a spa, then you've likely heard a babbling fountain nearby. If you live in a noisy neighborhood, then this is an added bonus. The sound of water will help drown out any noise pollution as well as create a relaxing environment. There are lots of options that don't require a water feature to be a permanent fixture.
Create a spot to star gaze: In our perfect world, we would have chaise lounge chairs on a small deck where we can enjoy watching the stars at night. Of course, we need to update our deck first! But this is another great idea to consider.
MY FAVORITE WAYFAIR OUTDOOR PRODUCT PICKS
Here is a list of small patio decor ideas that I've gathers that is sure to fit your budget, big or small!
From outdoor rugs to ceiling fans, there is certainly some products that will help you create a great patio for your home.
Teak Patio Table | Wicker Patio Sofa | Turned Leg Dining Table
Black Porch Swing | Beige Patio Dining Chair | Mesh Patio Chair Pair
2 Piece Sofa Set | Metal Side Table | Cream Iron Stool Pair
Pair of Woven Armchairs | Peak Patio Chair | Mesh Lounge Chairs
Fire Pit Table | Stainless Solo Firepit | Concrete Fire Pit
Striped Navy Outdoor Rug | Braided Outdoor Rug | Navy Patterned Outdoor Rug
Leaf Ceiling Fan | Beige Area Rug | Dark Leaf Ceiling Fan
Navy Striped Pillow Pair | Stoney Terracotta Planter | Blue Woven Pillow
Gold Hanging Planters | Tabletop Firepit | Nobby Outdoor Pillow
Navy Herringbone Striped Pillow | Gray Table Vase | Woven Outdoor Pendant
Rattan Lantern Pair | Boho Macrame Pillow | Urn Planter
We are hoping to finally tackle our small outdoor space before the summer months have come and gone.
So I hope you enjoyed these Best Ideas to Update a Patio with Wayfair Finds.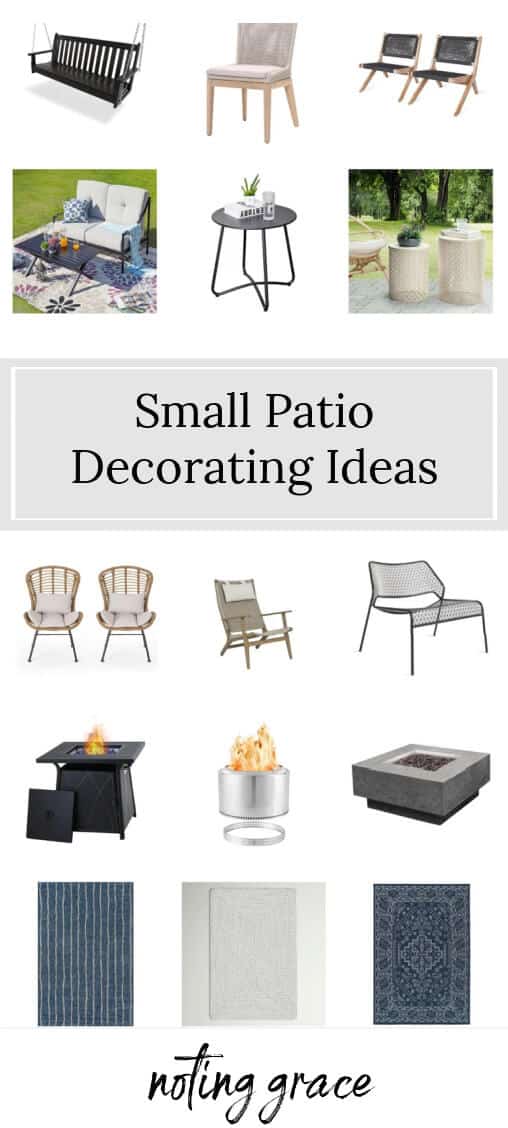 Join Our Community
Don't miss the next DIY! Receive exclusive content, including behind the scenes photos, our favorite home decor DIYs and more!