Since I'm always scrambling for dinner ideas at the last minute, I wanted to share with you one of my go to meals. So let me help you out! This is a quick and simple recipe for Easy Chicken and Dumplins. And it tastes just like the dish that Cracker Barrel makes.
So are you looking for that quick and easy meal and some delicious southern food?
Comfort food for your family that also comforts you because of how easy it is?
Well friends, you are in luck!
This is one of the first dishes my mother in law made for us when I first met Trent. They are so good, when he was growing up, his garage band named a song after them!
These would work as a side dish, but also stands alone as the main course.
Once we were married, this was one of the first recipes I asked for and after all these years, is still a menu item in regular rotation!
The next time you are needing help filling in those quick, easy and comfort blanks on your menu, then you need to give this great recipe a try!
Here's what you'll need to make this delicious dish.
Yield:

12 servings
Easy Chicken N Dumplins
Additional Time:
15 minutes
This is a quick and simple recipe for Easy Chicken and Dumplins. And it tastes just like the dish that Cracker Barrel makes.
Ingredients
Main Ingredients
4 Boneless Chicken Breasts
Water - enough to cover chicken
1 1/2 cups Chicken Broth
2 cans Cream of Chicken Soup
Salt and Pepper to Taste
Homemade Dumplins Ingredients
2 cups flour
4 tsp Baking Powder
1/4 tsp Baking Soda
3/4 tsp Salt
2 TBSP Shortening
2 TBSP Butter
1 cup Chilled Buttermilk
Instructions


Start by placing the breasts in just enough water to cover the chicken and begin boiling them.



Once you have the chicken to a rolling boil, add the broth, Salt and Pepper.

While the Chicken is boiling, start Preparing the Dumplins. Mix dry ingredients together.



Cut in butter and shortening until crumbly.

Make a well in the center and pour in the buttermilk. Mix until it's just blended.



Turn onto a floured surface (the dough will be sticky). Let it rest.



Take out the cooked chicken and shred. Then return to the water.

Add the 2 cans of cream of chicken soup and bring back to a slow boil.



While that is boiling, roll out your dumplin dough and cut into strips or squares. A pizza cutter makes this quick and easy!



Simply add the dumplins one at a time, stirring frequently. The dumplings will puff up initially like in the picture above.

Allow to simmer on low lightly for 30 – 45 mins, stirring frequently.


Notes
**SUBSTITUTION: So if you really want to save some time, you can use 2 cans of store bought buttermilk biscuits in place of the homemade dumplins. Just open the can, roll out each dumpling. Then slice into to strips.
Nutrition Information
Yield
12
Serving Size
1 cup
Amount Per Serving
Calories

280
Total Fat

10.5g
Carbohydrates

21.9g
Protein

21.2g
Here's a Tip
I've used that dumplin recipe to make homemade buttermilk biscuits as well.
I roll out the dough and cut with 2″ cutter and cook mine in a cast iron skillet for 8 – 10 minutes at 450. Super Yummy!
Another thing to try is to buy breasts with the chicken bone in them and then boil. It makes the chicken that much more flavorful.
So what do you think?
Totally doable, right?
Especially if you cheat and use the premade biscuits as a substitution for delicious dumplins. In fact, that's how my mother in law makes them!
It's a time saver to not have to mix flour. Simply cut the pre-made biscuits while you boil chicken.
Let me know if you make these Chicken and Dumplins and how you like them! I would love to hear!
If you are looking for more easy recipes, you may like this post,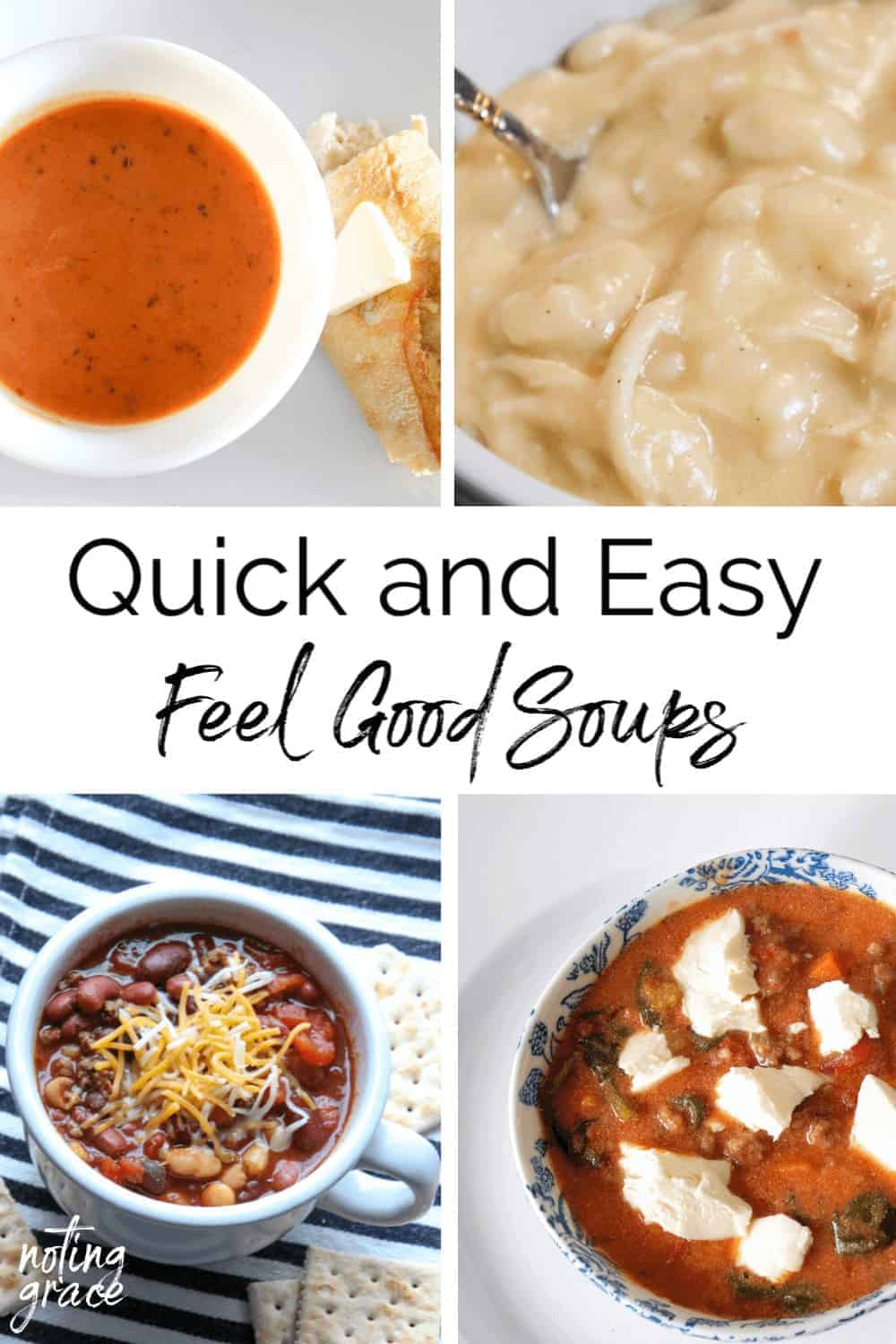 Pin This for Later!