Easy Southern Semi Homemade Red Velvet Cake Recipe
Red Velvet cake is a classic in southern cuisine and here is a delicious and incredibly easy recipe that you'll want to make over and over again!
I always crave Red Velvet Cake around Christmas or Valentine's day with that stunning crimson color revealed once you cut into it.
But I never knew about Red Velvet Cake until I met Trent 30 years ago. Coming from the southern United States, I quickly learned how popular this dessert was!
It's a moist crumb, buttery but not too rich, and perfectly delicious! One of the best cakes I've ever eaten!
This Easy Red Velvet Cake recipe was one I knew I had to learn and master and I was surprised at how simple it was.
When I fell in love with Trent, I quickly realized that he came from a family of food lovers.
Remembrances of times past with his family often included the incredible meal they shared. And when I ate his momma's cooking – I knew why!
Seeing that this was my husband's favorite recipe of his mother's, I took to the task of learning it quick!
Semi Homemade Red Velvet Cake Recipe
Shortly after we were married, we moved from our newlywed apartment in Nashville south to Birmingham. We hoped it would help get a good start financially by working for the family business.
There was a brief time when we were fortunate to live in his parent's basement for about 6 months. It was during that season that I was like an annoying fly, buzzing around my mother-in-law. It was the best way to learn how to make this moist cake.
So I watched and learned intently from her cooking skills.
What a blessing it was!
Not that my mother wasn't an excellent cook, but I lacked the drive and desire when I had to opportunity to learn from her before I was married.
Plus, most of the time spent in the kitchen with my Mom involved hours of singing together instead of cooking lessons.
Precious moments of family harmony that I'll cherish forever!
Today, I wanted to share this with you.
Maybe you can surprise your sweetheart with this cake on Valentine's Day or wow your friends for a special occasion. They'll swoon over how yummy it is!
Semi Homemade Red Velvet Cake Ingredients
(Some affiliate links are provided below. Full disclosure here.)
Butter Cake Mix – We prefer Duncan Hines or Betty Crocker, but you can use your favorite brand of cake mixes.
Cocoa Powder – The key ingredient and secret to all classic red velvet cake recipes and gives the box mix a richer flavor
Vanilla
Buttermilk – If you don't have buttermilk on hand, look at the cake recipe card below for a great buttermilk mixture substitute.
Red Food Dye – This is what gives it that beautiful, vibrant red color.
Butter – Salted or unsalted, your preference. Softened.
Large Eggs
Vinegar
Baking Soda
For the Frosting:
Cream Cheese – Softened.
Butter – Softened. I like unsalted butter for the icing.
Powdered Sugar
Vanilla
Nuts – Classic recipes call for nuts, but this is optional. You can use your favorite nut, but we prefer pecans.
To make this recipe, you'll need either an electric mixer or stand mixer.
How to Make this Easy Red Velvet Cake
Prep – Preheat your oven. For this recipe, you'll need either an electric hand mixer or stand mixer, and 2 greased 9-inch cake pans.
Combine the Dry Ingredients – In a medium bowl, or the bowl of a stand mixer, combine together the box mix and cocoa powder.
Add Vanilla Extract, Buttermilk and Red Food Coloring – Carefully mix on a low speed until well blended being careful not to overmix.
Add Butter and Eggs – Next add the softened butter and eggs. Mix together on a medium speed until the butter is fully incorporated.
Add Baking Soda and Vinegar – This creates a fun chemical reaction when mixed to together, so bring the kids over when you start this step.
Beat – Mix on high speed for 4 minutes.
Fill – If you want cake layers, divide the cake batter and fill your prepared 9-inch pans evenly. I have also made this as a sheet cake before as well.
Bake – in a 350 degree heat oven.
Use the cake baking time to start on the Cream Cheese Frosting.
Yield:

16 Slices
Easy Red Velvet Cake
Additional Time:
20 minutes
Total Time:
1 hour
5 minutes
I always crave Red Velvet Cake around Christmas or Valentine's day with that stunning crimson color revealed once cut. This Semi Homemade Red Velvet Cake recipe was one I knew I had to learn and master and I was surprised at how easy it was.
Ingredients
1 box Duncan Hines butter cake mix
1 tsp cocoa powder
1 tsp vanilla
1 cup buttermilk
1 oz red food coloring
1 stick butter, softened
3 eggs
1 Tbsp vinegar
1 tsp baking soda
Instructions
Making the Cake
Mix together the cake mix, 1 tsp cocoa powder, 1 tsp vanilla and 1 cup buttermilk until well blended.
Slowly add food coloring and blend gently until incorporated.
Next add the softened butter and 3 eggs and mix together.
Add 1 Tbsp vinegar and 1 tsp baking soda.
Beat for 4 minutes.
Pour into two greased 9 inch baking pans.
Bake at 350 degrees for 30 minutes.
Allow the cake to fully cool before icing. Follor the instructions on how to make the cream cheese frosting.
Notes
We don't always have buttermilk on hand, but have used a substitute many times. If you don't have buttermilk, you can try this substitute:
1 cup milk minus 1 Tablespoon
1 Tablespoon white vinegar
Allow it to sit for a minute and it will curdle to the same texture as buttermilk.
I've used it for years and it has always worked!
Nutrition Information
Yield
16
Serving Size
1
Amount Per Serving
Calories

269
Total Fat

23g
Saturated Fat

11g
Trans Fat

0g
Unsaturated Fat

10g
Cholesterol

83mg
Sodium

291mg
Carbohydrates

13g
Fiber

1g
Sugar

11g
Protein

5g
Frequently Asked Questions
Why add White Vinegar to Red Velvet Cake?
Adding vinegar to a cake mix seems like an odd ingredient. Since you are adding baking soda for leavening, the white vinegar helps with that process.
How to Make Easy Cream Cheese Frosting
This tangy cream cheese frosting pairs beautifully for the perfect red velvet flavor!
This cream cheese icing is absolutely delicious and would work for lots of other recipes.
Cream the Butter and Cream Cheese – Use your paddle attachment on your standing mixer to make the creamed butter and cream cheese process quicker.
Add Vanilla – Mix thoroughly.
Add Powdered Sugar – With the mixer on medium speed, gradually add the powdered sugar a little at a time.
Fold in the Nuts – We prefer pecans, but have used walnuts as well.
Once the cake is out of the oven, allow it to cool to room temperature on a wire cooling rack before icing.
Since the cake is moist, you may want to apply a crumb coat around the outside of the cake before fully icing.
Easy Cream Cheese Frosting Recipe
One of my favorite recipes is my Red Velvet Cake, and it wouldn't be complete without the delicous Cream Cheese Frosting. Here's an easy recipe you can make with or without nuts.
Ingredients
8 ounces cream cheese, softened.
1 stick butter, softened.
1 box powdered sugar (3 1/2 cups)
1 tsp vanilla
1 cup nuts - we prefer pecans
Instructions
Cream the softened butter and cream cheese in a mixer or with beaters.
Add 1 tsp vanilla and mix thoroughly.
Add 3 1/2 cups of powdered sugar gradually.
Fold in 1 cup of nuts. We prefer pecans, but have used walnuts as well.
Notes
Our boys weren't the biggest fans of nuts when they were growing up. So I have made this recipe many times without nuts and it has held up fine!
TIPS
This is a tender crumb cake, so be gentle when icing the cake.
If you are stacking the cakes, you can add a thin layer of icing without the nuts as an option between each cake layer.
We like to store our leftover cake in the refrigerator. That rich consistency takes wonderful chilled.
You could add some shaved white chocolate to the top or sides for an added flair.
If you don't have buttermilk on hand, try this buttermilk substitute: Add 1 Tbsp white vinegar to 1 cup of regular milk and allow to sit for a few minutes.
Red Velvet Cupcakes would be a fun option as well!
This super easy Red Velvet Cake Recipe is a true southern favorite and, of course, a definite crowd pleaser!
This is by far the best cake I have ever had and is a continual staple in our home, especially during the holiday season.
We like to serve our red velvet cake cold, so we store it in the fridge in an air tight container.
Good luck with giving this recipe a try – I know you'll love this moist red velvet cake.
I'd love to know if you try this delicious dessert and what you and your family think!
Happy Baking!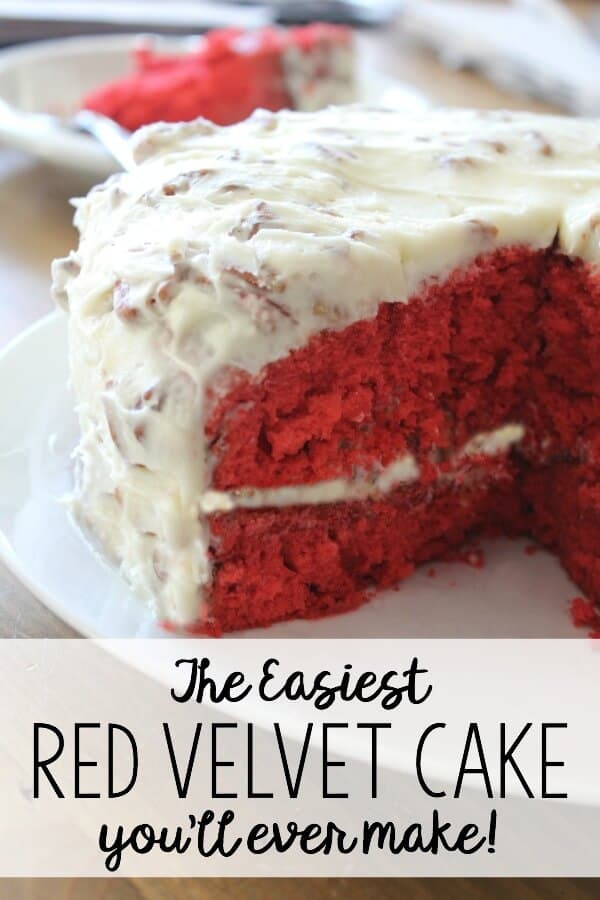 Explore Our Other Recipes
You may also like these recipes!
EASY CHICKEN AND DUMPLINS
10 MINUTE FIVE BEAN CHILI
HOMEMADE PIZZA TO SAVE YOU MONEY!
LOW FAT CHOCOLATE PARFAIT