Cheesy Chicken Enchilada Bake
Stop rolling those Enchiladas! With this Cheesy Chicken Enchilada bake – you'll save time and energy creating a family favorite dish. Plus this is great for last minute meals! This is a recipe you definitely want to try!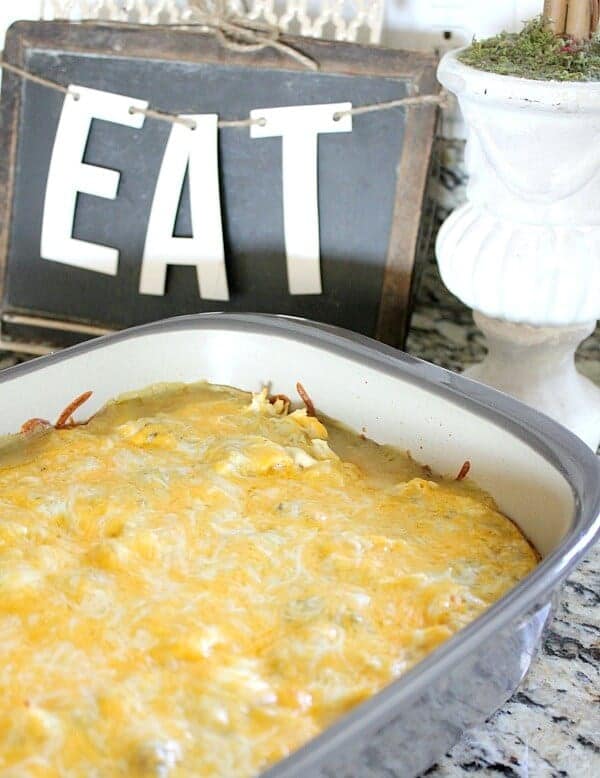 I love enchiladas! In fact, they are my go to item I order when we eat at our favorite Mexican haunt.
So of course I wanted to add them to my menu roster – that is until I had to make them.
It's not a difficult dish, but with my clumsiness, I guarantee that those yummy rolls of delight would fall apart before they even finish baking!
To quote my mother-in-law, all that work was 'for the birds!' There certainly had to be an easier way to make my favorite dish without utter failure.
As soon as I came up with this Cheesy Chicken Enchilada Bake to solve my dilemma – I had to share it with you.
And if you are clumsy like me, or just simply need a last minute easy dish – then you will want to pin this recipe for sure!
affiliate links provided – you can read my full disclosure here.
Cheesy Chicken Enchilada Bake Ingredients
Chicken Breast
Corn Tortillas
Green Enchilada Sauce
Mexican Cheese – Shredded and/or Sliced
Optional additions:
Green Chiles
Sour Cream
Salsa Verde (tomatillo based – this one is our favorite)
Boil your chicken breasts until cooked through. Cook as much as you typically would for a casserole for your family. For us, I use about 5-6 breasts.
While the chicken is cooling to shred or chop, line a baking dish with corn tortillas.
I have used the larger 17 x 13 baking dish in the past, but we've recently switched to a deeper dish as my husband likes things extremely saucey.
Chop or shred your chicken – whichever your texture preference.
I prefer shredded, which can be quickly done in a mixer, but will show both options today for you.
After that, layer your chicken over the tortillas.
Next I add my favorite tomatillo salsa. (Note the chopped chicken above)
Options: I have also added diced green chiles and sour cream to this layer in the past which adds a kick and creaminess to the dish.
Pour the green enchilada sauce before adding the cheese. As I have said before – Trent likes things super saucy!
A trick I like to do between casserole layers is use sliced cheese instead of shredded in order to create an even layer of cheese.
Next, just repeat the layers.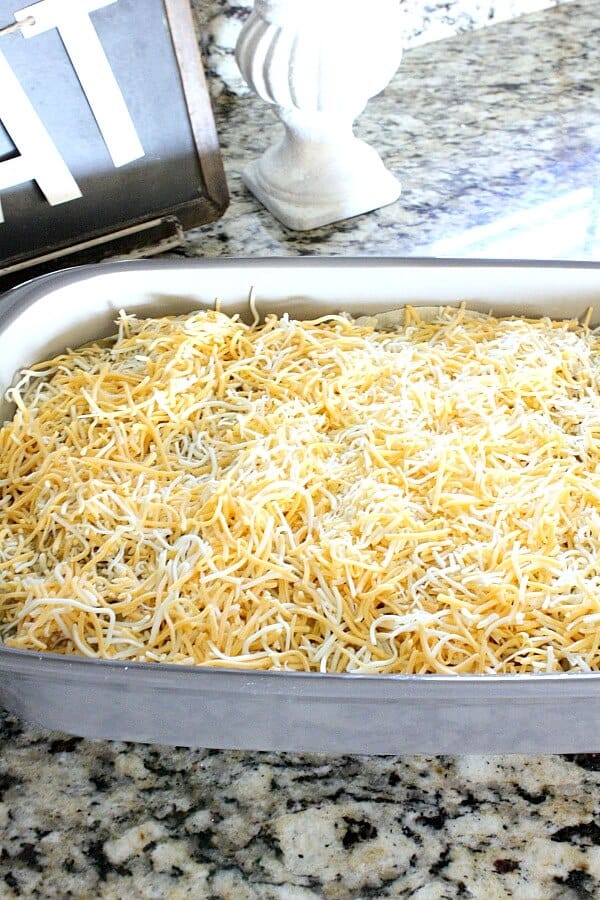 Finally, top it off with shredded cheese.
Put it in the oven – everything is cooked, so your basically melting the cheese and heating the sauce.
I like to keep an eye on it until I see the sauce bubbling. Since it's just about 20 minutes at 375 degrees – this is a quick fix!
Let it sit a few minutes before slicing it. Of course, that's perfect timing to heat your sides.
I surely hope this gives you a quick meal solution on a frazzled night.
Without a doubt – this is such a simple dish – I should call it Easy Peasy Cheesy Chicken Enchilada Bake!
Let me know if you try it out!
Pin this to your Recipe Board
[amazon_link asins='B06XGQPD28,B01BSYUL32,B01EM9852O,B074ZGXGSL,B00EQD7LTK,B07558553P,B06XWHMP9Q,B01IZVIBA6,B00OPAVM94,B001AK44TW' template='ProductCarousel' store='notigrac02-20′ marketplace='US' link_id='fe3fc172-2e07-11e8-b308-3103fe129404′]