How to Make Southern Sweet Tea – Alabama Style
Looking for the perfect easy recipe for Sweet Tea like they make in the South? Here's a recipe for how to make Southern Sweet Tea – Alabama Style!
I still remember the days of growing up and pretending to be a southern belle.
I would have tea parties out in the grass with finger sandwiches and pastries.
(Some affiliate links are provided below. Full disclosure here.)
It was all about big hats, shiny lipstick, and frilly dresses.
But, my, how all that has changed!
Since then, I have updated my tastes and style and am more of a t-shirt and jeans kind of gal.
But I still enjoy tea all the time.
First I must come clean…
I have a confession to make. I wasn't raised a southern girl.
This Kentucky girl didn't even start saying y'all until college.
I grew up in Florence, KY, just south of Cincinnati.
Even though my hometown is known for it's FLORENCE Y'ALL water tower right off the interstate, surprisingly no one there really says y'all, so I never adopted that phrase.
Shocker, I know!
You see, my Daddy is from the city and my Momma is a farm girl. Like a no-plumbing-until-she-was-a-teenager kind of farm girl! And I was raised just south of the big city, so 'Y'all' was not what the too-cool-for-school kids said.
Then I left for college in Tennessee and I was surrounded by that drawl.
And within the first week, 'Y'all' was rolling off my tongue as if it were a part of my vernacular all along ~ just like those days of being a little girl, spouting out Southern colloquialisms with my pinky up.
But now I'm a big girl, and sitting outside, swatting mosquitoes and sweating from all the humidity isn't at the top of my list.
I know the saying is, "Southern Girls don't sweat, they Glisten," but my body didn't get the memo. Thanks, Dad.
So, I wanted to recreate that dreamy escape, but without the hot tea. It has to be ice cold Southern Sweet Tea on a hot day!
Our Family's Southern Sweet Tea History
First, let me tell you a little bit about my family and Sweet Tea.
I was not a sweet tea drinker growing up, but after having Trent's momma's homemade sweet tea, I was hooked.
It's a staple in our home and fresh pitcher is made every single day.
And did I tell you we were a bit snobbish about our Sweet Tea?
It's really sweet, it's not sun tea, or fruit tea, and it's definitely not instant tea!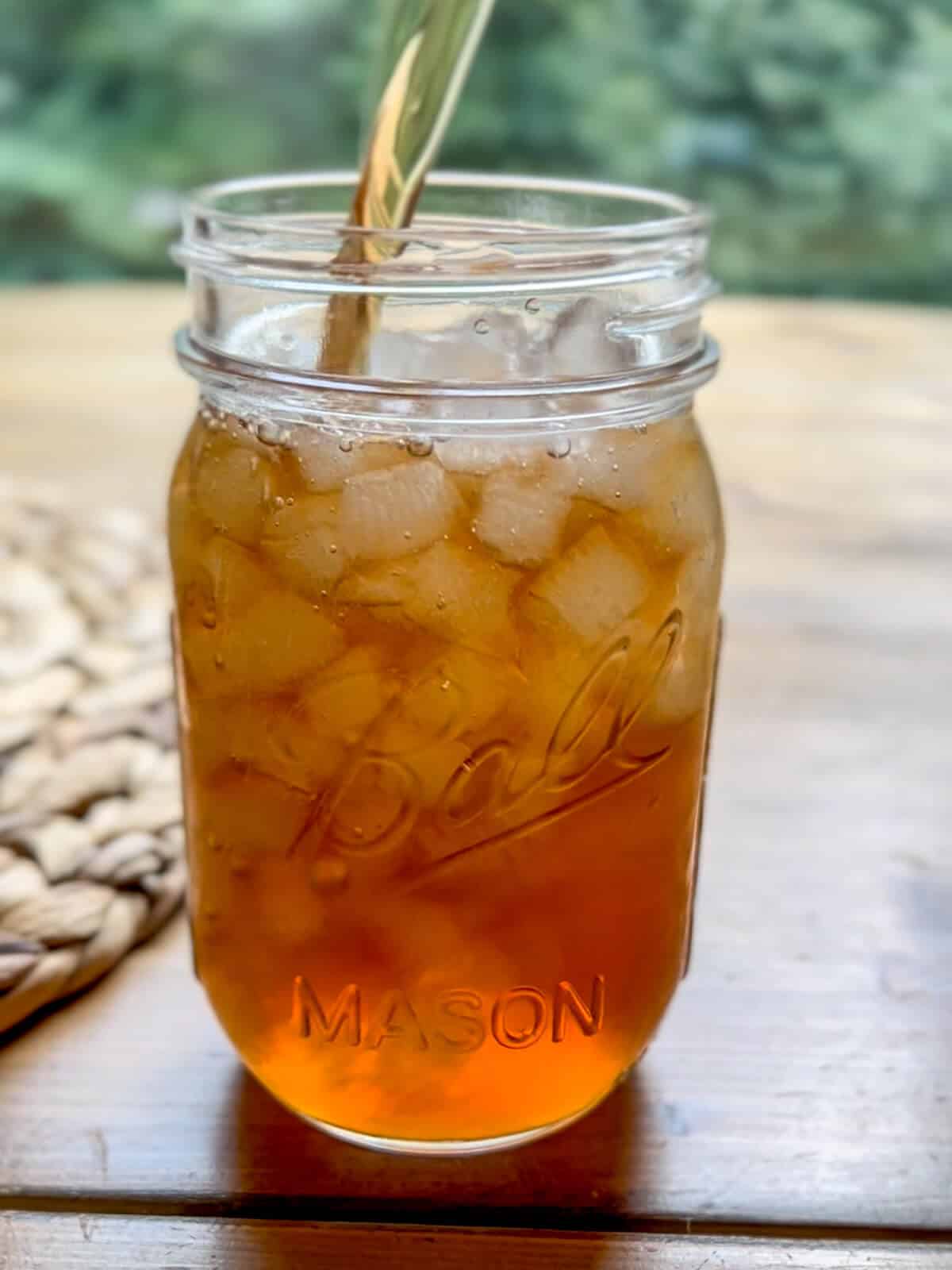 Now a few might argue about a few of our requirements, but like I said, we're professed sweet tea snobs.
The other day, a friend asked me how to make real Southern sweet tea. I thought it would be fun to share my recipe with you.
If this is your first time making sweet tea, you'll be surprised at how easy it is!
How to Make Southern Sweet Tea
Trent's sweet momma had to school me on the proper technique of making Alabama sweet tea for my 'Sweet T', and was even given THE tea pot that had been used for many years.
It was basically a small saucepan that she used on her stovetop every evening.
Now that's a completely different and hilarious story that you can read here.
Basic Ingredients
1 gallon or large Pitcher – I love this BPA-free one
2 Cups of Sugar – for a healthier version, we only use 1 cup and it's sweet enough
2-3 Family Size Tea Bags – our favorite brand is Luzianne, but any black tea bags will do
First, bring the water to a rolling boil.
I use a vintage glass percolator that I found at a garage sale to brew my tea.
I just removed the coffee making parts and use the glass pitcher.
But you can use an old pot like Trent's momma did.
I fill up my pitcher with filtered water.
Next, add the Sugar.
This old melamine cup came from Trent's mom.
She used it to scoop out sugar for sweet tea for years and now it's our daily tradition.
I measured the exact amount that this old avocado colored cup is just about a cup of sugar.
If you don't like super sweet tea, then adjust the amount of sugar to your liking.
We used to make it with 2 cups when we were younger. But as we've gotten older, we use less sugar when we make ours.
Now there's a famous Birmingham brand of tea, Milos, that supposedly adds a little bit of brown sugar to their mixture. I'm not sure if that's true, but it's super yummy!
Allow the sugar to fully dissolve in the boiling water and then remove from heat.
When you add the sugar, it will begin dissolving immediately.
Now we use pure cane sugar instead of the bleached, regular sugar.
This makes the water appear a bit golden, but if you were using regular sugar, the water should boil clear.
The boiling slows momentarily and then returns right back to the rolling boil. That's when you know it's ready to add the tea bags to the sugar water.
Add the tea bags and let steep.
Depending on how strong you like your tea, you can vary how long you let it steep.
Recently, we've only let it steep until the water has cooled down – about 20-30 minutes.
Or you can be like me, leave to run errands and forget to pour up the tea for 8 hours. Shh… it still tasted fine!
Hint: I substitute out one of the family-sized tea bags for green tea for the antioxidant benefit. We can't even tell a difference in taste.
I put the lid on our vintage percolator to keep the tea bag strings from dropping in.
Covering helps the tea steep quicker as well.
This is just seconds after I've added the bags.
As you can see it steeps quickly.
Once it is cooled to room temperature, pour into a gallon pitcher.
After the tea has steeped, it's time to remove the tea bags and add cold water.
This picture was after approximately 30 minutes of brewing.
We like our tea these days on the lighter side.
But back in the day, we would wait until the tea had turned the water black.
Now here's trick we do with our tea bags to squeeze out as much flavor as possible.
Take the tea bags from the pot, and place them on the edge of the pitcher.
With a wooden spoon, I gently press the bags to release any remaining tea to add just a bit of extra flavor.
Now don't press too hard or you can burst the bag and get tea grounds in your southern sweet tea!
Then you pour the brewed tea into your pitcher.
This almost fills our pitcher half way.
SIMPLE TIP: Even though the plastic pitcher we use is BPA-free, I still recommend waiting until the tea has cooled to room temperature. This helps prevent plastic-tasting tea!
Next we fill up our pitcher the rest of the way with cold, filtered water.
We use the same percolator and place it under our water dispenser on our fridge.
Give it a good stir.
I use the same wooden spoon from before.
I let it cool in the fridge for a few hours before serving.
In our home, this means we start our favorite small appliance – our Opal Nugget Ice Maker!
I gave this to Trent for his birthday last year and it has been used everyday since!
If you are an ice cube cruncher like Trent – you will love this ice!
We have used mason jars as our drinking glasses for years, and there's nothing better than fresh brewed sweet tea out of a mason jar!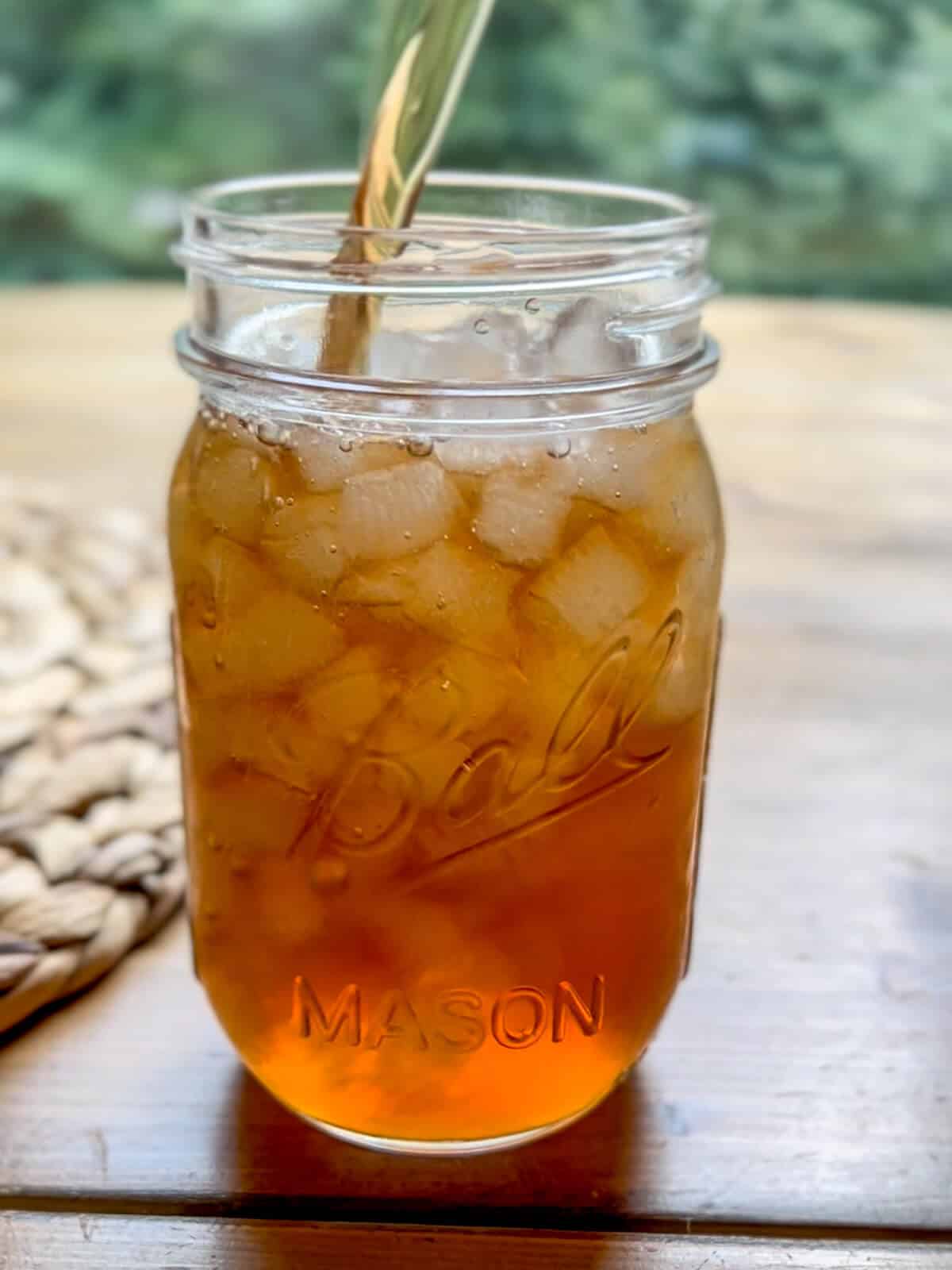 Now there are ways you can alter this recipe. Here are a few ideas for you to consider.
Variations and Tips
2-Quart Pitcher – This recipe makes a gallon of tea, so if you only want to have enough for just one, modify the recipe with less tea bags and half of the sugar and make just 2 quarts.
Unsweetened Tea – I know sweet tea isn't for everyone. But just eliminate the sugar and you can brew unsweetened tea the same way.
Serve with Lemon Wedges – That's a big no-no in our house, but many people love the addition a small lemon slice adds.
Serve with a Sprig of Mint – This is another southern tradition! On a hot summer day, sitting on the front porch, a tiny hint of mint adds a refreshing coolness to the beverage.
Family Size Bags – Not every brand makes these larger bags, so you may need to add more if you are using regular sized Lipton tea bags, for example.
Artificial Sweetener – We have used Splenda in the past and it's a great option for tea with zero calories. My recommendation is to start with less Splenda than normal sugar. A little goes a long way!
Limit the Ice Cubes you add if it's still warm – This will instantly water the tea down and change the flavor.
Frequently Asked Questions
Why is it called Sweet Tea?
Sweet tea is southern vernacular for sweetened iced tea.
It's easier and faster to say and it's the common way to order if you're in a southern town. And you'll quickly learn that it is the beverage of choice in the Deep South.
How many tea bags does it take to make a gallon of sweet tea?
This is truly a personal preference. If you follow the directions on the box of tea bags, they will tell you to use a lot.
Personally, we find that to be too strong.
For many years, we used 4 family sized tea bags.
Since getting older, we find our tastes have changed. Now we use 2 or 3 family sized tea bags and only let the tea steep for about 10 minutes.
Do Southerners put baking soda in sweet tea?
Now I have NEVER heard of this and I have lived in the South for most of my adult life.
That being said, I did a little research. Baking soda supposedly neutralized the tannins in black tea, giving it a smoother taste. It could also take out any bitter taste as well.
I would just add a teeny pinch.
And I may just give this a try. Who knows? It may make a world of difference!
What is Sun Tea?
Instead of following this receipe, you can place a glass pitcher in a sunny spot on your counter, covered.
The sunlight warms the water, but doesn't get it too hot. This is ideal for delicate teas.
If you use a plastic pitcher, it may leave you with yucky, plastic-tasting tea.
If this is something you want to try, only allow it to sit on the counter for less than 8 hours. Any longer, your tea may start to grow bacteria – which is no bueno.
Now I hope this southern sweet tea recipe encourages you to give this a try and make a fresh batch.
This good ol' Alabama sweet tea recipe is super easy! Just like the laid back south, there aren't any specific cups of water measurements.
If you have any questions or additions, please leave me a comment below! I would love to hear from you!

shop our favorite home items

shop now
Join Our Community
Don't miss the next DIY! Receive exclusive content, including behind the scenes photos, our favorite home decor DIYs and more!
If you want to save this recipe for later, here's a fun pinnable image for you!