Master Bedroom Inspiration and Planning: Our Makeover in Process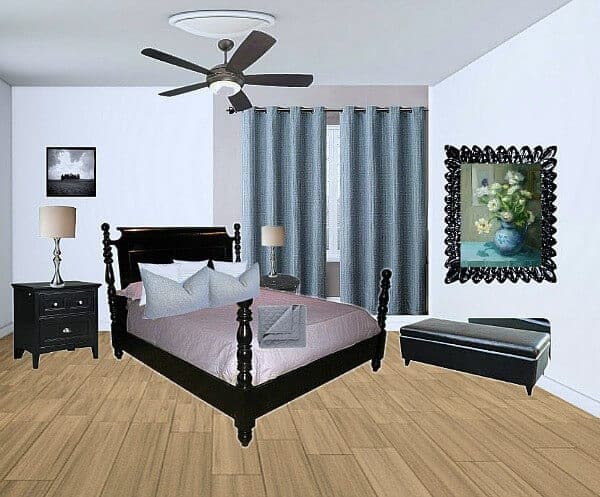 What a crazy week this has been! I hope your week has been going well and less muddled as ours. The good news is – tomorrow is the Country Living Fair and I'm so excited to finally be able to attend. In all the excitement, I haven't been as productive as I'd like, but I have been working on some Master Bedroom Inspiration and getting it looking pretty. I found some beautiful rooms on the web that were so inspiring.
Sara, from Running from the Law, shared her Master Bedroom makeover and it just dropped my jaw! I love how she took a blank space and created a cozy marriage of masculine and feminine in one space.
Kristin, from Capturing Joy, had such a gorgeous Master bedroom makeover that had me swooning. I love her pops of color and hope to add that to our Master Bedroom when we're finished.
source: Kristen Duke Photography
Aren't these rooms so beautiful? It gave me oodles of ideas, but first…Let's gander at where we began with this fixer, shall we?
(Deep Breath)
Peach trim, roller blinds, and pink carpet – oh, my!
This room was so dark and just….. blah!
First we ripped up the carpet. Sorry for the blurry pictures, but tons of dust was flying around after taking out that two-decade-old carpet.
Then we found wood rot damage to our subfloors and had to make HUGE repairs!
Finally got the floor prepped for the hardwood install.
Then we installed the floors..  I LOVE my floors!!
For details of our hardwood floor install and how we saved BIG BUCKS, click here.
We finally were able to paint the walls, trim, doors and windows. All that trim work was a chore and I will not buy a house that needs THAT much painting again – lesson learned.
Our paint color we chose was Sherwin Williams Crushed Ice. I love how it is a nice neutral that will allow us to change the accent color of the room.
I went on Olioboard to come up with some ideas for our room. Trent really wanted the room to be a mixture of masculine and feminine. Every room idea I would show him would get immediately shut down because it was too girly!
I live with all boys and that testosterone runs deep, y'all!
The highlight of our room is our bed. We purchased it from American Signature Furniture almost 10 years ago and have loved it all these years. Can you believe that we actually considered selling it when we were planning our move? I am so glad we decided not to. I so would have regret it!
Here's my Olioboard I used for inspiration. The budget is tight, so by reusing most of what we have is key. I tried to reflect that on my Olioboard to see how repurposing what we have will work.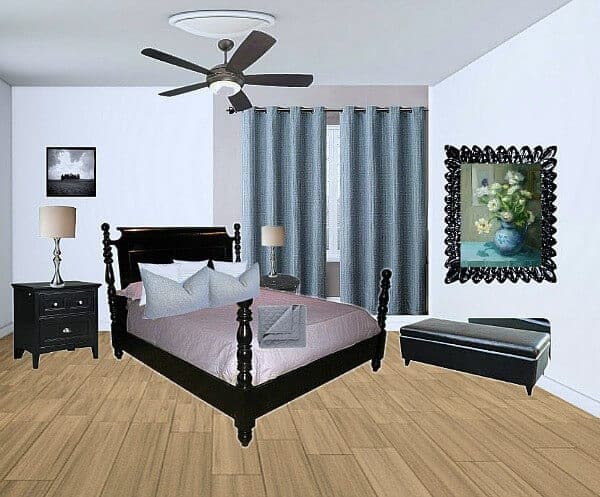 I'm fluffing the pillows and taking photos for the final reveal in a few days! Can't wait to show off how far we've come with our Master Bedroom Remodel.