Decorating with Heirlooms: How to add Vintage Style to your Hutch
Today I'm sharing How to add Vintage Style to your Hutch by using heirlooms or your favorite vintage pieces to showcase your treasures!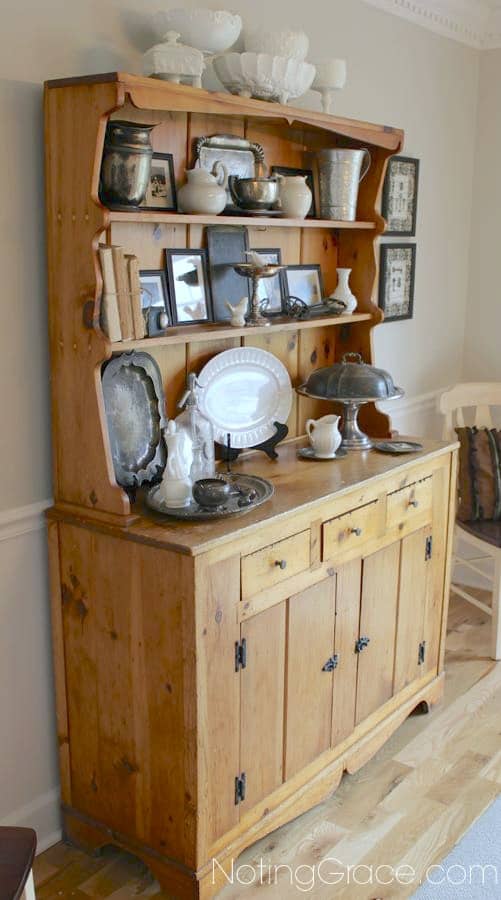 Last week, I shared the beginnings of our Dining Room reveal. Before I completely drop the curtain, I couldn't wait to show off this treasure!
Recently, we were gifted this gorgeous Pine Welsh hutch from my sister-in-law. This was a family heirloom passed to her from my husband's great uncle.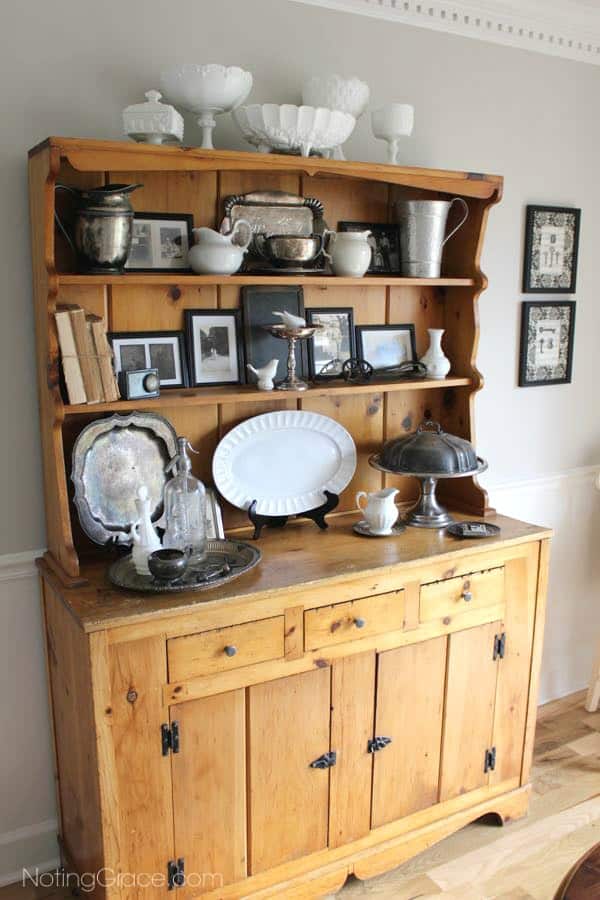 The story is, his (the great uncle) mother saw this piece while on a country drive. It was sitting on someone's Farmhouse front porch. She sent her husband to find it and ask the owner's if they were selling it, which they were. It has been in my husband's family ever since and now is in our home.
I'm not sure of the date of the piece, but it looks like it could be turn of the century.
It definitely has wear and tear, but I think that adds to the character of the piece.
The hardware is original to the piece and is just lovely.
So I wanted to highlight this heirloom piece with my favorite heirlooms given to me by family along with vintage photos of them.
How to Add Vintage Style
to Your Hutch
I love tarnished silver and how it adds depth and character anywhere you place it. The more tarnished the better, in my opinion.
The contrast between the silver and white pottery and milk glass are a beautiful combination.
This Chippendale pitcher was my husband's grandparents paired with their pitcher.
The small white pictures came from my grandmother and I'm framing a photo to pair with those soon.
The bread tray was a steal I found a Goodwill.  
It's a Tufts tray from 1914 and I got it for $7.50! 
This was my great grandmothers tin pitcher. She used it everyday to bring tea, lemonade or water to the farmhands while they worked.
I love the picture next to it. It is 4 generations of my ancestors in one photo.  The little girl with curls is my Momma!
This hand mixer came from the original homestead that is in the horse drawn carriage photo.
A mix of modern with these spring bird salt and pepper shakers.
I placed my DIY Antiqued books along with a vintage headlamp I found junking one day.
I found these tin type, or ferrotype photos in an old trunk along with other vintage family photos.
So I carefully framed them and added them to my collection. I believe they are my Gr.Gr. Grandparents!
Look at that tarnished silver! Love it!!
On the top of the hutch, I grouped together my favorite milk glass pieces.
My dining room is slowly coming together and I will reveal it soon! But look below for a sneak peak!
My old table and chairs didn't match my new decor, so I've refinished them and will be sharing the reveal later this week.
Don't be afraid to show off your family treasures.
So I hope by showing you how to add vintage style to your hutch that this inspires you to display your favorites!
This has become a conversation piece and is a marriage of old and new in an elegant vignette.
Follow along on Instagram to see more of my vintage finds!
If you like this post, then you'll enjoy these!
DECORATING WITH HEIRLOOMS: CREATING A VIGNETTE
DECORATING WITH HEIRLOOMS: PHOTOS
DIY RESTORATION HARDWARE/BALLARD DESIGN INSPIRED ANTIQUED BOOKS
Pin This for Later!