Decorating with Heirloom Photos
I love to add vintage items to my home decor, especially special items from family. Here are some tips on decorating with Heirloom photos.
I love to explore my genealogy and on a recent visit home to my parents, we started talking about our history.
So when my father decided to pass on some family photos to me that were stored in the garage, I was as giddy as a school girl.
I've always wanted to add heirloom photos to our decor and have history living among us in our home.
Decorating with Heirloom Photos
When I was talking to my father about our family history at home, he remembered he had rescued an old suitcase that was going to be thrown away from my Great Great Uncle's estate.
How cool is that?
We started looking through these old photos and I thought I had found gold!
Some of the photos were from my Gr. Gr. Uncle's brother and different photos from times with he and his friends.
We dated these photos to be circa 1908 – 1910.
This was a photo of workers on the streets of Cincinnati, but we couldn't find any family member.
It was such a unique photo, I asked if I could take it, knowing how cool it would look framed.
In another photo, there is a Cincinnati Factory, Durrell Bros., which were manufacturers of rubber boots and harnesses.
Again, no familial connection, but wicked awesome nonetheless!
Then there was this!!
This is my family, taken around the early 1900s.
I was so excited to find this, but I surely thought that my father wouldn't relinquish this treasure, but to my surprise, he said he knew I'd display it and take much better care of it than storing it in an old suitcase.
Look how handsome my Great Great Grandfather was!
To round out the vintage feel, I added a seat I found at a garage sale years ago.
It had a worn cross stitch cover that was in poor shape. I covered it with fabric from a toile valance I found in a clearance bin at Tuesday Morning.
I'm not sure of it's value, so I kept the cross stitch underneath in case it proved to be a true antique.
Here's a look at the before!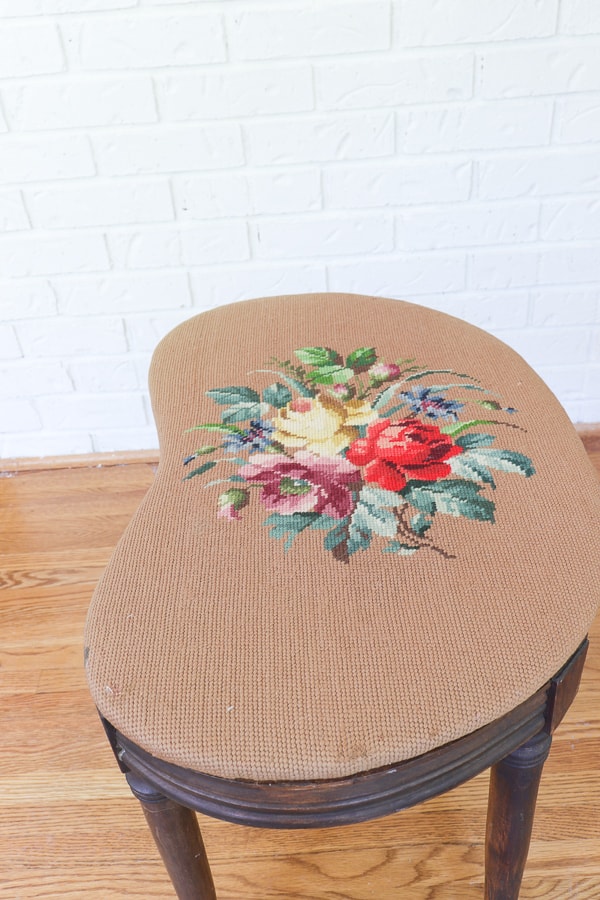 I love the updated look!
But pulling it all together has made this corner in our dining room a special one!
I wanted to create a vignette to tie everything together instead of just hanging pictures on a wall.
My mother passed on to me a set of key wall plaques that came from her mother.
Since I used one on our Stairway Gallery Wall, I thought I should hang the other 2 here.  
In addition to the photos I hung, there was this one that I framed and placed on the vanity bench.
It's a photo of a family picnic complete with a horse drawn buggy!
How amazingly cool!
Look at the Gibson Girl hairstyles and long dresses!
The man with the mark on the photo is my Great Great Grandfather.
I placed a book pedestal under the photos to fill in the blank space.
Then, I added our family bible we got at our wedding years ago on the pedestal.  
It's a great reference tool to have out and my boys are constantly looking through it.
So in keeping with the key theme, I found some keys I used years ago.  
I love that one key reads 'Memory.' Quite fitting don't you think?
To see more inspiration on how to add vintage photos to your decor, check out how we styled our hutch.
So if you are wondering about decorating with heirloom photos, then I hope this helped give you some ideas.
For more decorating ideas with heirlooms, I have a few you may want to see.
DECORATING WITH SCALES
VINTAGE INDUSTRIAL LIGHT

SEE THE VANITY BENCH'S NEW LOOK!