The Best Gifts We Received After Open Heart Surgery
Looking for a thoughtful gift idea to help ease the recovery time for your loved one? Here are some of the best gifts we received after Trent's open heart surgery.
I get it – what to give someone who is undergoing a huge medical event is overwhelming.
You don't want to give the wrong thing and are searching for the perfect gift to help with the recovery process.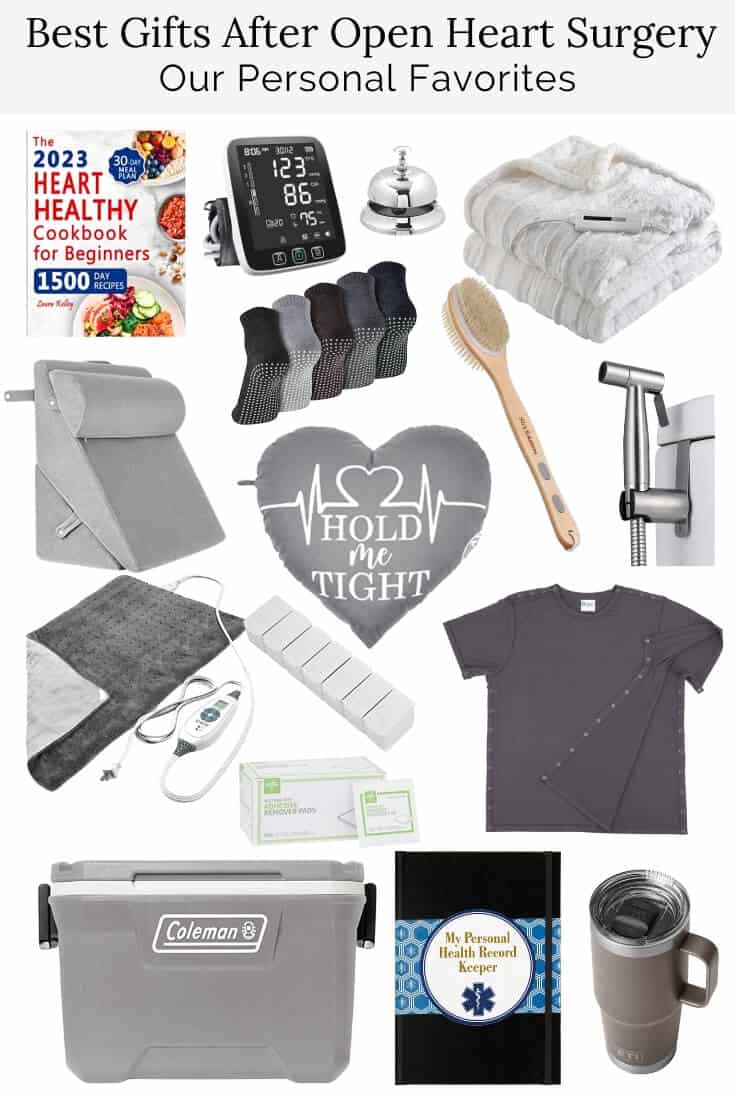 As some of you know, Trent had to undergo open-heart surgery.
The Coronary Artery Bypass Graft surgery is one of the biggest, most invasive surgeries one can go through.
And we were a bit shocked when we got the news.
A lot of people asked what useful gift they could give.
Before the surgery, we had no idea, but on this side of it, we have lots of practical gifts that you can consider giving.
Best Gifts After Open Heart Surgery
(Some affiliate links are provided below. Full disclosure here.)
Gift Ideas for the Hospital
Let's be honest, there isn't much needed for this time. We packed a lot of stuff and ended up not using most of it.
But you still want to make the hospital stay easier.
Here are some gift ideas to give for their stay in the hospital room.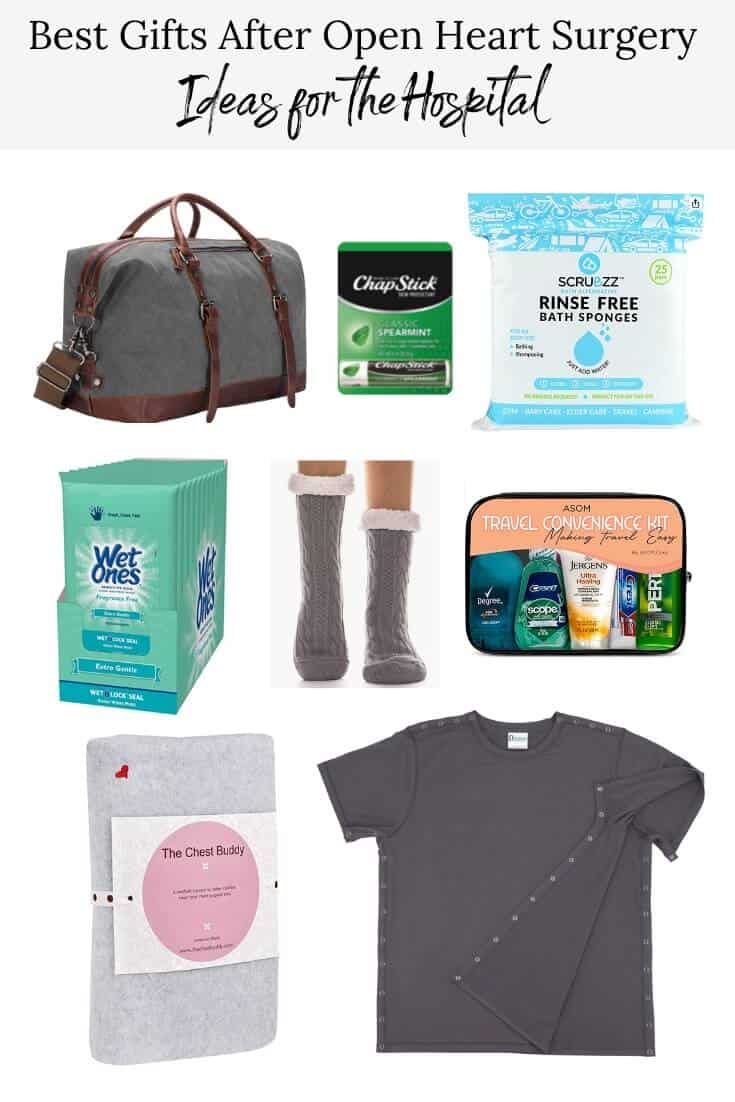 Seat Belt Cushion | Weekender Tote Bag | Button Down Shirts | Warm Socks
Lip Balm | Antibacterial Wipes | Mini Bathroom Kit | Disposable Bathing Wipes

Button Down Shirts. While in the intensive care unit, hospital gowns are the best option. But if your patient steps down to a regular room, a change of clothing may help lift the spirits – especially comfortable clothes! Oversized Button Down shirts are something we found super helpful. After open heart surgery, upper body movement can be tender and/or limited for heart patients in the entire chest area.
Athletic Shorts. Something with an elastic waistband is easy for them to (eventually) put on themselves. Plus these would be great when they start cardiac rehab!
Snack Packs for the Caregiver. If the caregiver is like me, they will hardly want to leave the room. So having healthy options on hand was helpful.
Food for the Patient. Unless they are on a restricted diet, getting calories to heal was the most important thing we heard those first days following surgery. And let's be honest – hospital food is nasty. So even if it means bringing a bag of their favorite take out, it's okay. Diet will change in the days following. Healing comes first.
Post Surgery Gift Ideas for Home
Once we were finally back home, we received some practical post-surgery gifts that made Trent's recovery much easier.
Especially those first couple of days when everything is a whirlwind!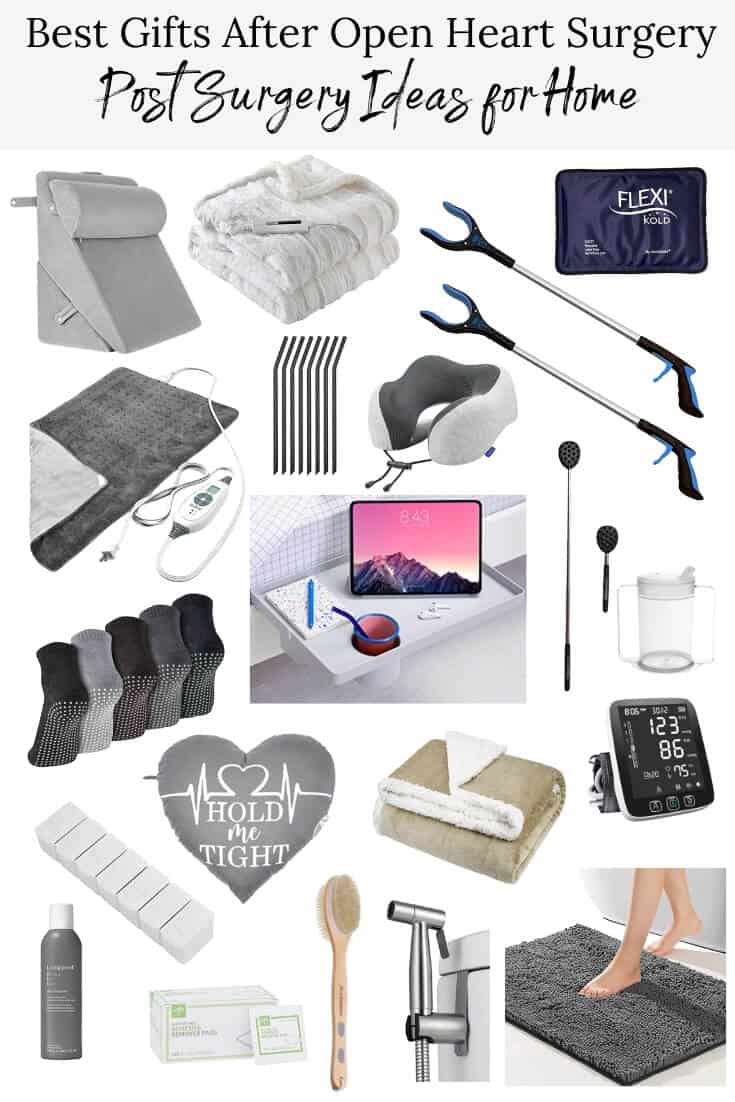 Warm Blanket | Oversized Heated Throw Blanket | Socks with Grip
Blood Pressure Cuff | Heart Pillow | Dry Shampoo | Sleeping Wedge Pillow
Pill Organizer | Bedside Shelf | Extra Large Heating Pad | Back Scrubber
Grabber Pole | Bidet | Back Scratcher | Neck Pillow | Extra Long Silicone Straws
Adhesive Removal Cleaning Pads | Reusable Ice Pads | Nonslip Bathmat
Gift Ideas for the Caregiver
The most asked question directed to me what asking how I was doing and how they could help me.
Being a caregiver can be hard work sometimes, and thoughtful gifts are the perfect way to show your appreciation.
So if you are wanting to help out the caregiver in your life, here are some great gifts ideas to for you.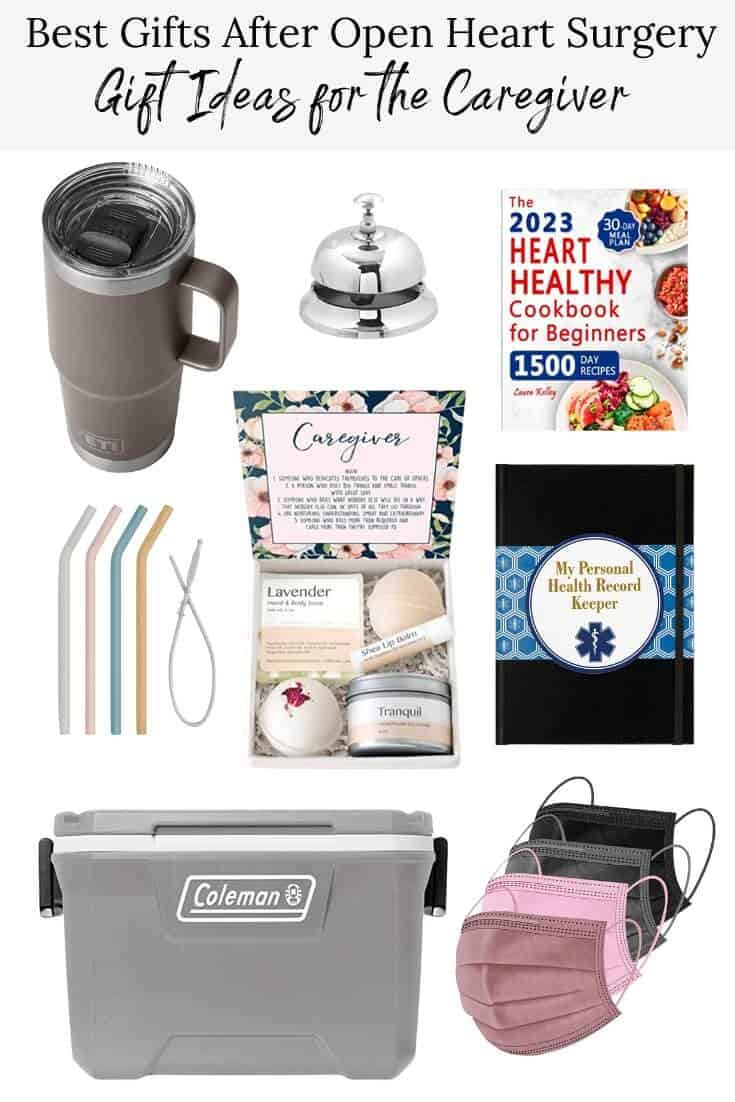 Medical Planner | Yeti Mug | Silicone Straws | Heart Healthy Cookbook
Face Masks | Pamper Box | Call Bell | Cooler for Meal Delivery
Medical Planner: As a family caregiver, the perfect way to keep track of all the doctor appointments and test results are to journal them in some way. My own mother attests to how much this helped keep all the doctors informed of what the other treatments were.
Face Mask: If you are anything like us, the thought of getting sick while recovering from a major surgery is the last thing you want. So this is a great gift idea to help put the caregiver's mind at ease for those visitors that show up.
Cook Books: A healthy diet is not only encouraged following a heart attack or any heart valve surgery, but required in many cases to help control high blood pressure.
Gift of Relaxation: A massage or pedicure works wonders for the caregiver. Give them a gift card to treat themselves to some time to recharge. Or a gift basket filled with pampering items, like lotion, bath bomb, or essential oils works as well. Or treat them to a spa day!
OTHER GIFT IDEAS
Recovery takes a lot of time for the post-surgery patient.
Keep them occupied with some of these ideas.
Money. With Trent being out of work, having extra money blessed our family so much! Send it in a greeting card with some kind words and you will impact the family immensely.
Gift Cards. This is especially helpful if you live out of town, but want to help out in some way.
DVDs of their favorite movies. Another great way to pass the time. But maybe steer clear of comedies those first few weeks. A good laugh may be a bit painful at first.
Card Games or Board Games. If they feel up to it, a fun game can be a welcome distraction.
Coloring Book or Activity Books. These aren't just for kids! It's a great idea to offer something that keeps your hands busy and mind occupied.
Flowers or Plants. Yes, they are old school, but still around for a reason. Trent got a bouquet of flowers and a fun balloon and it really lifted his spirits.
THOUGHTFUL ITEMS THAT ARE FREE!
Make something. If your budget is tight, anything handmade is a meaningful gift that anyone would enjoy. Knit them a blanket or slippers. They are likely on blood thinners which makes them cold.
Do a household chore. There are strict physical limitations for months following surgery before they can return to normal activities, so any help around the house or yard after this type of surgery will always be welcomed! Change their sheets, do a load of laundry, run the vacuum – all of these household chores are restricted for the first 2 months.
Run to the Grocery Store for them. Now that it's easy to order groceries for pick up, offer to pick up their groceries and then help unload and put them away!
Offer to drive them to follow-up appointments. Trent wasn't able to drive until 2 months after surgery. If your loved one needs a ride, offer to help them out.
Help with bathing and dressing. I had to help bathe Trent those first few weeks, so if your patient lives alone, they will need help with showers. And movement is limited, so helping them change clothes those first few weeks is key.
Spend some time together. Many times, the best thing to give is the gift of extra time together. Be sure to act normal and help them forget about their discomfort for a while. This is sure to lift the patient's mood.
Phone calls. If you can't come by for a visit, give them a call. Every time someone reached out to check on Trent, that always lifted his spirits.
Be there for the caregiver. Not only was I Trent's caregiver, but I watched my Mom be a caregiver for 25 years as my dad battled cancer. A warm hug and emotional support can make a huge difference on a rough day.
Create a comfortable living space. The last thing you want your patient to deal with is discomfort, so consider setting up an area in the living room where they can relax, nap, but also receive visitors.
Offer pet care. If your loved one can't handle taking care of their pet, offer to help out.
Things to Remember or Consider
Meals
Here in the south, food is such a staple gift.
But one thing to consider is that there definitely are dietary restrictions. Coronary Heart Disease is a life long change, even after bypass surgery so a balanced diet is key.
And while your delicious soup is a favorite for some, it may contain sodium or certain ingredients the patient should avoid.
The best food choices are lean cuts of white meat or fish, vegetables (no cream sauce or butter), fruit, and whole grains or whole wheat options.
Here are some ideas that may help.
Ask for preferences. A good option would be to ask what they are craving before showing up with food. Sometimes patients from open-heart surgeries experience changes in their tastes.
Have options for small meals. Again – their appetite may be decreased, so bring something that can be eaten in small quantities.
Bring a cooler. Another idea that was a game changer was to set a cooler outside our front door. That way, in case the patient is napping, there would be no disturbance or unnecessary exposure to germs!
Patience
With a major surgery like this, it is important to remember that your loved one in your life now has a heart condition.
With this major change comes many ups and downs.
We've read where open-heart surgery patients feel as if they've been given the gift of life.
But it also rebounds. On those tough, painful days, the patient's mood can turn to anger or frustration.
And this may take a long time watching your best friend or family member struggle, when all you want to do is help.
It's important to keep a watch out for the patient's mood.
The best way to help is to be there for them.
Listen to their wins and losses, and offer extra support on the bad days. And that may also mean leaving them alone if they don't want to talk.
Prayer
The ideal gift that we personally experienced was prayer and support.
I watched prayer help my father for many years during his battle with cancer, and we were first hand recipient's to God's amazing mercy during this entire process.
You can pray for protection, health and safety before the surgery. Pray for the Lord to guide the surgeon's hands and give wisdom on how to proceed.
And you can also pray for the recovery process to go smoothly.
So many of my Instagram followers reached out the day of surgery, interceding the moment surgery was supposed to happen, even setting their alarms to get up and pray.
It immensely humbled us, gave me strength sitting alone in the waiting room, and an abundance of peace kept us strong.
Things to Avoid
Certain Food Items: Not only is diet restricted, but certain foods are just bad ideas. Bags of candy, a meat and cheese tray, or over processed items are not good and will likely be tossed or given to someone else.
Flowers: Don't get me wrong, flowers are very kind! But watching Trent and my dad go through some life threatening procedures, too many flowers start looking like a funeral home. Maybe consider giving a plant that continues to live on!
Illness: If you are showing any cold symptoms or signs of an infection, it's best to stay away and keep the patient as healthy as possible during recovery.
Frequently Asked Questions
What was your recovery like?
Full recovery takes time and there is a lot of muscle pain or discomfort in the chest area.
We feel very blessed and fortunate to have gone through the healing process somewhat unscathed.
And we think that starting daily walks was key. We would try to walk about 4 times a day and pushed the distance a little bit each time (just one more driveway).
Daily walking really helped speed up that recovery and Trent was walking up to 3 miles a day (not all at once) by the time he started the cardiac rehabilitation program.
The bruising where they harvested the vein in his leg was really bad and honestly where Trent felt the most discomfort.
Did you have any problems during recovery?
About 2 months after surgery, there was one last scab in place that fell off.
There seemed to be a hole where the incision wound didn't fully heal.
We made sure to show our cardiac rehab nurse and she suggested contacting the healthcare team.
After making sure there wasn't any risk of chest infection, we were given a treatment plan to follow.
The funny thing is – since Trent is a drummer, and this opened up right at the top of his chest incision, his scar looks like a drumstick! 😄
Did you experience any mood changes?
Just as our heart surgeon told us, there were good days and bad days.
And sometimes the anger or sadness of such a major operation showed up.
We kept to our normal routine, as much as possible with the physical hurdles.
New fears seemed to come up. After cardiac surgery, that part of your body will feel completely different. So tackling those fears can also be a part of the emotional healing.
Anything we should know that surprised you?
The first ride home: Boy, that was scary – not only for Trent, but also for me, the driver. Just take your time and go slow, especially around the turns.
Sneezes: Trent went 2 months doing his best to avoid that first, painful sneeze. Someone said to imagine a cow standing with all four hooves on a single brick. That seemed to stop the sneeze.
Don't be afraid to call the nurse: They are there to help you. Those first few weeks are scary and any changes that seem off are worth asking about, even if it turns out to be nothing.
Walking before and after surgery: I know I already stated this, but we cannot stress enough how much this helped. Go slow, stop if your heart rate raises or you feel shortness of breath. But keep moving, even if it's laps in your home.
Sleeping someplace other than the bed: Comfort is key, so if the chair or sofa feels best to the patient, then let them sleep where they want.
Upper body movement is scary. Reaching overhead is extremely limited, so having that grab tool or extra helper is key.
I hope these gift ideas help you out.
If you have had or have cared for someone going through open heart surgery and have a gift that impacted you, please leave me a comment below to share with others!
We are so thankful and blessed for all the love shown by our readers and want to make sure you know how much we truly appreciate your part in our lives.
Thank you for your prayers, kind words, and continued support of our website!
Join Our Community
Don't miss the next DIY! Receive exclusive content, including behind the scenes photos, our favorite home decor DIYs and more!