Welcome Home Sunday Week 97
Today, I am so excited to be sharing my home with other DIY/Decor bloggers across the US. This is Welcome Home Sunday Week 97.
Ever have one of those weeks where you feel like you got everything accomplished?
I am a list maker and find that simple act of ticking the box complete utterly enjoyable.
But lately…
Well, let's just say, there's a mountain of paperwork on my desk with lots of to do lists buried somewhere underneath.
And no matter how I try to get control, something else comes up to interrupt that process.
But that's okay.
Because the interruptions are worth it.
Cooking dinner for the men I love.
Helping my boys with homework, which seems to be happening less and less the older they get.
Stopping to spend some quality time with the family.
In less than a year, my firstborn will be leaving for college, so the importance of these moments have not escaped me.
These piles will still be here when I come back to them, but those precious moments may not be.
A beautiful college friend of mine became Momma around the same time I did and we were sharing our woes of how our perfectly kept house is practically nonexistent with toys, diapers and bottles everywhere.
But then she said something that stuck with me all these years later. She said, "I'm choosing babies over baseboards."
If you're OCD-esque like me, then you understand the frenetic energy of having to make sure those baseboards are dusted, wiped and cleaned, along with the tracks of the windows, cobwebs in the corners, and wiped down fridge shelves.
How I wish I could go back in time and exchange that frenzied cleaning with more moments with my babies. But her comment did create a shift in me, one that is coming more full circle now that the time is close to running out.
So take a break today, weary momma and cuddle those little ones a little closer. Even if they're 6'7″ like mine are!
It will be all worth it!
Now let's get on to some holiday inspo! We are so excited to have Paula from Virginia Sweet Pea joining us this week!
Welcome Home Sunday Week 97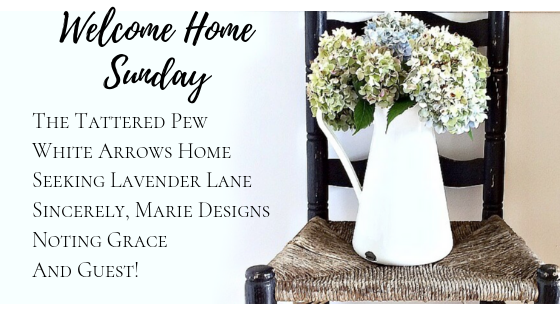 Seeking Lavender Lane / Christmas Shelf Styling