Welcome Home Saturday Week 151
Each week, I join a group of talented bloggers sharing their posts and DIY projects with you. This is Welcome Home Saturday Week 151.
My Welcome Home Saturday posts are getting a new look!
I wanted to share what's been happening in our home as well as the latest on the blog as well as a few favorites from the week from around the web.
(Some affiliate links are provided below. Full disclosure here.)
Happenings at Home
Christmas is finally in full swing at our house. We were late to the game getting everything decorated, but I'm so excited to show you our home.
The new season of Dexter came out and we have been enjoying our new-to-us family room so much! Especially our sectional sofa.
Trent and I spent Friday morning dreaming and planning for our small businesses we operate and how to manage all the busyness that comes with it. We carved out a small space for him to work that is apart from our music studio and had fun moving a few pieces of furniture around.
Then Friday night, we attended our youngest son's high school Christmas concert – which was wonderful! We found out that he placed 5th in the state of Alabama for All State Jazz band and we are so proud of his accomplishment. He is just a freshman and was up against all the other upper classmen in the state!
And our oldest comes home this week from his first semester at college, which so happens to be on his birthday! So we are super excited to celebrate him as well as enjoy the rest of the month with him home for the holidays.
On the Blog Lately
I updated an old wooden nativity scene that had been forgotten for many years. I gave it a new look and love how we are using it again!
I finally have shared our Family Room all decorated for Christmas this week. I'm using non-traditional colors on our flocked Christmas Tree and I am loving the new colors!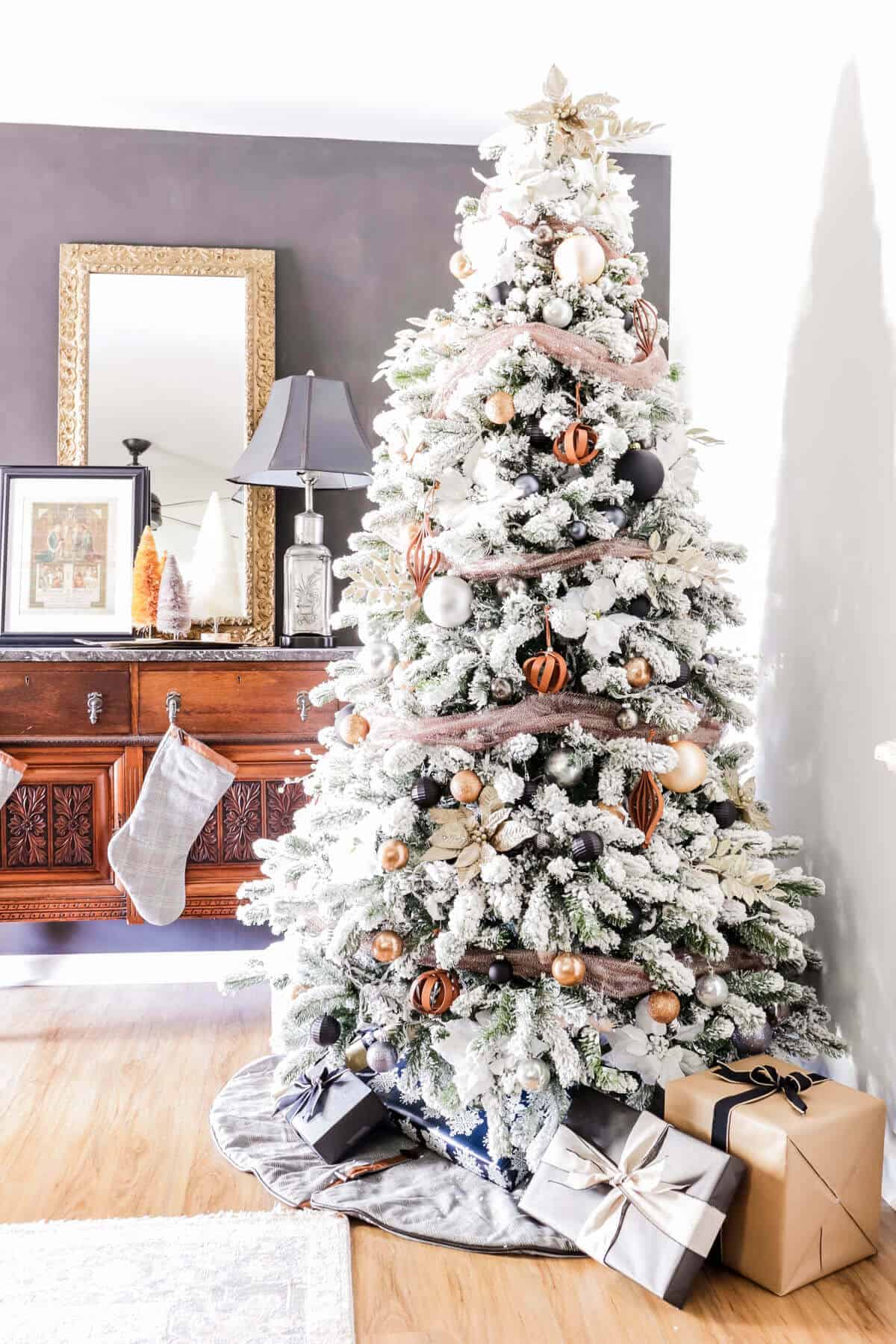 If you want to see my flocked tree from last year, check out our Christmas in our Sunroom post.
Favorites from the Week
A few months ago, my friend Leslie and I hit the Birmingham thrift stores looking for decor. She was shopping for her vintage silver themed Christmas and she revealed her gorgeous tree this week!
I found this account on instagram and fell in love with her feed! Now I want to makeover our kitchen – again!
And I'm really going through a purge phase and am exploring how to manage my favorite collections without all the clutter. This article really inspired me.
Welcome Home Saturday with
Dabbling and Decorating
Each week, I join a group of talented bloggers sharing their posts and DIY projects with you. This week, we are so excited to have Ann from Dabbling and Decorating joining us as guest host!
Ann and I were both part of this week's Blogger's Best Blog Hop and she shared her Christmas front door tradition that her mother started years ago in the home that Ann now resides in.
And she shares a love for vintage blue bottles like I do! You should see how she incorporated them into her Christmas table setting this year!
And scroll down to see her Christmas kitchen baskets ideas!
Plus enjoy these favorites from my friends!