Negativity is pervasive, especially on the internet, but it doesn't have to break you! Here's how to block out the haters and handle negative blog comments.
Sometimes you have to take the right stance against any negative commenters on your blog. So, I'm what happened to me and how I handled it.
Recently, we revealed our Farmhouse Kitchen Remodel, knowing that it wasn't 100% finished.  
We still have to replace the floors and revamp of our kitchen island.
I made sure to state in my post that we completed the first part in this huge overhaul and will complete the remainder of the work this summer.
Even though I knew our floors were a HUGE eyesore, I couldn't wait to show where we were with the remodel.
Most of my readers gave great compliments and even featured my post on their blogs.
Boy, was I honored!
I shared my Kitchen Remodeling post on my Hometalk page and it went viral. At first, my elation and excitement grew as I literally watched the numbers grow in front of my eyes!  Then I saw them….
Facebook slams, Google + negative comments, even Hometalk haters only talked about the floors.
Some of my readers didn't see the beautiful kitchen (minus the floors) that we had worked on for the past 6 months! They (the haters) didn't recognize the hard work we had done. All they saw was this:
I thought my disclaimer would prevent the comments of how horrible our floors were and have understanding that it was on our to do list.
Boy, was I wrong!
Then it dawned on me.  Those haters weren't reading the words–my disclaimer that I so carefully included. I work in the music industry and have pretty thick skin since rejection is an expected norm, but I'll be honest – those words stung, y'all.  I suddenly felt ashamed of my post, foolish for posting it – too soon, maybe? Some commented with such meanness and venom, enough that other commenters came to my defense!
And it happened…I had fallen prey to their words, allowing their opinions to affect my mood and I started the mental diatribe against myself. I was shamed since I knew it was going against my New Years Goals to stop the self hatred talk.
That's when my husband gently reminded me of what what important.
I posted my remodel because we worked hard. We finished painting the cabinets, and I WAS PROUD! And I wasn't going to let the naysayers ruin my little success and hard work.
Here's how I learned to not let the negative commentary bother me.
How to Block out the Haters
1.  Recognize the biggest critic – yourself.  Not all the comments were hateful, but some even offered helpful suggestions.
However, all I heard was "FAILURE" and not encouragement because I was being the biggest criticiser.
Nonetheless, I reminded myself that my blog did not define who Jen was. So I silenced that voice in my head.
2. Keep moving ahead. In the music industry, it's often heard:
"Ignore the 'Boos.'
They typically come from the cheap seats."
Many who can't do have nothing to do but complain. I learned to forget the hateful comments. I shouldn't let someone sidetrack me from the road we're choosing to travel.
3. Don't publish the negative comments.  Some think they need complete transparency on their blog. WHY? Businesses don't do it!
Picture this – a restaurant posts reviews on their web page from patrons. Would they post a negative review from a customer who got food poisoning a year ago when it was under bad management?
NEVER! So, why display those bad comments on your blog?  You control what comments show.  This is especially important if you have sponsored posts or monetize your blog. You want to drive the traffic in – not away!
4. Defy the odds and use the criticism to your advantage.  Blogging puts yourself in the spotlight, allowing anyone to take jabs at you from the safety of their keyboard.  
Social media criticism is the norm, unfortunately. There are trolls out there just waiting to be a party pooper.  
So turn your mistake into a marketing opportunity! Create a "How Not to"post, or "Mistakes I made" and watch the tables turn!
5. Kill em with Kindness. My momma always taught me that when someone is being mean to you, it's best to respond with a smile.  
So just as my momma told me, I responded kindly when needed and ignored all the rest, with a smile.
Negativity is pervasive, especially on the internet, but it doesn't have to break you! So learn how to block out the haters and you keep doing you!
And in the end, we finally did get to finish those floors!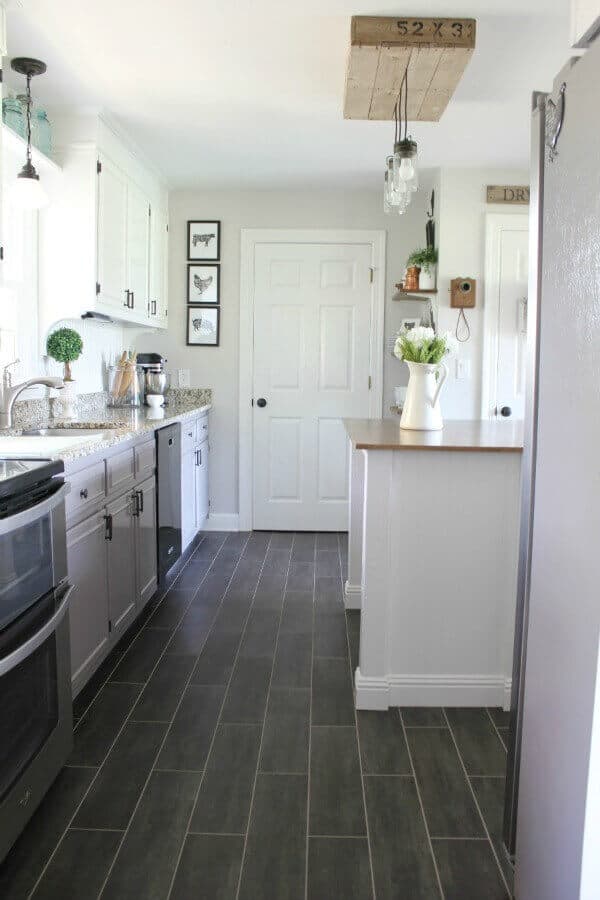 In case you want to see the how the floors look today, click here!
If this inspired you, then pin this to share!