Give the gift of reading! How Kellogg's and Dollar General have teamed up to made a difference with their Literacy Initiative. This shop has been compensated by Collective Bias, Inc. and its advertiser. All opinions are mine alone. #MyLiteracyStory #DGMyStoryEntry #CollectiveBias

When my teenager was a young boy, we noticed early on his love for reading. He sounded out words at 2 years old, and always had his nose in a book.
He eagerly went to book sales and the book aisle at stores.
At playdates, while the other kids were running around, he was off to check out what books his buddies had in their 'libraries'.
In fact, when a time came to punish our son for misbehaving, the first thing we took away were his books because it was the sure thing to change his behavior.
He couldn't live without his books. Little did we know how his love for reading would change our hearts.
We learned how gifted he truly was when he started kindergarten. During his first year of school, I helped in the classroom with students who struggled to keep up, still trying to learn the alphabet. It was an eye opening moment.
Their struggle broke my heart and let me see how fortunate I was to help give the gift of reading to these kids.
When I shared these stories with my husband, something amazing happened. We want to continue that impact with other children.
Our solution was to give books. Instead of toys, we gave books to children for presents. We hoped that this would create a love for reading in that child, even if it was a comic book or a coloring book for the younger kiddos.
It set a change in us that also impacted our approach to our son's education. We continued this love of reading when we transitioned to homeschooling our boys.
We frequented the library and book fairs, growing our own home library and continuing to foster their love of reading. 
So Christmases always include some new book for our boys. Even though our boys are older, we continue to give the gift of reading to this day.
Because reading is such an important part of our family, it brings me joy to share with you the Literary Initiative from Kellogg's and Dollar General. Here's a little about this incredible program.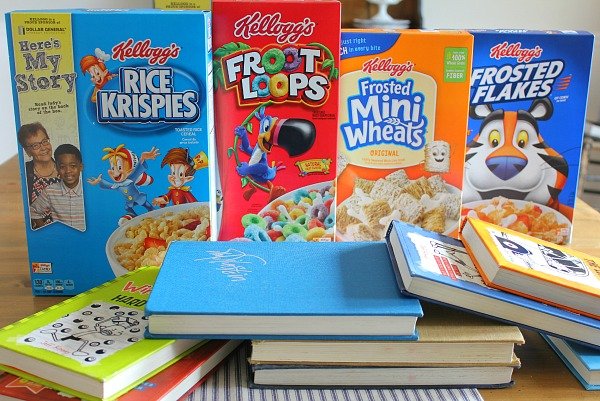 Kellogg's is a proud sponsor of the Dollar General Literacy Foundation. Every day, Kellogg employees work together to fulfill their vision of enriching and delighting the world through foods and brands that matter.
But that's not all they do. Kellogg's is committed to providing 3 billion Better Days through 2025 through initiatives that feed people and their potential.
The Dollar General Corporation has been delivering value to shoppers for over 75 years through its mission of Serving Others. The Dollar General Literacy Foundation is celebrating over 20 years of helping individuals learn to read, prepare for their high school equivalency, or learn English. 
Since its inception, the Foundation has awarded more than $140 million to nonprofit organizations and schools that have helped more than 9 million individuals advance their literacy and basic education skills.
It brings tears to my eyes to think of how many people have been blessed through this program.
Are you like me that sits and reads the back of the box while enjoying their favorite Kellogg's cereal? If so, you're in luck! On the back of the boxes, there are stories from the Dollar General Literacy Foundation's grant recipient, Fifty Forward.
I loved reading the stories of how these people are enriching children's lives through this tutoring program!
To recognize National Literacy Month this September, so give the gift of reading. Dollar General is wanting to hear your stories!
So head over to their site linked here to enter the #DGMyStory Sweepstakes with the hashtag #DGMyStoryEntry and be sure to share your own personal literacy story for a chance to win a $50 Dollar General gift card. You can also keep up with Kellogg's on Facebook or follow Kellogg's on Instagram.
You can find Kellogg's Frosted Flakes® Cereal, Froot Loops® Cereal, Frosted Bite-Size Mini-Wheats® Cereal or Rice Krispies® Cereal in the cereal aisle of your local Dollar General store.