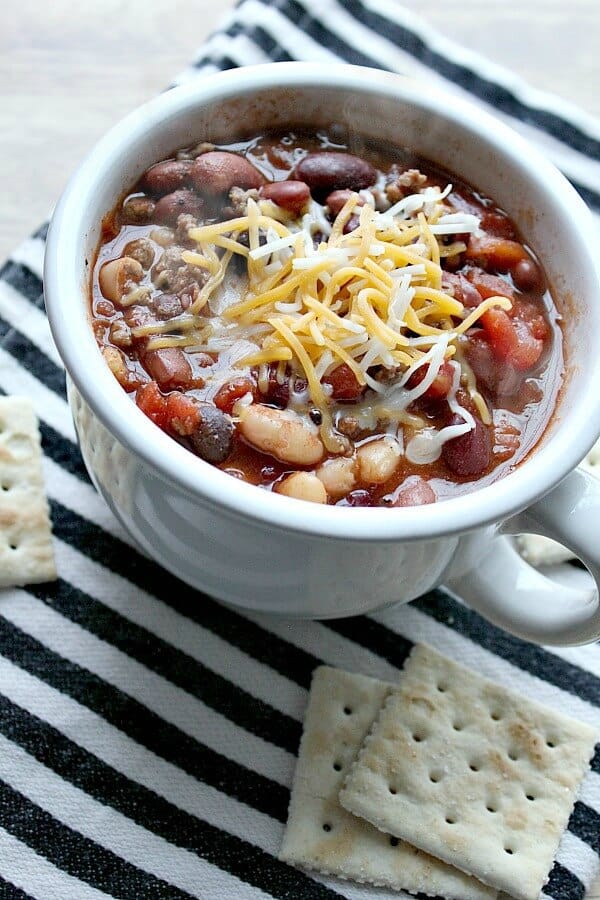 Are you like me and always looking for a quick and easy recipe to pull together at the last minute? My 10 minute Five Bean Chili recipe will not only make your life easier, but it will be sure to make your family smile and have their bellies full – and it's award winning! I'm not the braggadocious type, but my 10 minute Five Bean Chili stole the show!
It was a little over a year ago when our church hosted a Chili cook-off that my husband turned to me and said, "Enter your chili!" Being new to the church, I was a bit hesitant, but I thought why not?
Little did I know that my dish would beat out the rest of the competition. I walked away with the bragging rights and a small prize. But that wasn't the true seal of approval in my eyes.  It had to pass the Dad test.
My father is an avid Chili connoisseur – even stating that if it is his choice, Chili would be his last meal. We grew up just south of Cincinnati which is renown for it's Chili with over 250 restaurants clamoring to be the best. Chili was a staple in our home growing up and impressing my dad with this dish was a huge accomplishment!
So if you are short on time and need to get food ready fast – this recipe is the one you have to try!
1o Minute Five Bean Chili
Quick and Easy 5 Bean Chili
Looking for a healthy, quick and easy recipe to make in just 10 minutes for your family? My award winning, 5 Bean Chili is sure to make your family happy!
Ingredients
1 pound 90/10 ground beef
1 28 oz can crushed tomatoes
1 can Mexican spiced tomatoes
1 can Italian spiced tomatoes
2 cans mild chili beans with sauce
1 can dark kidney beans, drained
1 can light kidney beans, drained
1 can black beans, drained
1 can great northern beans, drained
1 Tbsp chili powder
1 tsp cumin
Dash hot sauce
Salt and Pepper to taste
Instructions
Brown your meat in a skillet until cooked through. Season your meat with salt and pepper.
While your meat is browning, add the remaining ingredients into a stew pot and cook on medium.
Once your meat is cooked, add it to the pot and stir well.
Simmer until ready to serve.
Notes
This is great to make ahead and freeze. We love serving it with cheese, a dollop of sour cream and crackers or tortilla chips. This is also delicious served in a burrito for a quick lunch.
Some additions that you might like to add:
Peppers and Onions while browning the meat.
A Bay leaf if simmering all day
http://notinggrace.com/easy-5-bean-chili/
We make this recipe at least once a month and we have 2 ways of serving it. The first night I typically serve the bowl of chili, topped with cheese and sour cream and a dash of hot sauce if you like. The next day, a Chili Cheese Burrito is served in a freshly cooked tortilla stuffed with cheese and chili. It's a great dish that lasts our family of four for a few days of leftovers.
I always have the ingredients on hand if I need to fix something fast. You can always serve half and freeze the other half for another day. Either way, it's sure to be a hit!
Let me know if you decide to try this recipe! I would love to hear your feedback and if  your family likes it.
Pin This for Later!